"Neither rain, nor snow, or sleet or storm, or tornadoes, or cold weather, dogs, alligators, or floods will stop me. I will go."
—Star Route contractor, Magnolia Springs, Alabama
The story of the Star Route Service is uniquely American. Contractors faced hazards alone and by choice—getting the mail through sometimes demanded a daring and innovative spirit. Geography and weather often worked against the Star Route carriers, and some emerged as legends. Today, terrain continues to be a challenge, forcing contractors to alter their routes depending on season.
Mail, Boats, and Tourists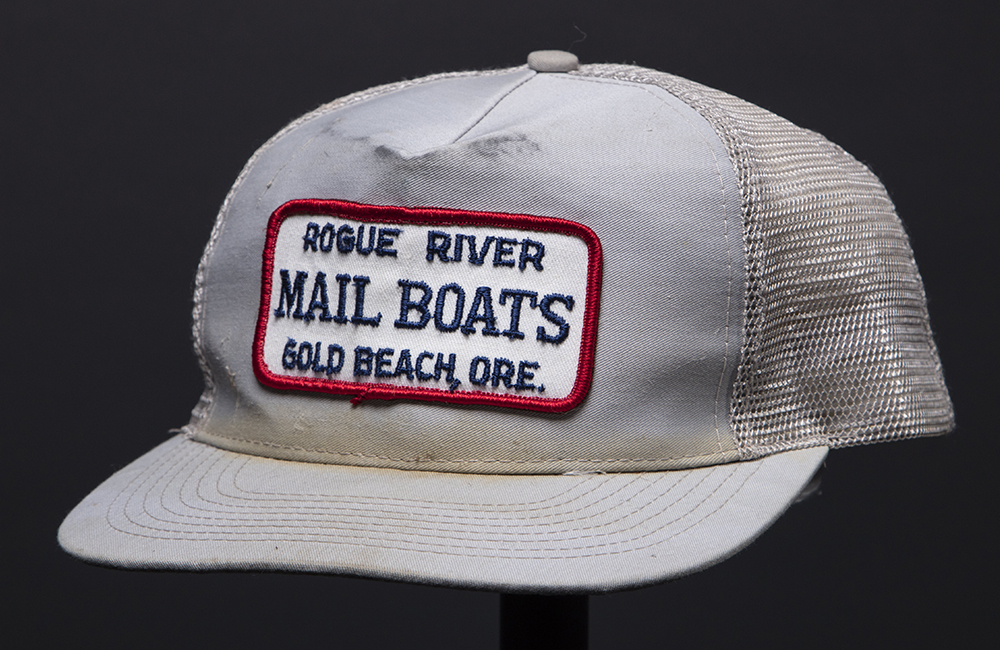 Boat Pilot and White Water Mailman Hugh McGinnis wore this uniform cap while working for Jerry's Rogue River Mail Boats, a postal contract company serving communities on the Rogue River in southern Oregon. The first official mail contract for this area introduced mail service in the 1890s. The holders of the mail transport contract have changed over time. The route changed too. All transportation had been by boat until the early 1960s when a new road finally reached the Agness Post Office, about thirty miles upriver from Gold Beach. When this uniform was in use in the early 2000s, Jerry's Rogue Jets company moved the mail by trucks in the wintertime and by jet boats in the summer when tourists traveled along with the mail. The cap and its embroidered patch show signs of weathering the conditions of working on rugged mail route.
The Barefoot Mailmen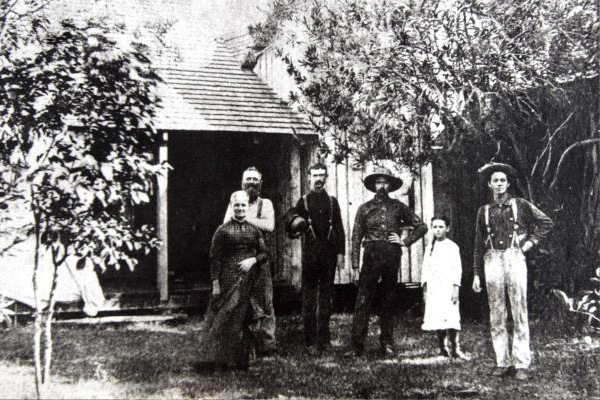 Established in 1885, the barefoot mail route ran between Palm Beach and Miami, Florida, until 1892. A group known as the "Barefoot Mailmen" traveled the 68-mile route—28 miles by water and 40 along the sand. Before 1885, this route required steamboat and rail service, taking two months to deliver a letter. The barefoot route shortened that time to one week.
Image, left to right: Margretta M. Pierce, Captain Hannibal D. Pierce, Andrew W. Garnett, James "Ed" Hamilton, Lillie E. Pierce, and Charles W Pierce. Andrew Garnett, James Hamilton, and Charles Pierce served as barefoot mailmen. Alligators, barracudas, or sharks allegedly killed Hamilton after a traveler took his boat and he was forced to swim.
The Last Mule Train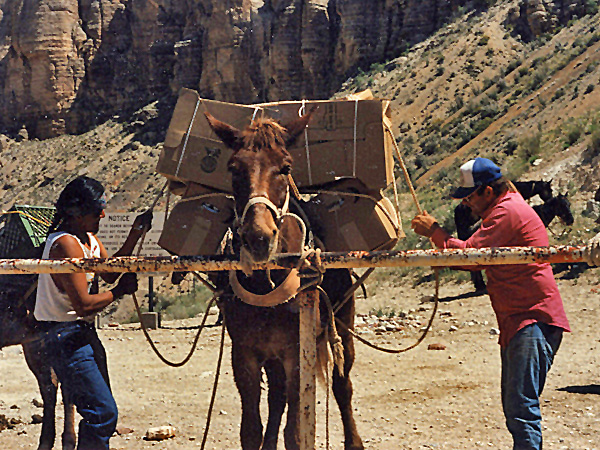 "It's exciting. Things happen. Got to know the mules, you got to watch out for the packs, and you got to keep alert."
—Star Route contractor, Supai Arizona
Since 1912, five days a week, mules have navigated a six-to eight-hour round-trip mail route in Supai, Arizona. They travel switchbacks to the bottom of the southern rim of the Grand Canyon, 3000 feet below. This is the last mule mail route in the United States. Along with mail, contractors have transported fruit, eggs, Christmas trees, and even a disassembled washing machine on the eight-mile route.
By Whatever Means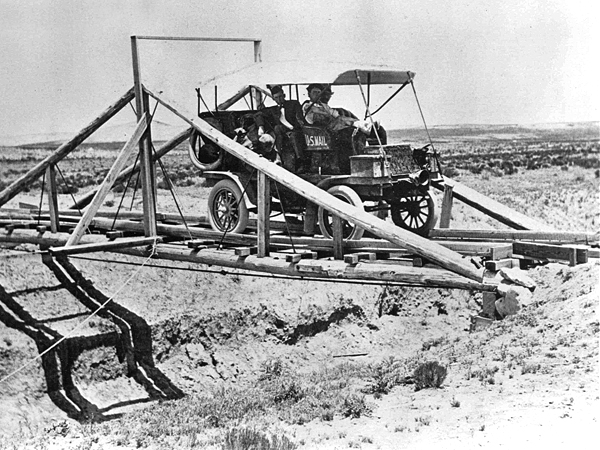 Star Route contractors relied on a remarkable variety of vehicles to travel across difficult terrain in all kinds of weather. A route from Bayfield to Lapointe, Wisconsin, utilized horse, dogsled, foot travel, a propeller-driven sled, trucks, and a boat, depending on time of year. Another from Yellow Pine to Wallace Ranch, Idaho, employed a pickup truck, 4-wheel drive truck, Sno-Cat®, airplane, horseback, packhorse, motorcycle, foot travel, and snowshoes.