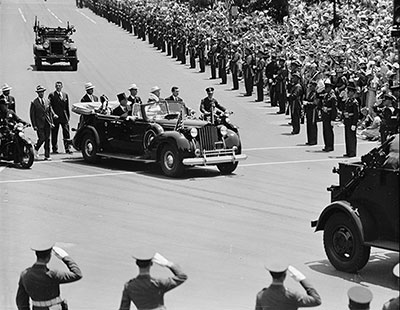 The Smithsonian's National Postal Museum is pleased and proud to host the official North American celebration of The Royal Philatelic Society London's 150th anniversary from October 17–19, 2019!
The special theme of the three-day program is the 1939 state visit of King George VI and Queen Elizabeth to Washington, D.C., which began next door to the Museum at Union Station. The royal visit marked the only time the world's most two famous stamp collectors—The King and President Franklin Delano Roosevelt—met face-to-face. In the same way, eighty years later, the Smithsonian and RPSL will bring together some of the world's leading philatelists for three days of activities.
Plans include:
Displays of Empire and Commonwealth treasures and royal autographs from the National Postal Museum's collection.
A non-competitive exhibition of single-frame exhibits by RPSL's North American members, with a printed catalogue, diploma, and specially minted RPSL 150th anniversary commemorative medal for all participants.
These exhibitions will be open to the public, affording visitors a deeper understanding of the range of material collected and studied by RPSL's North American members.

Other planned celebrations include:
Celebratory reception and dinner
Symposium of special presentations by RPSL members on selected philatelic topics
Special cachet and cancellation
The RPSL Anniversary celebration will be immediately followed by the Eighth Smithsonian Philatelic Achievement Awards Gala.
Contact any member of the organizing committee with additional questions:
Eddie Bridges FRPSL, USA Northeast Region Representative sacollector2012@gmail.com
Cheryl Ganz FRPSL, USA North Central Region Representative cherylganz@yahoo.com
Elizabeth Hisey FRPSL, USA Southeast Region Representative lizhisey@comcast.net
Daniel Piazza FRPSL, Chief Curator of Philately, Smithsonian's National Postal Museum piazzad@si.edu

A crowd waits for the King and Queen on Fifteenth Street, N.W. near the Treasury Department building, June 8, 1939.
Library of Congress, Prints and Photographs Division

Coronation Cover Autographed by King George VI and Queen Elizabeth, 1937-1939
This envelope bears a block of four of the stamps issued by Great Britain in 1937 to mark the coronation of King George VI and Queen Elizabeth. It was canceled May 12, 1937 at Buckingham Palace, and has a handpainted cachet of the royal coat of arms. Two years later Their Majesties consented to autograph the cover during their visit to the United States, on condition that it be presented to the people of the United States.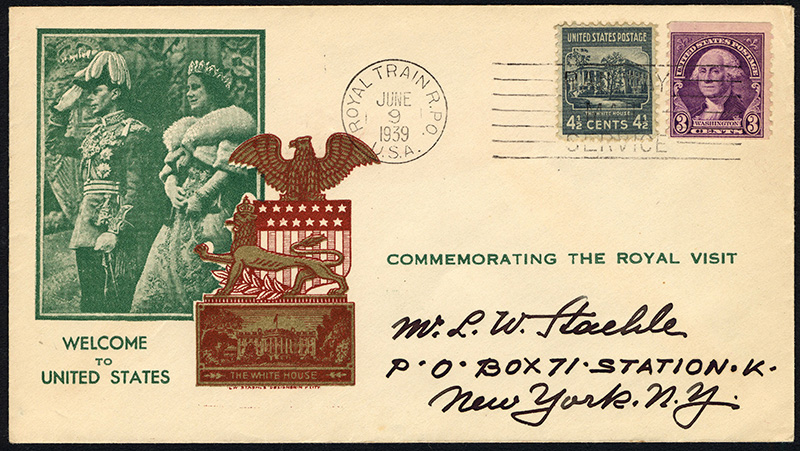 Royal Train RPO cover, June 9, 1939
In 1939, with World War II looming, Great Britain's King George VI and Queen Elizabeth made a goodwill tour of Canada and the United States. This die hub cancelled souvenir mail.