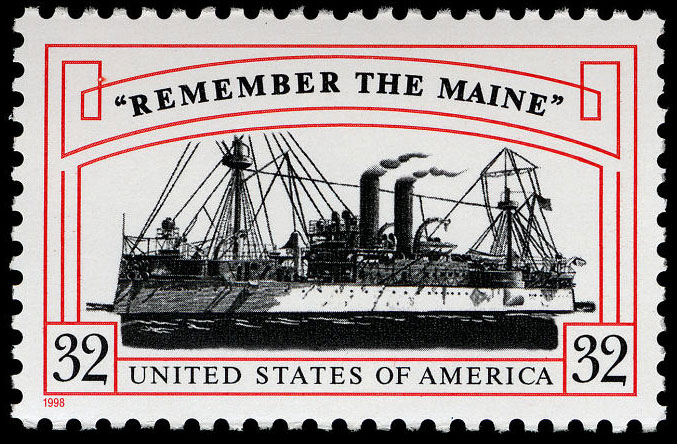 The USS Maine arrived in Havana, Cuba, in 1898 to serve American interests in the Cuban revolt against the Spanish. The ship sunk on February 15, 1898, when her forward gunpowder magazines exploded, killing 266 out of 350 crew members. At the time, the American public blamed Spain for the accident, but today the cause of the incident is considered a mystery. A court of inquiry found that the blast was caused by a mine, and many historians think the explosion was the result of spontaneous combustion in a coal bunker.
The stamp is the only one related to the Spanish-American War released on its centennial, although the stamp doesn't bear any explanation of the USS Maine's relevance to the war. It was made on the urging of president Jimmy Carter, and the image of the ship comes from an 1898 bandanna. An alternative stamp design made by the artist portrayed the explosion of the USS Maine, flying bodies and all, but the USPS found it far too graphic.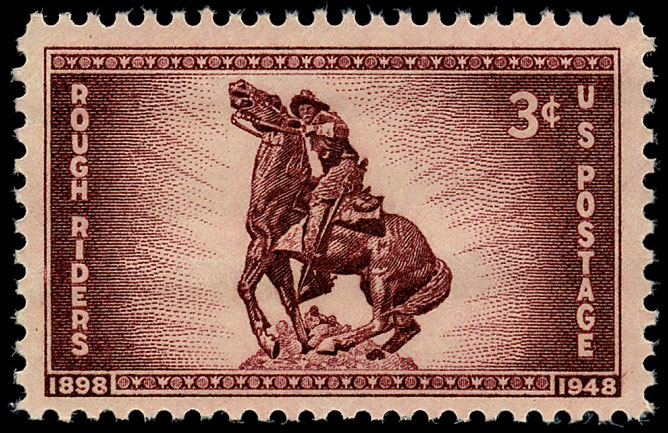 The First U.S. Volunteer Cavalry led by Colonel Leonard Wood Theodore Roosevelt, who had just resigned from his position as Assistant Secretary of the Navy, was known as the "Rough Riders." This group of soldiers is the most well-known of the units that fought in Cuba during the Spanish-American War. It was a very diverse group that included Indians and students from Ivy League schools. Roosevelt and Colonel Wood trained the men well enough that they were allowed into combat, unlike many other volunteer groups. Unfortunately, more soldiers died from disease than combat. Approximately one in three Rough Riders were killed, wounded or sick by the end of the hostilities.
The stamp depicted here features a statue by Solon H. Borglum in Prescott, Arizona, of Captain William O'Neill who was killed while leading the Rough Riders in the Battle of San Juan Hill. It was released on the 50th anniversary of the 1898 organization of the Rough Riders. Some thought that the stamp should reference Theodore Roosevelt, the group's founder, instead of just Captain O'Neill.