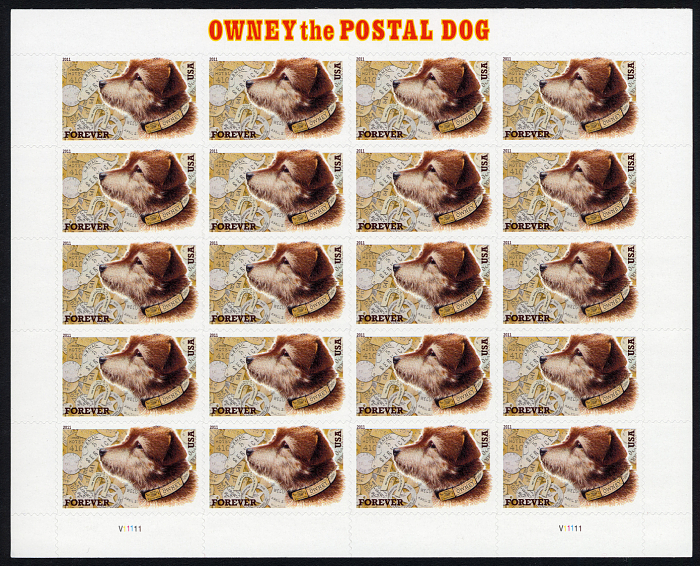 In 1888 Owney the postal dog first appeared at the post office in Albany, New York. Adopted by the railway mail clerks, he eventually traveled throughout North America and around the world. Postal workers and well-wishers attached commemorative tokens first to Owney's collar, then to a harness provided by Postmaster General John Wanamaker.
On July 27, 2011, USPS honored this postal mascot with his own stamp and special first day of issue postmarks. To tell more of Owney's story, artists created designs, or "cachets," that enhance these first day covers (stamped envelopes canceled on the stamp's first day of issue). Many cachet artists belong to the American First Day Cover Society (AFDCS).
The National Postal Museum devised this virtual exhibition with the dual purpose of telling the story of Owney and allowing contemporary cachet artists the opportunity to showcase their artwork to the public, inspiring new collectors.
Twenty-three cacheted first day covers are featured here, selected from over 75 submitted for this exhibition. The cachets were divided by subject into 3 categories: Owney, the Postal Dog, Riding the Rails with Owney, and Owney's Tags. All of the cachet artists who submitted first day covers for this exhibition, including those not shown here, have at least one of their covers exhibited in the William H. Gross Stamp Gallery at the National Postal Museum.
Each cachet is accompanied with the artist's name above it and the artist's notes and/or publication information below it, if available.
Created by the Philately Department