Hawaii remained a U.S. territory for sixty years before becoming a state on August 21, 1959. The United States Postal Service has issued several stamps commemorating the event.
Issued on the same day Hawaii was admitted to the Union, this 7-cent commemorative airmail stamp depicts a Hawaiian warrior presenting a lei of welcome to the star of statehood with a map of the new state's islands in the background.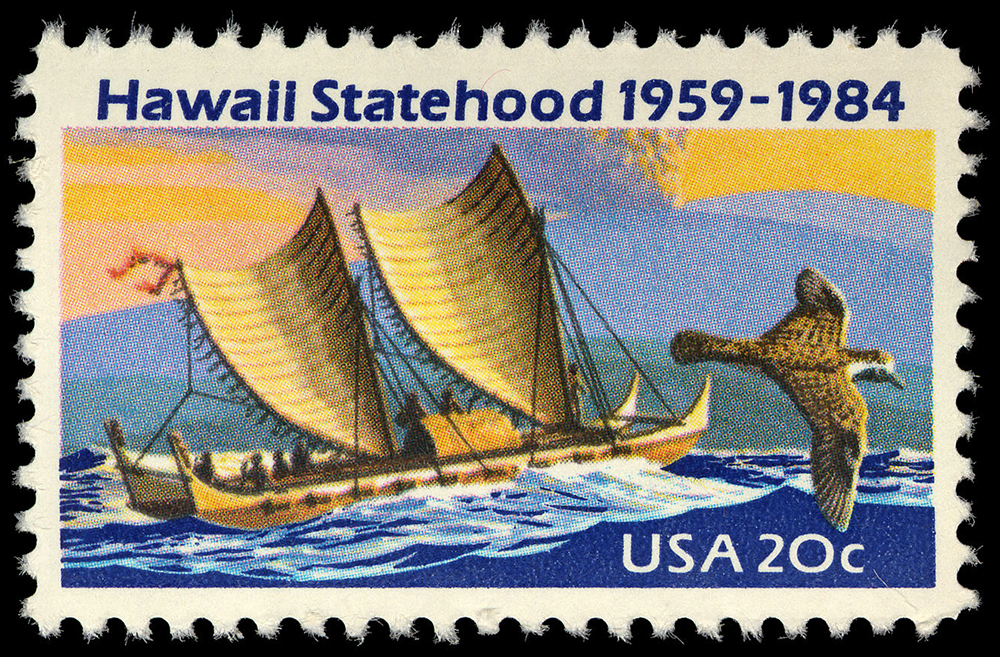 The twenty-fifth anniversary of Hawaiian statehood was celebrated on a stamp released in 1984. Stamp designer and Hawaiian native, Herb Kane, illustrates a view of Hawaii from the ocean. The stamp contains three objects of focus, all of which are unique to Hawaii and its culture. A Polynesian canoe, used by early Polynesian settlers that sailed to Hawaii, rides the waves of the sea with an erupting volcano in the background. In the foreground, a golden plover flies ahead. This bird lives in Alaska, except for the winter months when it flies south to Hawaii. First-day sales of this statehood stamp topped all USPS records at the time of its release.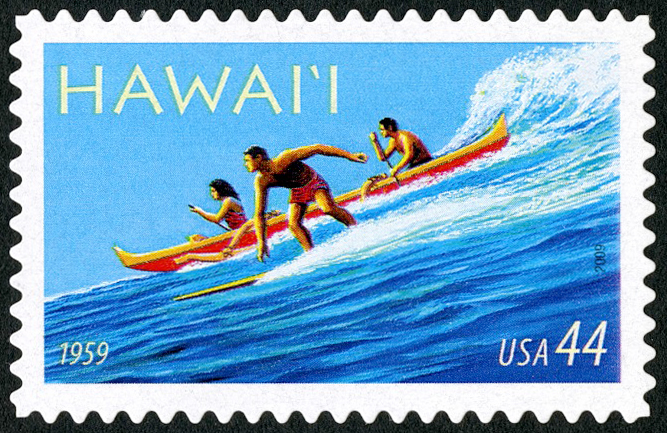 In 2009, a stamp was released to commemorate the 50th anniversary of Hawaiian statehood. Also designed by Herb Kane, the stamp depicts a surfer riding a wave on a longboard and two people paddling an outrigger canoe to shore.
Other stamps in recent decades have featured Hawaii, illustrating unique aspects of the state.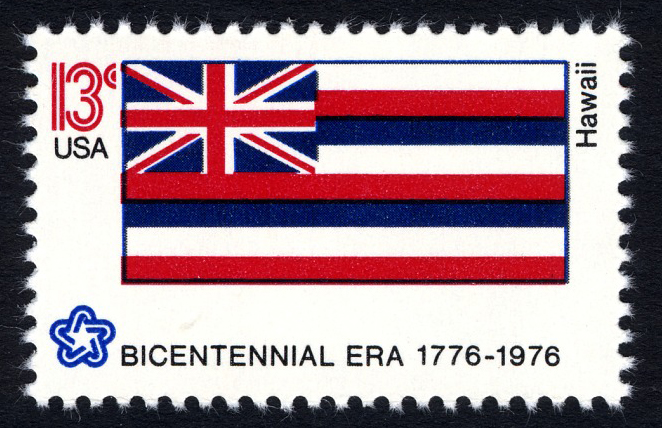 The Hawaiian flag was commissioned by Kamehameha the Great and has represented the Hawaiian nation for over 190 years. From its beginning, the flag stood as a symbol of Hawaii's independence and sovereignty from other nations. The eight alternating red, white and blue stripes represent the eight islands of Hawaii. The British Union Jack flag is shown in the left corner in recognition of Great Britain's early friendship and goodwill with Hawaii in the mid-19th century.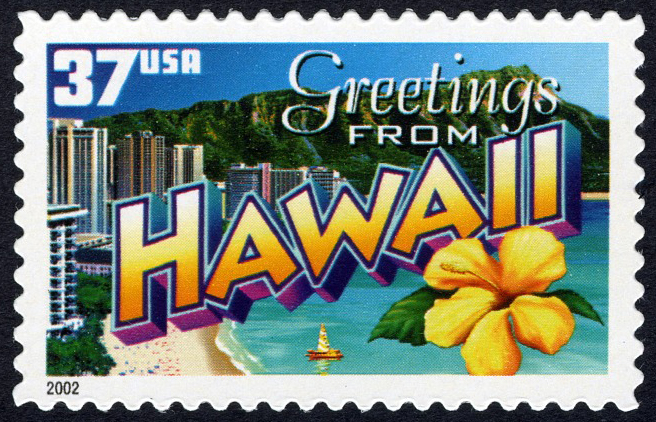 While the 13-cent Hawaii single displays the flag and its symbolic elements, the Greetings from America stamp, issued in 2002, portrays a picturesque scene that is distinctive to Hawaii. Known as the "Aloha State," Hawaii attracts over four million tourists annually. The stamp depicts Waikiki Beach with the extinct volcano Diamond Head in the background and the yellow hibiscus, the state flower, in the foreground.