"A black speck appears against the sky, and it is plain that it moves. . . . Another instant . . . and man and horse burst past our excited faces and go winging away like the belated fragment of a storm." – Mark Twain, Roughing It, 1872
The legendary name of the Pony Express calls up thrilling images of horse and rider racing across treacherous terrain. Yet the actual Pony Express lasted for less than two years (April 1860 to October 1861) and was only one of a number of private express services that used riders to carry the mail.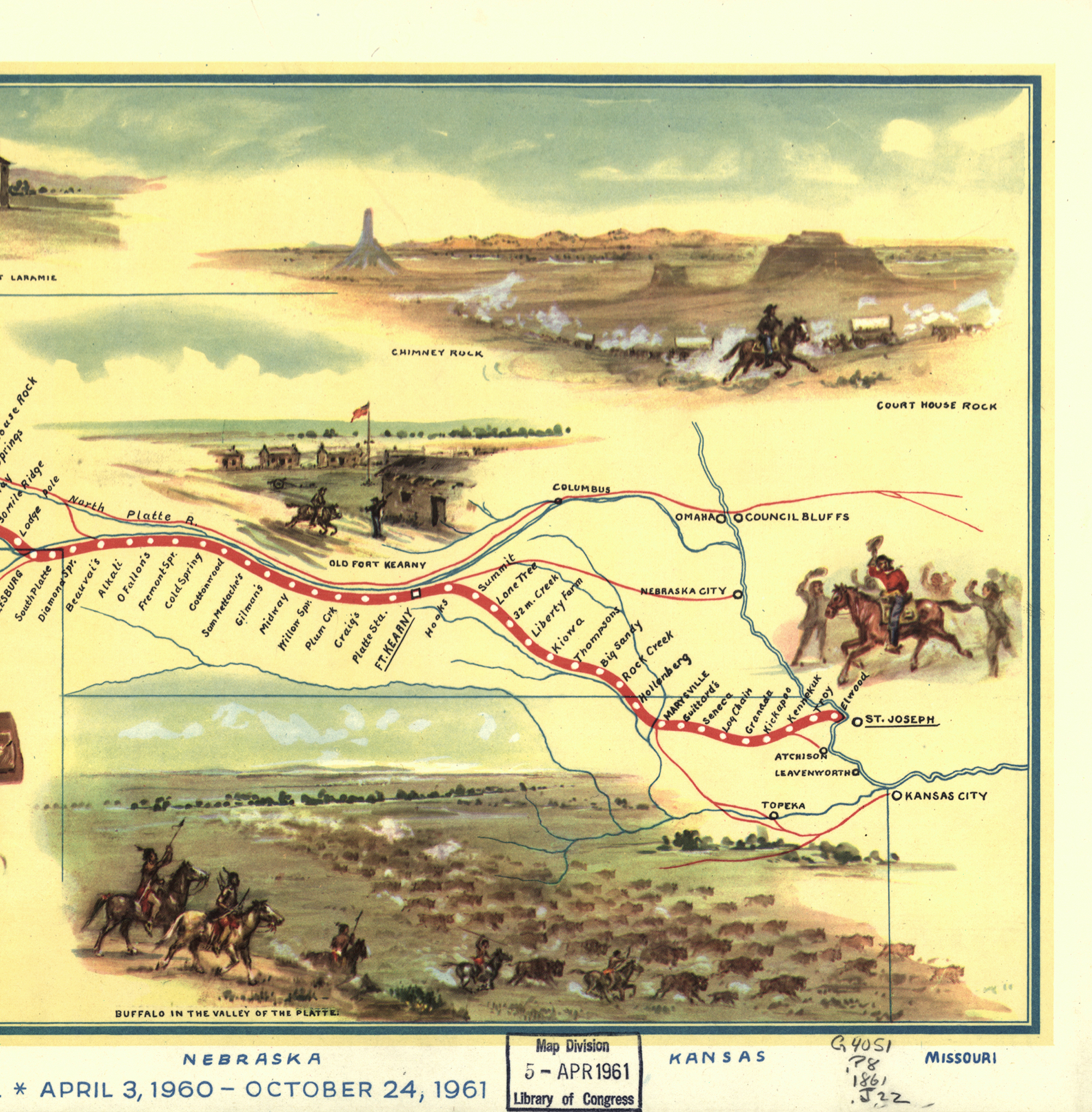 Map courtesy of the Library of Congress
It owes its fame to the romanticizing of the Pony Express and the American West that began late in the 19th century, in Wild West shows and dime novels, and continues to the present. Pony Express riders live on today, still dodging varmints and villains in books and movies, evoking speed and thrills on countless commercial products.
The Central Route
In 1860, a relay system of horses began to carry mail across the 1,966-mile-long "central route" between St. Joseph, Missouri, and Sacramento, California. This privately owned service would become known as the Pony Express.

Map courtesy of the Library of Congress
The Pony Express solved an urgent problem for the U.S. government. In the late 1850s political tensions had increased between North and South over slavery and other issues. The government feared losing control over mail along the Southern Route and contact with gold-rich California. To ensure Union control over cargo and mail carried between East and West, a route outside the Southern states was needed.
Length of entire route: 1,966 miles.
Stations along route: about 165.
Distance between stations: approximately 10 miles.
Each rider rode one segment of the route, 75–100 miles long.
At each station, a rider changed horses.
Every 75–100 miles, a new rider took over.
Average speed: 10 miles per hour.
A rider changed horses 8–10 times per ride (every 10 miles or so).

Map courtesy of the Library of Congress
How long did it take to get from Missouri to California? 
10 days in summer, 12–16 days in winter (mountain snows can slow you down). In 1860, that was speedy! A stagecoach took 24 days.
Whose idea was it?
Three business partners—William Russell, Alexander Majors, and William Waddell—founded the Pony Express as a private company.