"Clemente is a great hero for all Latin players, especially Puerto Ricans"
—Juan Gonzalez, 1997, while playing for the Texas Rangers
Roberto Clemente, the first Latin superstar in baseball, was keenly aware of his status as a role model and as a "foreign" presence in the team. In his early professional playing days he was unable to eat or sleep with his white teammates in the Jim Crow south. Tentative in speaking English, he was often annoyed with reporters who quoted him phonetically. Greatly admired in Pittsburgh, Clemente was a folk hero in Puerto Rico, where he maintained a residence with his family.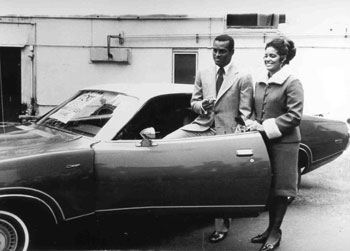 Roberto Clemente and his wife, Vera. Clemente married Vera Cristina Zabala on November 14, 1964, in Carolina, Puerto Rico.
Courtesy of the National Baseball Hall of Fame and Museum, Cooperstown, NY
Clemente devoted himself to helping others throughout his career. Gifts of time, money and any personal assistance he could give – he gave. In 1972, after an earthquake had devastated Nicaragua, Clemente headed up the Puerto Rican aid efforts. Concerned about reports that dictator Anastasio Somoza's military was stealing supplies, Clemente decided to personally accompany one of the shipments. On New Year's Eve he boarded a rickety cargo plane that had been charted at the last minute to take supplies. The plane crashed into the ocean shortly after takeoff. Clemente's body was not recovered.
His death shook the baseball world. Three days after his death, the Baseball Hall of Fame's Board of Directors amended the eligibility rules for Clemente and shortly thereafter, 93 percent of the Baseball Writers Association voted for Clemente's inclusion in the Hall. The induction occurred on August 6, 1973 in Cooperstown, New York and Clemente, with so many honors already on his shoulders, became the first Latin American to enter the Hall of Fame.
---
Promotional Baseball Bat with Clemente's Signature

While his greatest fame came from his tremendous defensive work in right field, Clemente was one of only a few players to have collected 3,000 hits. He won four National League batting crowns, twice led the league in hits (1964 and 1967) and once led the league in triples (1969). This promotional Louisville Slugger baseball bat, while not used by Clemente, is the same size as those he used and bears his signature.
On loan from the National Baseball Hall of Fame and Museum, Cooperstown, NY
---
Souvenir Pittsburgh Pirates Button
In 1967 Clemente was the first Pirate to be paid the then-outstanding salary of $100,000. At the end of his eighteen years with the Pirates, he was the club's all-time leader in games, at-bats, hits and singles. According to Giants pitcher Juan Marichal, Clemente was a dangerous man at bat, noting that "he can hit any pitch. I don't mean only strikes. He can hit a ball off his ankles or off his ear."
On loan from the National Baseball Hall of Fame and Museum, Cooperstown, NY
---
Ticket Stub from Pirates-Mets Game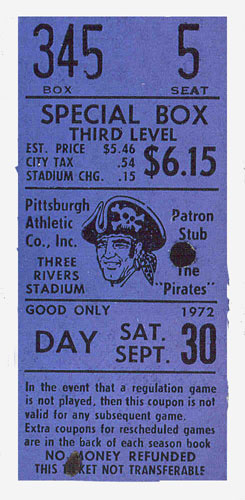 On September 29, 1972, Clemente made what was thought, at the time, to be his 3,000th hit. The Pittsburgh crowd erupted in cheers and the ball was passed to Clemente. Suddenly everyone's attention was drawn to a flashing "E" on the scoreboard. The "hit" was ruled an error. Disappointed but not defeated, Clemente collected his 3,000th hit when he doubled off of Met pitcher Jon Matlack's curve ball the next day. Clemente, only the eleventh player to ever reach 3,000 hits, was the first Latin American to do so.
On loan from the National Baseball Hall of Fame and Museum, Cooperstown, NY