"Any time you have the opportunity to accomplish something for somebody who comes behind you and you don't do it, you are wasting your time on this Earth."
—Roberto Clemente, before the annual Houston baseball writers' dinner, 1971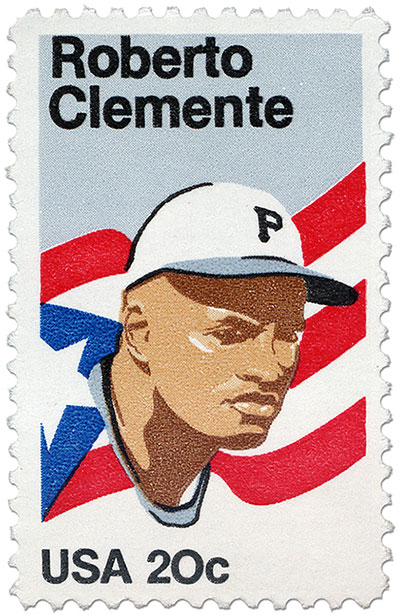 United States postage stamps honor those whose memories and accomplishments mark an enduring legacy. Postal service policy states that individuals (excepting US Presidents) may only be considered for this honor a decade after their death. To be celebrated on a stamp once is a tremendous feat. Roberto Clemente Walker has been so honored twice. The first stamp honoring this great baseball player appeared August 17, 1984. He was selected again as a stamp subject in 2000, for the Legends of Baseball series.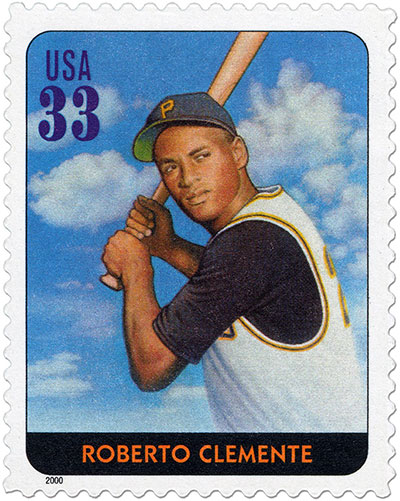 Roberto Clemente was born in Carolina, Puerto Rico on August 18, 1934. An athlete of tremendous ability and pride, Clemente is remembered today as one of the game's best all-round right fielders, with one of the best arms in baseball. Clemente was drafted by the Pittsburgh Pirates in 1954, playing his entire major league career with that team until his death in 1972. Roberto Clemente's lifetime batting average was an impressive .317. His personal records included four National League batting championships, twelve Gold Glove awards, the National League MVP in 1966, and the World Series MVP in 1971.