In 1859, the well-known American balloonist (or "aeronaut") John Wise made history when he transported the first official U.S. airmail in a locked U.S. mailbag aboard his gas balloon Jupiter. Wise originally planned to depart from Lafayette, Indiana, on August 16; a demonstration ascent that day is shown in the reproduced period photograph. A failed valve forced him to reschedule the flight for the next day, August 17.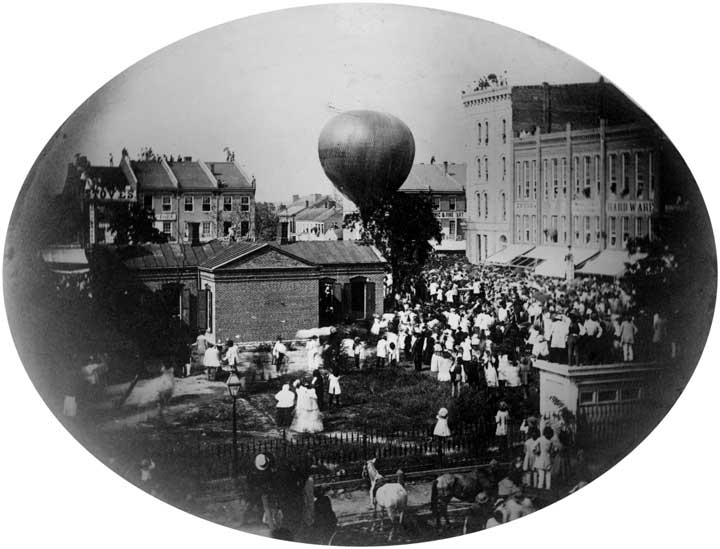 Balloon Jupiter demonstration ascent, August 16, 1859, Lafayette, Indiana.
Wise had hoped to reach New York City, to which the mail was addressed, or Philadelphia. A lack of wind shortened the trip, however, and he landed in Crawfordsville, Indiana, about 30 miles away. Upon landing, he transferred the mailbag to a railroad postal agent, who put it aboard a train to New York. The envelope and enclosed letter displayed here are the only known surviving letter from the flight.
In 1959, the Post Office commemorated the 100th anniversary of the Jupiter flight with a 7¢ stamp. Postmaster General Arthur Summerfield gave a speech in Lafayette, and a balloon re-enactment flight and helicopter demonstrations added to the occasion.
---
The Balloon Jupiter Letter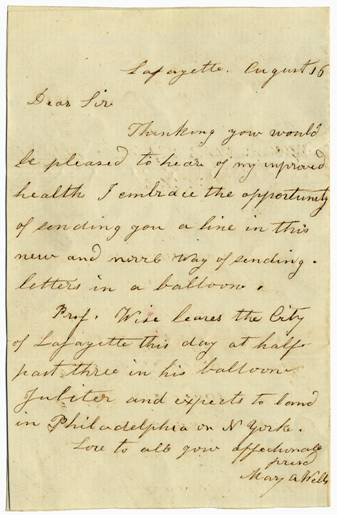 This envelope and letter make up the only known surviving piece of the first officially sanctioned U.S. airmail, out of a total of 146 pieces sent aboard the Jupiter. The sender marked the envelope "via Balloon Jupiter," following published instructions by the Lafayette postmaster. The August 16 postmark marks the intended date of the ascent, which had to be delayed a day at the last minute due to a failed valve. At the bottom left corner of the envelope, a later hand incorrectly added the date 1858, a year before the actual flight.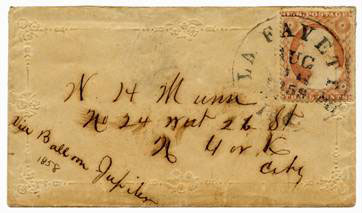 ---
Artwork for the 100th Anniversary Stamp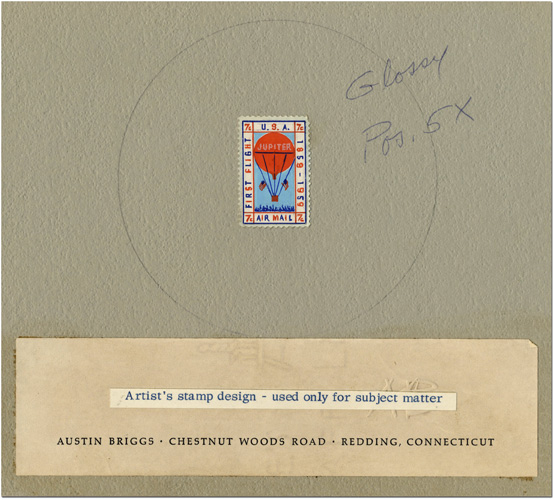 Artist Austin Briggs's original artwork for the 1959 Balloon Jupiter stamp captures the key elements of a rising balloon with a cheering crowd below. At this stage, an inscription on the left side still reads FIRST FLIGHT.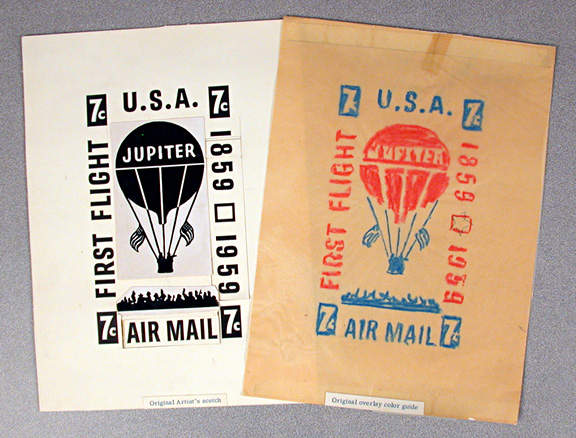 The black-and-white layout for the stamp removes Briggs's blue and red border lines and changes the upper balloon lines, stamp values, and sky to "white"—actually, un-inked paper. The color sketch assigns red and blue inks to specific parts of the design; on the right side, a star is penciled in between the two years, as in the finished stamp. The printed stamp follows the color sketch, with one exception; the wording on the left changed from FIRST FLIGHT to LAFAYETTE, IND.