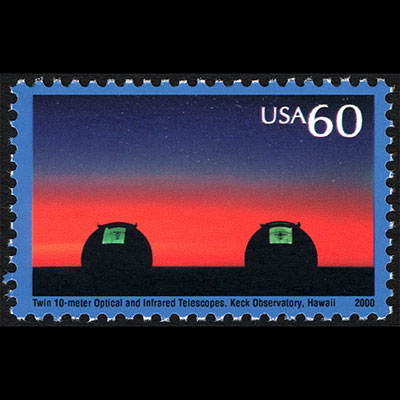 The study of space through both Earth-based and Earth-orbiting telescopes has been the subject of a large number of U.S. space stamps. Some illustrate the great observatories of Earth, all located on high mountains to minimize atmospheric distortion. Others show the orbiting Hubble Space Telescope. And still more offer images captured by astronomers, of distant stars and galaxies.
Hubble Space Telescope
The best-known satellite on U.S. postage stamps is the Hubble Space Telescope, launched from the space shuttle Discovery in April 1990. Named for the 20th-century American astronomer Edwin Hubble, this large satellite is a joint project of NASA and the European Space Agency. A large optical telescope, it uses principles similar to those used in large telescopes on Earth. It is able to acquire far more detail than Earth-based telescope, however, because of its location in orbit outside of Earth's atmosphere. U.S. postage stamps have shown the Hubble itself as well as dramatic images captured by the satellite in orbit.
---