This section of Stamps Take Flight showcases some of the rarest and most unusual holdings of the Postmaster General's Collection, the modern name of a long-standing government archive.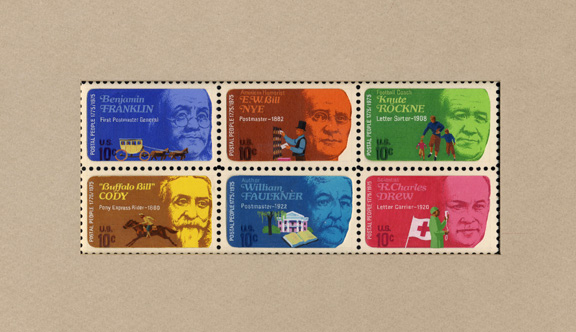 Originally, postage stamps were the responsibility of the Third Assistant Postmaster General. By the 1860s, the Third Assistant PMG established a small reference archive to preserve a record of current and previously produced stamps. As more stamps were issued, the archive expanded, eventually growing into today's wide-ranging collection of die proofs, full panes, stamp art, and more. The examples shown here include a remarkable set of unused stamp designs as well as some of the rarest full panes in the collection.
Within this section, three special groups of artifacts tell the story of the vast range of U.S. air-and-space mail transport, from a 19th-century balloon to a trip to the Moon. In addition to rare die proofs of the "inverted Jenny" error, they include two extraordinary holdings of the National Postal Museum and the Postmaster General's Collection—the only known surviving letter carried on the balloon Jupiter in 1859, and the Apollo 15 cover canceled on the Moon.