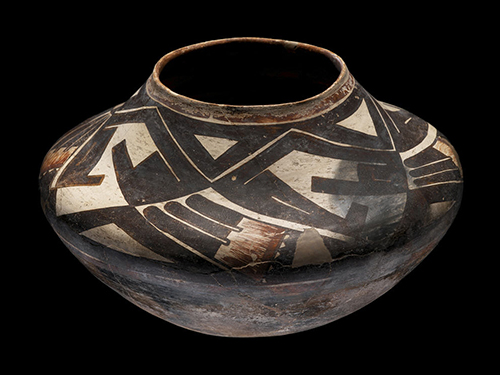 "Pottery making is a sacred process. Clay vessels hold blessings for physical, spiritual, and emotional sustenance. Whether made for sale, religious, or utilitarian use, potters imbue their work with energy, spirit, and love."
—The Buchsbaum Gallery of Southwestern Pottery, Museum of Indian Arts and Culture, Santa Fe, New Mexico.
For centuries, the Pueblo Indian Nations of the American Southwest have been recognized for their skill as potters. After gathering the sacred clay from their surrounding land, and shards of old broken pots now to become the strengthening temper, the clay is soaked, rolled and coiled to make a new pot. Local plants provide the paints and dyes, and even the paint brushes needed. Pots are polished and fired, sometimes in age-old outside adobe ovens. All of these processes reunite the ancient and the new within a vessel of present remembrance.
This block of four stamps was the first in the American Folk Art series. Designer Ford Ruthling, a New Mexico-born painter who has studied Pueblo Indian culture extensively, highlighted the artistic achievements of Pueblo peoples.