Sir, more than kisses, letters mingle souls; For, thus absent friends speak.
—John Donne to Sir Henry Wotton, written before April, 1598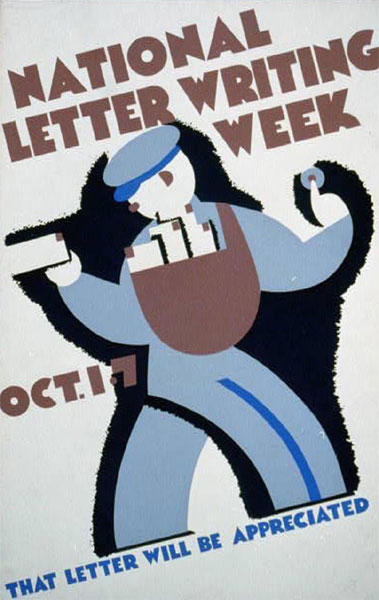 In this age of rapid communication choices, letters still maintain a special place in our hearts. They have a remarkable permanence, keeping us close to loved ones even after death. Letters let us reach back across the decades to hear the voices of our ancestors, binding us to our past. Changing exhibits in this gallery spotlight the history and extraordinary importance of written communication.
The visceral experience of letter writing offers a sense of physical connection between separated individuals. Who doesn't recognize the emotional excitement and anticipation of seeing a letter in their mailbox. It demonstrates that in today's hectic & demanding world, someone has spent precious time and effort in writing that missive.
The tongue is prone to lose the way,
Not so the pen, for in a letter
We have not better things to say,
But surely say them better
—Emerson, "Life"
Past exhibits have included:
Letters and documents recording the two-hundred-year history of an African-American family
Letters documenting the efforts of a family trying to escape the Holocaust by immigrating to America
Letters from contemporary American immigrants A soldier's experiences in the 1846 Mexican-American War
The letters written from interned Japanese-American children to a beloved local librarian during World War II