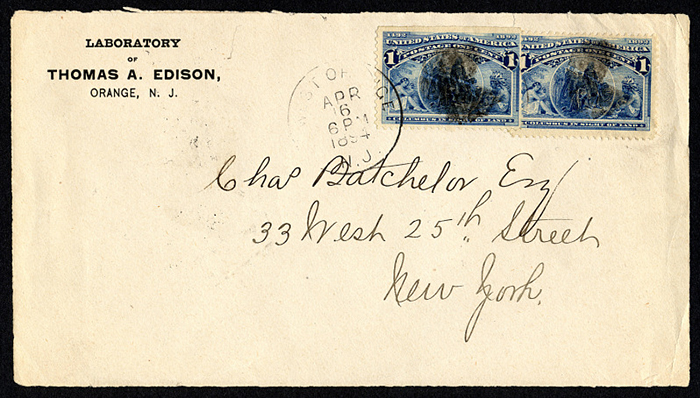 Thomas A. Edison addressed this cover to close associate Charles Batchelor on April 6, 1894. The cover is postmarked "West Orange, N.J., 6 P.M." Batchelor, born in England in 1845, worked as Edison's laboratory assistant, helping develop technology for Edison's key inventions, including telegraphy, electrical lighting, the phonograph, and telephony. Eventually, Batchelor, who invested heavily in Edison's companies, became Treasurer and General Manager of Edison General Electric Company. He died in 1910.
This cover, postmarked in December 1893 at New York City, bears the most familiar variety in the Columbian series, the 2-cent "broken hat." The flaw probably resulted from a weakening of the metal on the transfer roll and, upon examination of several "broken hat" stamps, can be seen as a progressively widening gap.
Mutual Reserve Fund Life Association, a New York-based agency, addressed the correspondence to General Joseph C. Breckenridge. Though born in Virginia, Breckenridge served the Union during the Civil War and thereafter built a career in the military. His highest positions included brigadier general and inspector general of the U.S. Army.