Domestic Mail: "Matanzas"
The earliest postmark used from Matanzas dates back to 1814. It was a straight-line type similar to that illustrated, except that the letters were inclined slightly to the right. This particular folded letter shows the third type of marking used at Matanzas. This letter was written on July 15, 1830, and received in Havana by the addressee on July 16.

Tome I, p.4: Matanzas to Havana. 15 July, 1830 (cover).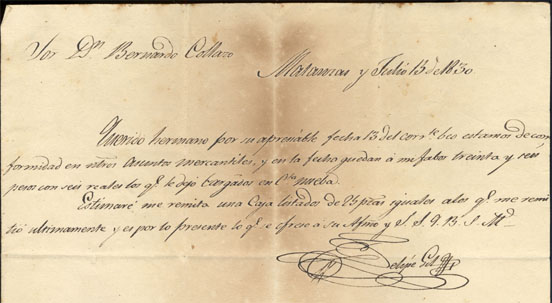 A detail of the letter
---
Domestic Mail: "Esperanza"
The Esperanza postmark is known to be struck in black from 1829 to 1832 and in red from 1833 to 1839. This letter was written on April 9, 1832, and may represent an early use of this postmark struck in red. Below the Esperanza postmark, "1 1/2 rls" is written in manuscript. This is the amount of postage due, payable by the addressee in Havana.
Note that the Esperanza postmark below is struck in red.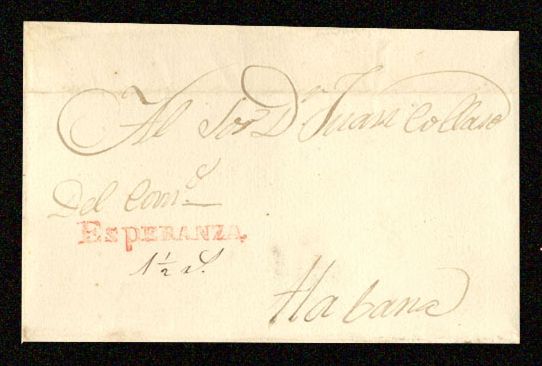 Tome I, number 5: Esperanza to Havana, 9 April 1892.
Above is the folded cover as it appeared mailed.
Below is the outside view of the unfolded letter.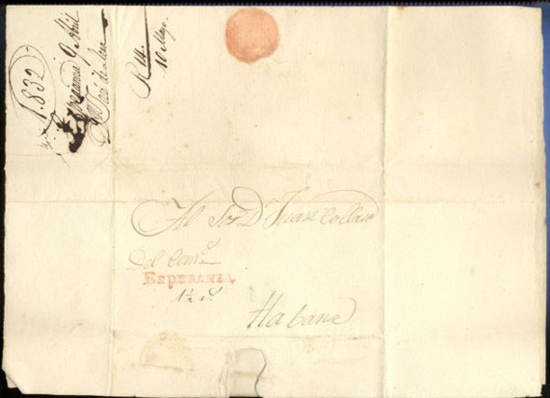 View of cover, folded-out.
---
Domestic Mail: "Puerto Príncipe"
The Puerto Príncipe postmark struck on this folded letter was applied with an oily ink, which has soaked into the paper and discolored it. It was written on October 5, 1833, and received in Havana on October 16.
This postmark is known from Puerto Príncipe for the period 1803 through 1838. The numeral "2" represents 2 reales postage due, payable by the addressee.

Tome I, p.6a: Puerto Príncipe to Havana. 5 October, 1833.
---
Domestic Mail: "Fernandina de Jagua"
While difficult to read, this Fernandina de Jagua postmark is rather interesting. It is listed as struck in black during the period 1829 to 1838. The ink was so oily and spread into the paper so thickly, that it renders the postmark almost illegible.
Founded in 1819 by colonists from Louisiana, the citizens of Fernandina de Jagua changed the name of the town to Cienfuegos about 1837, or earlier. This letter is datelined "Cienfuegos, October 1837." It was docketed as received in Havana on November 5.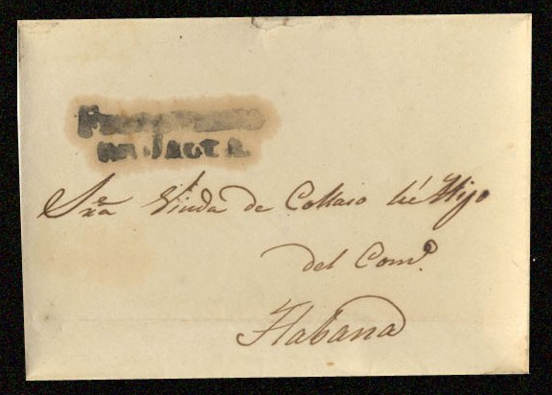 Tome I, number 7: Fernandina de Jagua to Havana, October 1837.
---
Domestic Mail: "San Juan de los Remedios"
This folded letter was written October 24, 1833, and bears the postmark of San Juan de los Remedios struck in red. This particular postmark is known struck in red during the period 1823 through 1837.
Note that the figures "1 1/2" are written in manuscript at upper right. This is the amount of postage due from the addressee in Havana, 1 1/2 reales.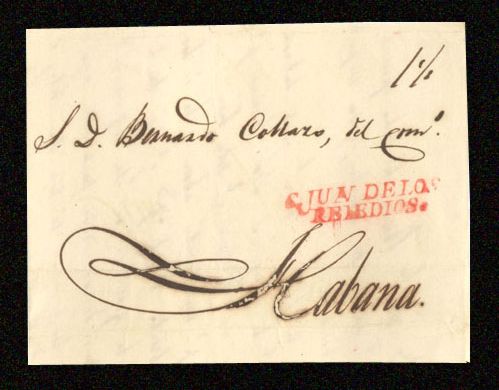 Tome I, number 8: San Juan de los Remedios to Havana, 24 October 1833.
---
Domestic Mail: "Güines"
Posted at Güines on February 27, 1850, this cover bears an impression of a circular date stamp designed to include the designated identification number of each province or territory of the Spanish Empire.
Note the number "30" on each side of the datestamp. Each of the provinces of Spain were assigned a number, from 1 to 26 which appeared in the postmark of every town in that province. The Spanish possessions in Africa were numbered "27," the Balearic Islands received "28," the Canary Islands were assigned "29," Cuba and Puerto Rico received "30" and the main post office in the Philippines (Manila) was numbered "31."
This type of postmark was introduced first in Spain in 1842, and are known as "Baeza" cancellations, after Don Juan Baeza, the Spanish Minister of Posts, who had them prepared and issued to the postmasters. The town of Güines is an important agricultural center and is located about 20 miles from Havana.
The numeral "1" stamped on the face of the cover is the amount of postage due, 1 real. It was received at Havana on the same day as it was posted.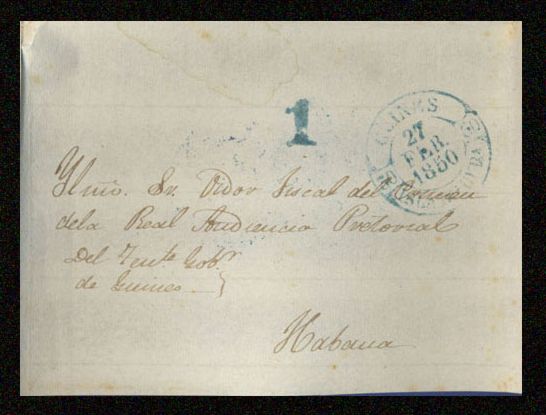 Tome I, number 13: Güines to Havana, 27 February 1850.
---
Domestic Mail: "Habana"
Another example of the Baeza postmark*, this time on a letter posted from Havana on June 27, 1851, addressed to Puerto Príncipe.
Note the handstamped "2," meaning 2 reales postage due were required from the addressee.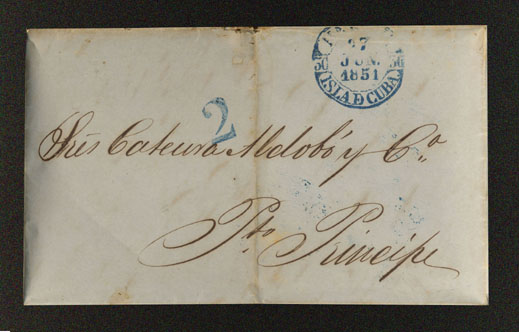 Tome I, number 14: Havana to Puerto Príncipe, 27 June 1851.
---
Domestic Mail: "Batabanó"
An example of a single weight letter prepaid with a 1/2 real plata stamp and used internally within the Island of Cuba.
The stamp is cancelled with a fancy oval grid, known as a "parrilla."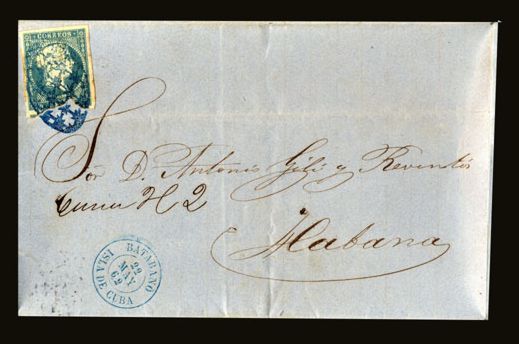 Tome I, number 22a: Batabanó to Havana, 22 May 1862.
---
Domestic Mail: "Villa Clara, 7 May '62"
This cover enclosed official mail, from the municipal office of the town of Villa Clara (known as Santa Clara today), posted May 7, 1862, to the Mayor of the city of Trinidad. Beginning in 1858, certain government offices were authorized to use special adhesive postage stamps with values expressed in weight, not money. In Villa Clara, which did not use these special stamps, a "parrilla" (the fancy oval grid) was applied by the post office to the face of the letter to indicate prepayment, together with its normal datestamp. Trinidad applied its receiving town datestamp on the reverse on May 9, 1862, and also noted what the contents were. In manuscript, across the back flap is written, "Causa criminal contra José Domingo Ramos," (criminal case against José Domingo Ramos) with the signature of the official who mailed this letter.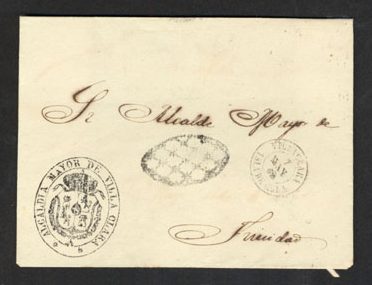 Tome I, number 30: Villa Clara to Trinidad, 7 May 1862. Front cover.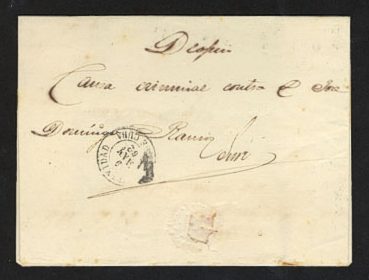 Back.
---
Domestic Mail: "Havana"
Prior to November 1855, the inhabitants of Havana had to pick up their mail at the post office. The steady growth in population and commerce of the city, however, induced Don José de la Concha, Captain General of Cuba, to approve a system of home delivery within the city of Havana, to begin on November 19, 1855, in honor of the Queen's saint's day. The postal charge of 1/4 real plata fuerte was established for this service, but there were no 1/4 real stamps available. A local printer, J. Toribio de Arazoza, was given the job of overprinting the least used of the current denominations of stamps on hand, the 2 reales plata stamps, with an overprint "Y 1/4."The overprint stood for "Interior - One Quarter real plata fuerte."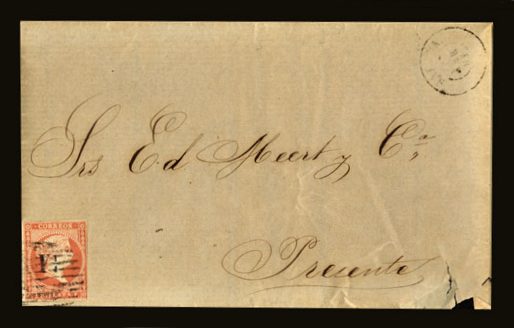 Tome I, number 32: Havana, 10 April 1863.
A second overprint was made in slightly different type font in 1858, and again another lot of 2 reales stamps was overprinted with the same type font in April 1860. The cover illustrated here is from this third overprint. The letter is addressed to a business within the city of Havana with the designation of "Presente," meaning "within the city." While faint, the postmark is that of Havana and is dated April 10, 1863.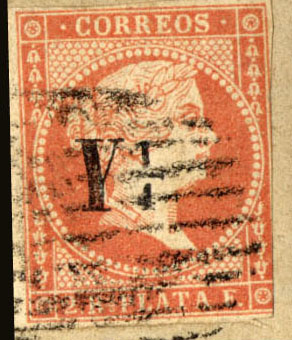 Detail of Stamp and Overprint
---
Domestic Mail: "P. Nueva Carolina/ v Batabanó"
Endorsed "P[or] Nueva Carolina v[ia] Batabanó," this cover traveled by an interesting route. Written at Havana on September 12, 1867, it was routed across the island to the port of Batabanó on the southern coast. At Batabanó, the mail was loaded aboard the vessel Nueva Carolina, and dispatched for the port of Manzanillo. The letter is backstamped at Manzanillo on September 16, 1867.
It is franked* with a 10 cent. stamp issued on January 1, 1867. This is the first Cuban issue appearing with perforations. All prior stamps had to be cut from the sheet with scissors. It also reflects a change in currency from reales plata fuerte to céntimos de escudo. One hundred céntimos equal one escudo. One half real plata fuerte equaled 10 céntimos de escudo, which was the single letter rate within the island of Cuba.
*An official marking indicating that no further postage is due.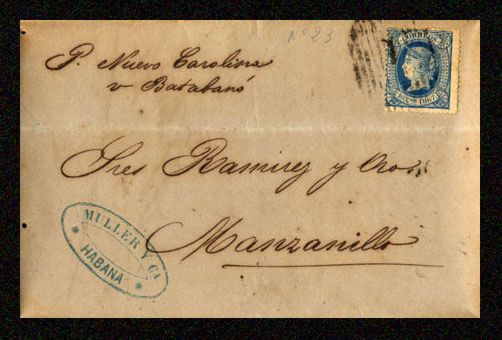 Tome I, number 38b: Havana to Manzanillo, 12 September 1867.
---
Domestic Mail: "Havana"
On January 1, 1877, the first issue with the name of the colony appeared, in this case, "Cuba". Postage stamps issued previously had not indicated the name of the Spanish colony where they were to be used.
This letter was posted at Havana on January 12, 1877, in the first month of use of this new issue depicting King Alfonso XII.
The postage rate was paid with a 25 centimos de peseta stamp, representing another currency change. Actually, this paid the same postage rate for single weight internal mail as had been previously paid by a half real plata stamp. One half real plata equaled 10 céntimos de escudo equaled 25 centimos de peseta.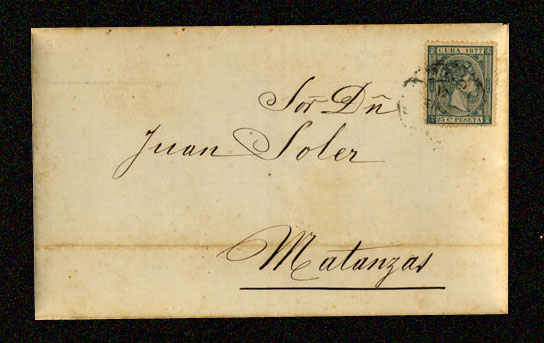 Tome I, number 48: Havana to Matanzas, 12 January 1877.