Even before the battleship Maine exploded in Havana harbor on February 15, 1898, the American people had been following the fortunes of the Cuban revolutionaries trying to cast off the shackles of Spain. The loss of the Maine heightened tensions between the United States and Spanish governments. On April 16, Congress passed the Belligerency Resolutions which recognized the right of the Cuban people to be free and independent. President McKinley signed the Cuban Bill, which called for the U.S. Navy to blockade Cuba's ports.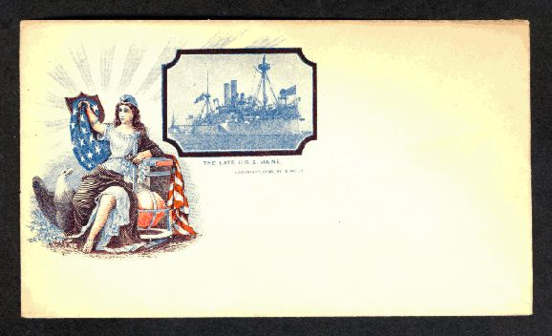 Tome II, p.2: Unposted US patriotic, 1898.
While the U.S. Navy did not have enough vessels to blockade all Cuban ports, the port of Havana was blockaded on April 23. As a result, Spain declared war on the United States on April 24, and Congress declared war on Spain on April 25.
Recalling the beautiful designs produced by both the North and the South in the American Civil War, American stationers prepared patriotic envelopes and letterhead designs for this war. While no catalogue listing the various designs has yet been published, it appears that there are over 500 different designs known. If one includes variations in these designs, than well over 1000 can be counted.
This particular design features the battleship, U.S.S. Maine, together with Seated Liberty, the United States Flag and the American Eagle. It was copyrighted and published in 1898, by E. Rost.
---
The first U.S. troops to land in Cuba were marines who landed at Caimanera on Guantánamo Bay on June 10, 1898. The army made two landings on the southeast coast of Cuba on June 22. The first was at Siboney, and the second at Daiquiri. The idea was to capture the city of Santiago de Cuba, about 8 miles west. On July 1, heavy fighting took place at El Caney and San Juan Hill. Spanish Admiral Cervera, whose fleet was anchored in Santiago's harbor, made a desperate attempt to leave the harbor on July 3. Unfortunately, the entrance channel was narrow and would only allow one vessel at a time to pass through. As the Spanish fleet passed out of the harbor in single file, the American warships were able to attack them one by one. On July 16, Spanish forces at Santiago surrendered and the city was occupied on July 17.
The US military post office at Santiago was established on July 21, 1898.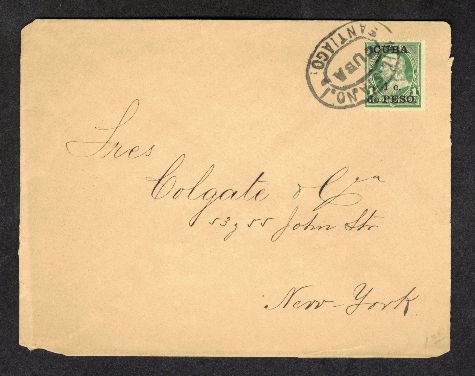 Tome II, p.3: Santiago to New York, December 1899.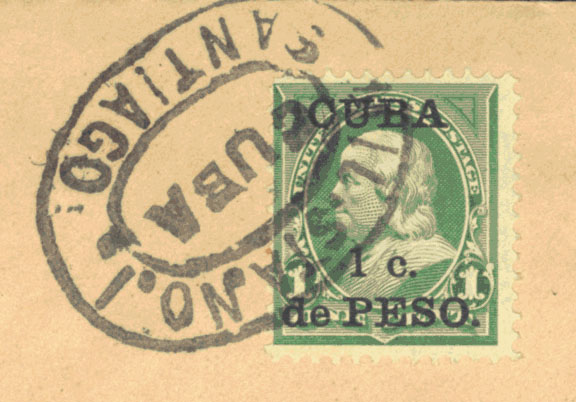 Stamp Detail
Santiago to New York. 26 May, 1899.
This cover shows the oval postmark of "Mil. Sta. No. 1/ Santiago/ Cuba" (Military Station No.1), canceling a US postage stamp overprinted with values in Cuban currency for use in Cuba. These overprinted stamps were first placed on sale on January 2, 1899. This particular cover was backstamped on arrival at New York in December, 1899.
---
When a U.S. Postal Commission was sent to Cuba to recommend what changes were needed to make the transition easier, from the existing postal system to the U.S. system, it was thought that the local rate for drop letters in Havana was 2 1/2 centavos de peso. (Drop letters are letters mailed in one locality for delivery in that same locality.) Orders were sent to Washington to provide 2 1/2 centavos de peso postage stamps, and 2,000,000 current United States 2-cent stamps were overprinted 2 1/2 centavos de peso and sent to Havana. However, it was discovered afterwards that the Spanish authorities had reduced the drop letter rate to 2 centavos de peso just before hostilities began, and the 2 1/2 centavo value was not needed.

Delail of stamp on envelope pictured below.
In order that the stamps not be wasted, the Post Office Department authorized the 2 1/2 centavos de peso stamp be sold for 2 centavos de peso, until the supply was exhausted.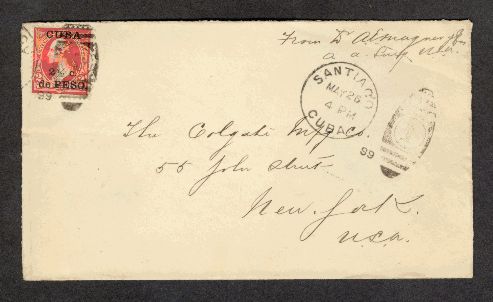 Tome II, p7: Santiago to New York. 26 May, 1899.
The U.S. Post Office Department established a 2 centavo rate to the United States for mail from military personnel, provided it was docketed with the sender's military affiliation. This cover is an example of the 2 1/2 centavos de peso stamp used on a letter posted in Santiago, Cuba, on May 26, 1899, addressed to New York. It was written by Dr. A.E. Wagner, Surgeon, U.S. Army. The 2 centavo rate was equivalent to the 2-cent domestic rate that was current within the United States at that time. The international single weight letter rate from Cuba to the U. S. for non-military mail was 5 cents, in accordance with Universal Postal Union conventions.
---
Included among the initial shipment of postal paper to Cuba on December 27, 1898, were about 70,000 unoverprinted U.S. 2-cent stamped envelopes. Since these could not be sold across the counter together with the revalued overprinted stamps, Major Rathbone, American Postal Administrator for Cuba, wrote to the Post Office Department at Washington for permission to have the stamped envelopes overprinted locally in Havana in a format similar to that used on the postage stamps. Approval of the request was granted, and the printing works of Ruiz y Hermano of Havana was contracted to do the work.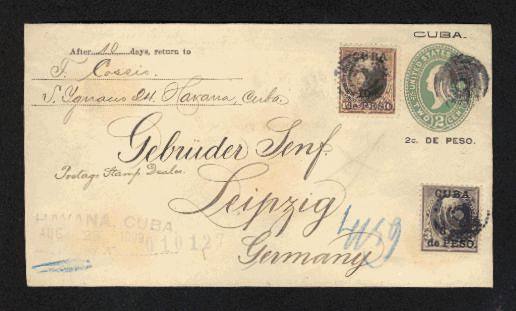 Tome II, p.8: Havana to Leipzig, Germany. 28 August, 1899.
This envelope is one of those overprinted locally. Addressed to stamp dealers Gebruder Senf in Leipzig, Germany, the cover is franked additionally with a 3 centavos de peso stamp to pay the 5 centavos de peso international rate, and a 10 centavos de peso stamp to pay the registration fee. It was mailed at Havana on August 28, 1899, and received at Leipzig on September 11.
---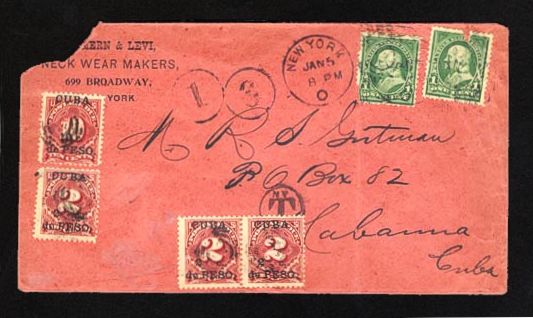 Tome II, p.26: New York to Havana. 5 January, 1901.
As part of its reform of the Spanish/Cuban postal system, the United States Post Office Department introduced postage due stamps, to be applied to insufficiently prepaid letters, their total indicating the amount of postage due to be collected from the addressee. Under the Spanish Administration, special postage due stamps were unknown, the amount of postage due being marked on the face of the envelope in manuscript, or by handstamp.
The first overprinted United States postage due stamps were placed in use in Cuba on October 14, 1899. Four different denominations were used: 1, 2, 5 and 10 centavos de peso.
This cover illustrates a scarce usage of the 10 centavos de peso stamp, used with three 2 centavos de peso values for a total postage due of 16 centavos de peso. This odd amount came about because this letter, posted at New York on January 5, 1901, was franked with only 2-cents in U.S. postage. It appears to be mailed to a civilian, not connected with the North American forces, and was therefore subject to the Universal Postal Union rate.
Under the Universal Postal Union (U.P.U.) Convention of Paris, 1878, the international rate of postage for a letter weighing not more than 15 grams was 25 gold centimes, or in US currency, 5-cents. In Cuba, the amount was the same, 5 centavos de peso. The New York post office marked this short paid letter with their U.P.U. "N.Y./T" in circle convention handstamp to alert the Cuban authorities that the letter was short paid.
Cuban postal authorities determined that the letter weighed between 15 and 30 grams, and consequently should have been prepaid with 10-cents postage. Since 2-cents had been paid, they credited the addressee with that, subtracting 2-cents from 10-cents and arriving at 8-cents. Article 5 of the U.P.U. Convention provided for doubling the amount of the deficiency, as a penalty, so the total amount of postage due from the addressee became 16 centavos de peso.