At noon on May 20, 1902, the United States Military Governor of Cuba, General Leonard Wood, personally read President Theodore Roosevelt's letter declaring that the U.S. Occupation was at an end. At the same time, Mr. M.C. Fosnes, Director General of Posts for the US Administration turned over all postal affairs to Colonel Fernando Figueredo Socarrás, first postmaster general of Cuba. The US flag was lowered in Havana, and the Cuban flag was raised.
By agreement, Cuba was permitted to continue ordering supplies of Cuban postage stamps, postal stationery and postal cards from the US Bureau of Engraving and Printing in Washington, D.C., through the US Third Assistant Postmaster General, until Cuba made other arrangements.
In September, 1902, the Havana newspaper El Fígaro ran a picture postcard contest. It was so popular that the demand for available one cent postage stamps was exhausting the stock on hand. There was not enough time to order new supplies from Washington, so Postmaster General Figueredo decided to re-value the least used denomination of the current stamps on hand. The 3 centavo value was overprinted "Un Centavo/ Habilitado/ Octubre 1902," with a large numeral "1" in the center. The work was hurriedly done on September 30, 1902, in the printing works of Ruiz y Hermano of Havana. As a result, many errors occurred in the printing. Two hundred thousand stamps were revalued.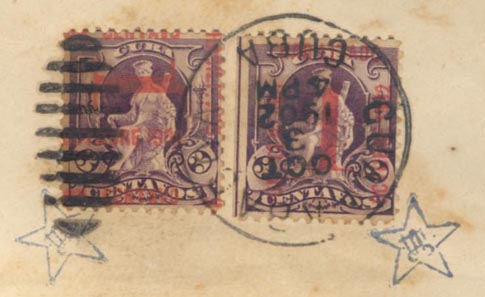 Detail of the 3 centavos stamp on the cover mentioned below.
The revalued stamps were placed on sale on the same day in Havana, and on October 1 in Cienfuegos and Matanzas. By the next day, the entire issue was sold out! Fortunately, a new supply of 1 centavo stamps, previously ordered from Washington, had just arrived.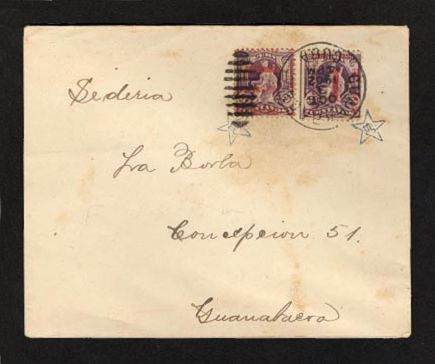 Tome 2, number 18: Guanabacoa to Havana. 3 October 1902.
This cover was prepared by a philatelist as a souvenir, but bears two examples of the re-valued 3 centavo stamp. The one on the right is a normal overprint, but the one on the left has the overprint sideways on the stamp. It was mailed at Guanabacoa (Havana Province) to a local address on October 3, 1902.
---
A large, legal size envelope mailed by the office of the President of Cuba, Don Tomás Estrada Palma, on March 11, 1903. No postage stamps were required on mail from government officials. It is possible that the address on the letter was written by the President himself.
The U.S. Post Office Department, during its almost four years of administration, had made many changes in the Cuban postal system, modeling it after the US system. Even "penalty envelopes," such as this one, bore the Spanish equivalent for "Official Business/ Penalty for Private Use, $300."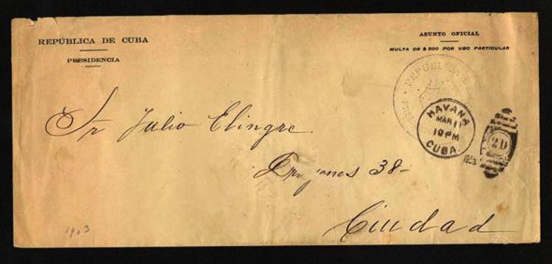 Tome 2, number 21: Havana to Ciudad, 11 March 1903.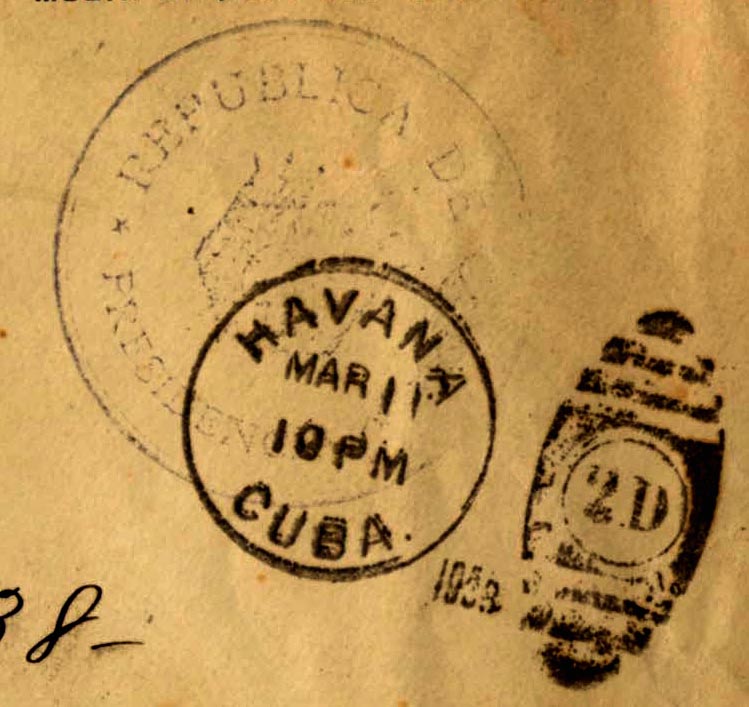 Detail of the Presidential Office cachet.
Havana to Ciudad. 11 March 1903
---
A picture post card which traveled half way round the world, but still did not reach its destination. Mailed in Kobe, Japan, on July 29, 1903, the card was originally addressed to Berlin, Germany. Upon arrival at Berlin, it was found that the addressee had moved on to Havana. The card was duly forwarded on August 31. As the handsome "Div. Carteros, Rec'do/ Habana, Cuba" postmark shows, it was received in Havana at the letter carriers division on September 12, 1903.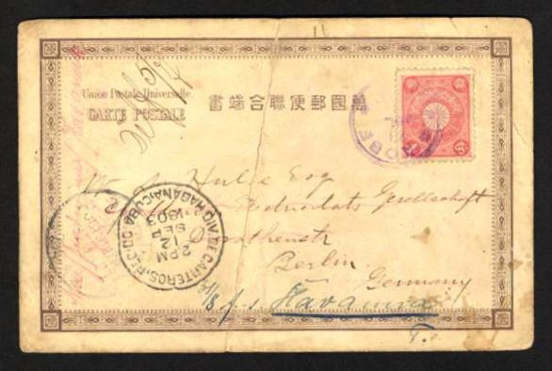 Vol 2, p.28: Kobe,Japan to Berlin,Germany; reposted to Havana. 29 July 1903.
Side A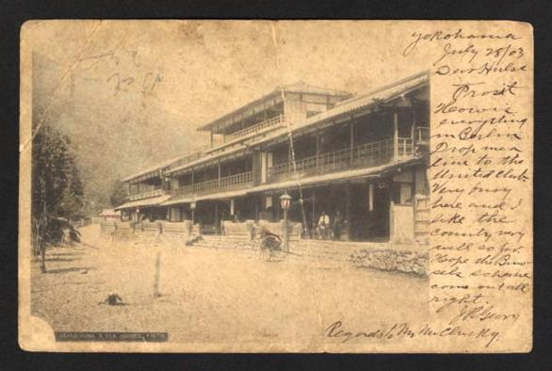 The picture side of the card illustrates in pastel colors, "Arashiyama, 3 Tea Houses, Kioto."
Side B
---

Vol. II, p.36: Havana to Trenton, NJ. 31 March, 1906.
A rather pretty envelope showing the advertising corner card of the Hotel Florida in Havana. Franked with a 2 centavos stamp depicting Royal Palms, which first appeared in September 1899, during the North American Administration.
By special arrangement with the United States Post Office Department, the postage rate between Cuba and the United States was reduced from 5 centavos (cents) to 2 centavos (cents).
This letter was posted at Havana on March 31, 1906, and received at Trenton, N.J. on April 6.
---
Picture post cards became very popular about the turn of the century. They were inexpensive to purchase and cheap to send. It became quite fashionable to send them to friends and relatives, especially when one was on vacation. People began to collect them and postcard clubs were formed. There were even international postcard clubs where members would exchange picture postcards from their respective countries.
At first, picture postcards were only printed in black and white, but soon, hand painted cards appeared. Then, German printers developed presses which could publish cards in many colors, applying the various colors with great precision.
Some examples of Cuban picture postcards from this era are shown below.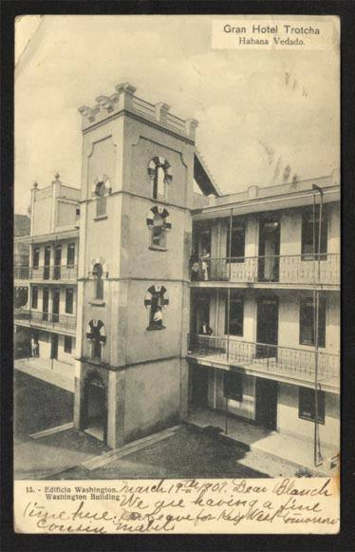 Tome II, number 40a "Gran Hotel Trotcha, Habana/ Washington Building."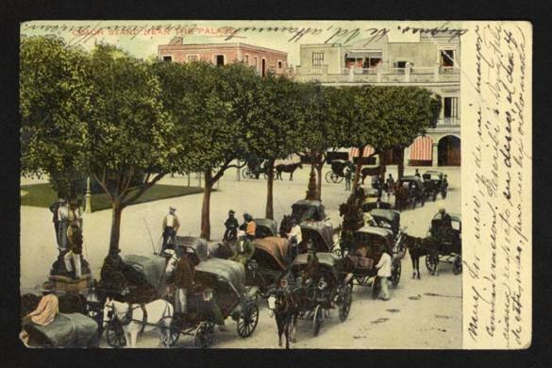 Tome II, number 40c: "Coach Stand near the Palace."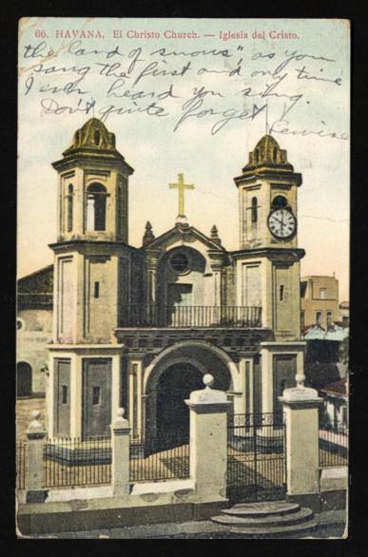 Tome II, number 42a: "Havana, El Christo Church."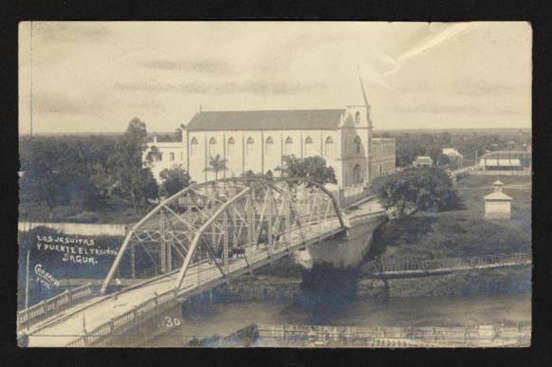 Tome II, number 42b: "Jesuit Church and Bridge of Triumph/ Sagua"
---
The Columbia Barracks postal station, located in the suburbs of Havana, was established on February 18, 1899, and was the successor to United States Military Postal Station No. 10. It was operated under U.S. military authority until noon on May 20, 1902, when the office was turned over to Cuban postal authorities.
Apparently activated again as a military post during the North American military intervention of 1906, this cover was posted by the Chief Colonel of Regiment No. 1 stationed there, on July 29, 1909.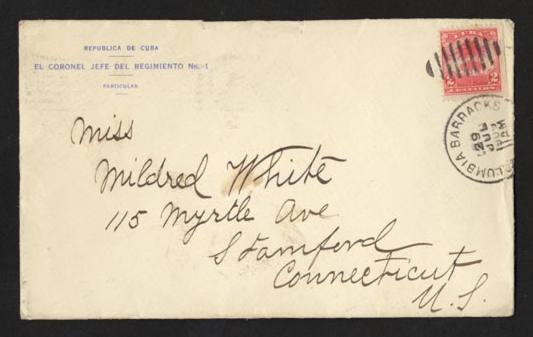 Vol. II, p.45: Havana to Connecticut. 29 July, 1909.
---
This small envelope was posted at Havana on December 26, 1910. It probably included a "carte de visite," or visiting card.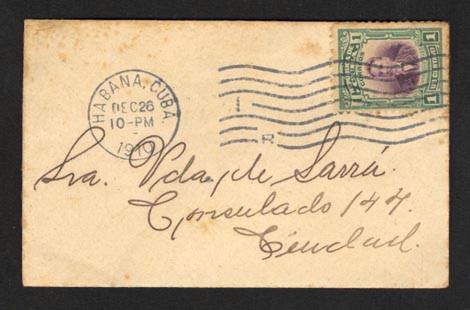 Vol. II, p.46a: Havana to Ciudad. 26 December, 1910.
In polite society, when a gentleman came to call, he generally presented a small preprinted card, which bore his name and address and perhaps a small photographic portrait of himself, to a servant to be given to the host. This provided a way for the host to know who was calling, and if the host was not at home, it was a record of the individual who had called.
In the case of this envelope, the carte de visite may have also borne a Christmas message.
The 1 centavo postage stamp bears the portrait of General Bartolome Maso, one of the patriots of the Cuban revolution. Engraved and printed by the American Bank Note Company of New York, the stamp was first placed on sale on February 1, 1910.
---
Posted at Philadelphia, Pennsylvania, on April 2, 1913, with 2-cents in U.S. postage prepaid, this cover was addressed to Manzanillo, Cuba. At the Cuban exchange office, a 10 centavos stamp was applied and canceled with a "T," indicating "postage due of 10 centavos."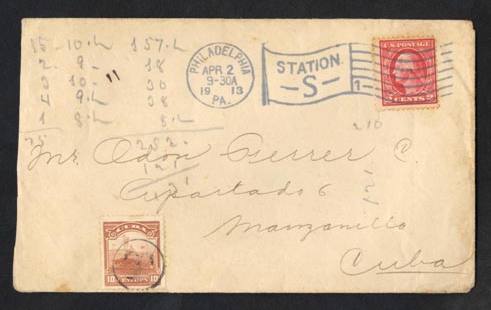 Vol. II, p.61: Philadelphia to Manzanillo. 2 April, 1913.
The Universal Postal Union international rate of postage was 5 cents for one half ounce weight, however, the United States had a special postal arrangement concerning mail to and from Cuba, dating back to 1901.
The arrangement indicated that Cuban mail would be exchanged at domestic postage rates. Therefore, if this letter was one ounce or less, under U.S. domestic regulations, 2-cents would be sufficient postage to take it to its destination. The domestic rate of postage in Cuba at this time was 2 centavos per ounce as well. Either the Cuban exchange clerk found this letter to be 5 times overweight and charged it accordingly, or they found it insufficiently prepaid and charged the 5 centavo U.P.U. International rate plus 5 centavos penalty, totally ignoring the 2-cents stamp. At this late date, it is difficult to say exactly what happened.
The letter is backstamped "Manzanillo, Oriente, April 7, 1913."
---
The map of Cuba ("Mapita") issue of 1914 was the first postage stamp issue printed entirely in Cuba. The map design was prepared by Prof. Jaime Vals Henares, a member of the Academy of Science and Art in Havana, and given to the Security Bank Note Company of Philadelphia in order for them to engrave steel printing plates. The finished printing plates were returned to "La Moderna Poesía" printing works in Havana for production of the stamps. The set of eight different denominations were placed on sale on February 24, 1914.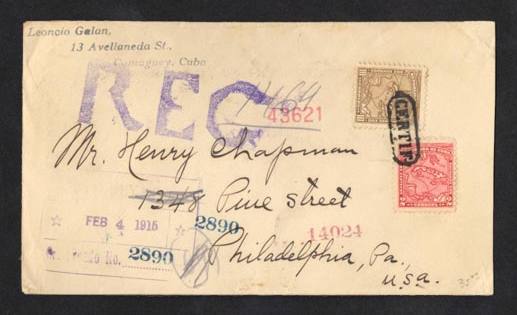 Vol II, p.65: Camagüey to Philadelphia. 4 February, 1914.

Detail of the "mapita" stamp and postmark.
Carnagüey to Philadelphia. 4 February, 1914.
This registered cover, posted at Camagüey on February 4, 1915, addressed to Philadelphia, illustrates the use of two of the map stamps. Two centavos paid postage for a letter weighing up to one ounce, and 10 centavos paid for the registration fee. Both stamps are tied to the cover and each other by an ancient, oval "Certif." (Certificado/Registered) postmark. This style of "Certif." postmark was introduced during the Baeza reform of 1842!
Because registered mail had to be recorded at every stop, we can trace the route of this cover. At Havana, the letter was backstamped "Havana, Cuba/ R., February 5, 1915." The next backstamp is "Fort Pierce & Key West R.P.O./C.O. Melzer, Tr. 86, February 6, 1915." An "R.P.O." is a Railway Post Office aboard a moving train. "C.O. Melzer" is the clerk who processed this mail, and "Tr. 86" is the train that carried this mail.
The last backstamp is that of "Philadelphia, Pa./ Registered/ February 9, 1915." The extra large "REG" on the face of the cover was probably applied on the R.P.O., to reaffirm that this was a registered letter.
---
During World War I, all the warring powers in Europe practiced censorship of the mails. Any information useful to the enemy was cut out of the letter, or blotted out with heavy ink. Letters were opened and read at special facilities established for that purpose. Generally the mail would be turned over to the censors for examination after it had been postmarked at the town of posting.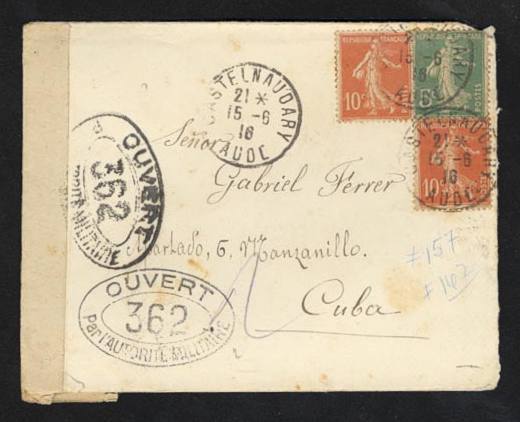 Vol II, p73: Castelnaudry, France to Manzanillo. 15 June, 1916.
In this case, the letter was posted at the town of Castelnaudary, in Aude province, France, on June 15, 1916. Forwarded to a military censor station, probably at Paris, it was slit open at the left side and the contents removed and read. If nothing useful to the Germans was found, the envelope was resealed with a gummed paper tape upon which was printed "Control Postal Militaire," (Military Postal Control), and the paper tape was tied to the envelope by a strike of the censor's handstamp reading "Ouvert/ Par l'Autorité Militaire/ 362." In other words, it was opened by military authority by censor number 362.
Twenty-five centimes paid the U.P.U. international postage rate from France to Manzanillo, Cuba, for a single weight letter.
---
Another example of a World War I censored cover, only this time censored by American authorities. Posted at Havana on April 13, 1918, this letter was taken by steamship either to Key West or to New York. There are no backstamps on the reverse of the letter, and without them, we cannot say positively what the route was.
However, since New York was the main mail distribution center for foreign mails, it is most likely that this letter was opened, examined by the censor, and resealed at New York, before being forwarded to the addressee at Chicago.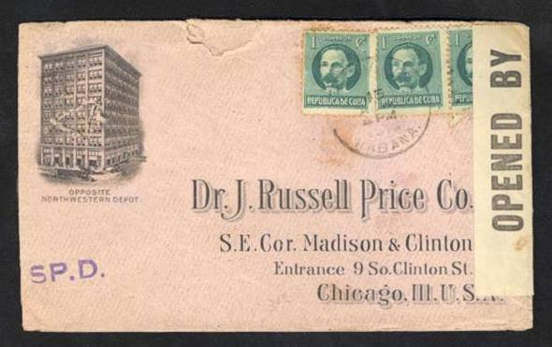 Vol II, p78: Havana to Chicago. 13 April, 1918.
Front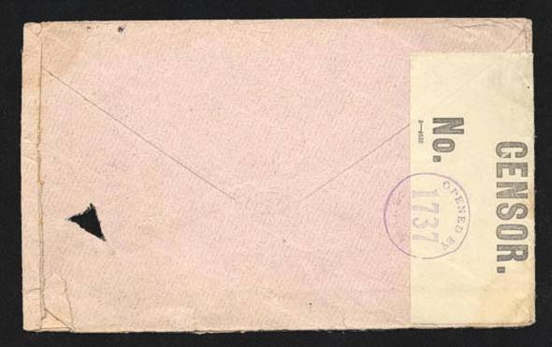 Back
---
The First Marine Battalion Volunteers of New York landed at Caimanera, Guantanamo Bay, on June 10, 1898, and were the first American force to land on the island. Military Station No. 3 was opened at Guantanamo on September 6, 1898, and was closed when American troops were withdrawn from Cuba in May 1902.
Authorization for the United States to lease lands necessary for coaling or naval stations is found under Article 7 of the "Platt Amendment," accepted by the Cuban constitutional convention on June 12, 1901. However, nothing was done by the United States to acquire Guantanamo Bay for another two years.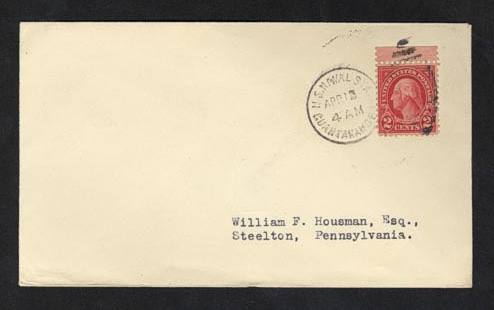 Tome II, p.83: Guantanamo to Steelton, Pennsylvania. 190u.
On July 2, 1903, a treaty was signed by the United States and Cuba, wherein the U.S. leased an area around Guantanamo Bay as a naval facility. However, there was little or no actual construction of the base until about 1906-1907.
On March 25, 1907, a post office named "Bagley" was opened on the base. Bagley was named in honor of Ensign Worth Bagley, a distinguished US naval officer who was killed in action off Cuba. This office remained open until February 27, 1909, although it is known to have unofficially processed mail through April 24, 1909.
After Bagley was closed, mail was processed aboard one of the US naval vessels in the bay, or at the nearby Cuban towns of Caimanera or Boqueron. The vessel assigned to process mail was designated a "US Receiving Ship," and mail was forwarded through the postmaster at New York.
Some time between July 1922 and January 1923, a naval postal station was established on land at Guantanamo Bay. This cover illustrates a relatively early use of the new naval station postmark.
---
U.S.S. Chaumont was built in 1920 by the American International Shipbuilding Corp, Hog Island, Pa., and commissioned on November 22, 1921. She was assigned to transport duty and sailed the Atlantic, Pacific and Caribbean during the 1920's and 1930's, carrying military supplies, marine expeditionary forces, sailors and their dependents, and occasionally congressmen. On August 28, 1943, U.S.S. Chaumont was decommissioned and converted to a hospital ship. She was renamed U.S.S. Samaritan and did good service in the Pacific during World War II. U.S.S. Samaritan was decommissioned at San Francisco on June 25, 1946.
This cover was posted while the U.S.S. Chaumont was visiting Guantanamo Bay in January, 1936. The cachet illustrates some of the previous ports of call she had made in the Pacific.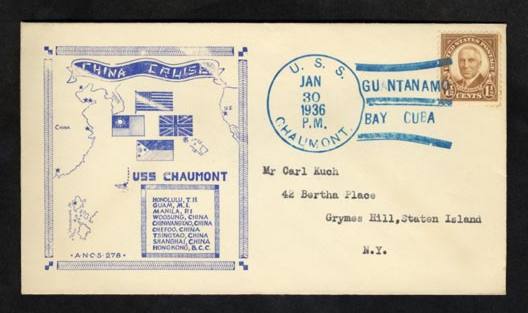 Tome II, p.91: Guantanamo Bay to Staten Island, NY. January 1936.
---
In the United States, up to 1871, postmarks were applied by hand by a canceling clerk. However, in that year an experimental machine was employed at Pittsburgh, Pa. Manufactured by an unknown inventor, the machine was only in use for a short period during 1871-72 and was then discontinued. Experimentation later continued in other cities with other machines during the 1870's, 1880's and 1890's, however, for the Post Office Department recognized the value of being able to process mail more quickly.
Most early machine cancellations obliterated the stamp with a series of horizontal bars, or wavy lines. However, around the turn of the century, text, such as the postal station number, began to appear between the bars or wavy lines. From there, it was only a short jump to replacing the bars and wavy lines with slogans.
The earliest Cuban machine cancel we have seen was employed at Havana and is dated April 25, 1911. These three machine cancels illustrated here were employed later in the 1920's and 1930's, and are a few examples advertising the beauty, products and history of Cuba.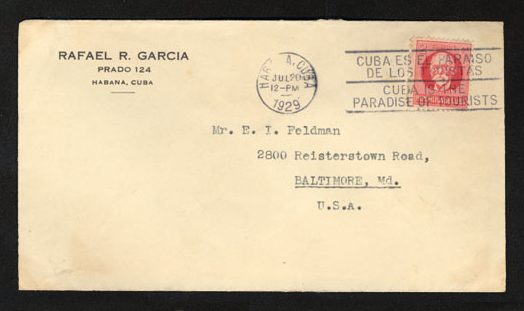 Havana, 1929 - "Cuba es el Paraíso/ de los Turistas" "Cuba is the Paradise/ of Tourists"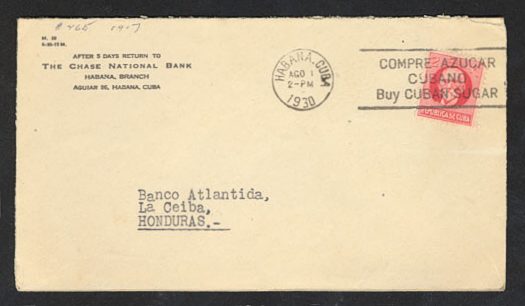 Havana, 1930 - "Compre Azúcar/ Cubano" "Buy Cuban Sugar"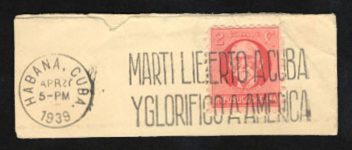 Havana, 1939 - "Martí Libertó a Cuba/ Y Glorificó a America"