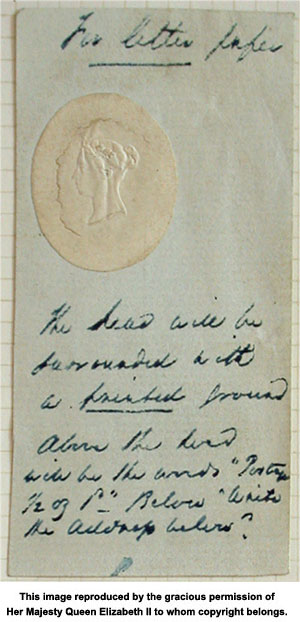 A colorless embossed proof of the Wyon head die, with notes by Rowland Hill.
After the decision was made to drop the Mulready stationery, a replacement was needed quickly. Rowland Hill had already commissioned an embossed die that was intended for use on the public's own stationery, as another way to show payment. Now, that idea was set aside (it was later introduced in 1855). Instead, the die was used as the basis for embossed postal envelopes.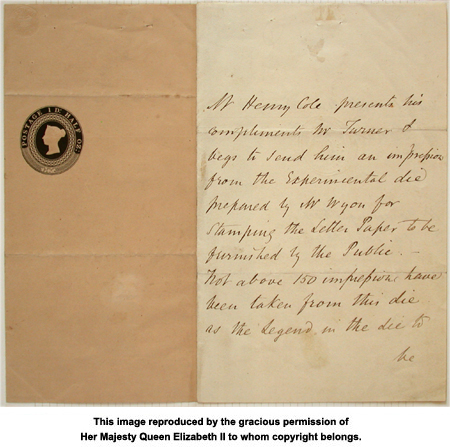 An embossed die proof on stationery, with a note by Rowland Hill's assistant, Henry Cole.
The design, a profile view of Queen Victoria, was known as the Wyon head after the artist, William Wyon. The Wyon penny envelope went on sale in January 1841 and was an immediate success. A two pence version followed in April.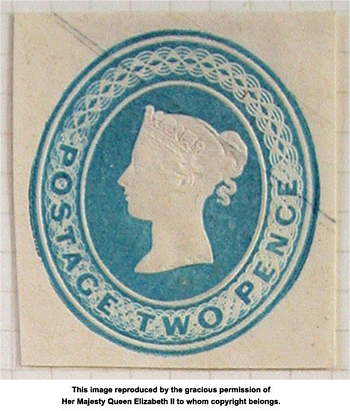 A head cut from an 1841 two pence embossed envelope, one of several in the Royal Philatelic Collection.
In 1842, Hill lost his position when a Tory government was formed. He spent the next four years as a director of a railroad company. With the return of a Whig government in 1846, Hill was appointed Secretary to the Postmaster General. He became Secretary to the Post Office eight years later. While at the Post Office, Hill encouraged many other innovations, including perforated stamps, mailboxes, the book post, the parcel post, and mail sorting on moving trains.
Rowland Hill was knighted by Queen Victoria in 1864. He died in 1879, having transformed the British postal system. In the words of the British statesman William Gladstone,
"His great plan ran like wild-fire through the civilized world, and never, perhaps, was a local invention (for such it was) and improvement applied in the lifetime of its author to the advantages of such vast multitudes of his fellow-creatures."