Mulready lettersheet essay, with notes by Rowland Hill.
The postage stamp was not the only new means of prepaying postage introduced on May 6, 1840. The Post Office also offered the option of prepaid lettersheets and envelopes.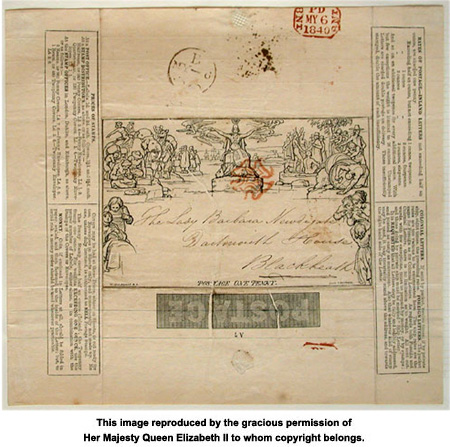 Mulready penny lettersheet, mailed May 6, 1840 (first day of issue), possibly addressed by Mulready
Lettersheets were sheets of paper that could be sealed and sent through the mail with no envelope. Before 1840, envelopes were very rarely used in Britain. Postage had previously been charged by the number of sheets in a letter, and an envelope counted as a separate sheet.
The postal lettersheets and envelopes were called Mulreadys after the artist William Mulready, who created the design. His artwork shows Britannia, a female figure symbolizing Britain, at center, together with a shield and a reclining lion. Figures at upper left and right suggest the continents of Asia and North America. In the lower corners, idealized family members are engrossed in their mail.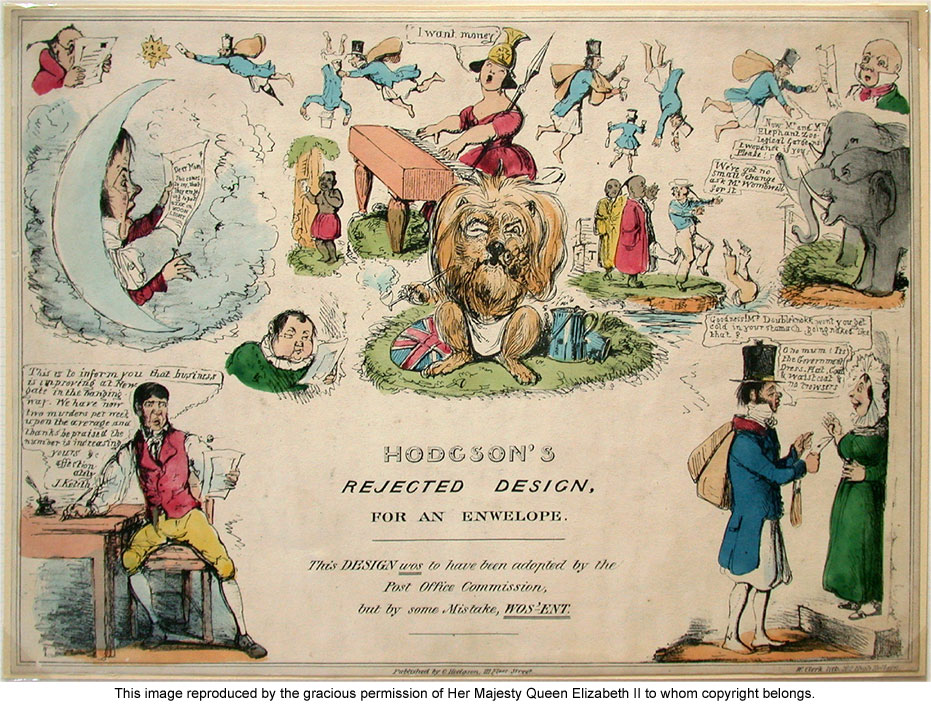 A Mulready caricature by Hodgson, with Britannia singing "I want money" as the Man in the Moon reads a letter beginning "Dear Moon."
Rowland Hill and others thought the Mulreadys would be more popular than postage stamps, but they were wrong. The Mulreadys threatened the livelihood of stationery manufacturers, who fought back with ridicule and caricatures. The Royal Philatelic Collection has a significant holding of these caricatures, as well as the actual stationery.
As early as May 12, Hill wrote in his journal, "I fear we shall have to substitute some other stamp for that design by Mulready...the public have shown their disregard and even distaste for beauty." By mid-July, the decision to withdraw the Mulreadys had been made, and plans began for a new postal stationery.