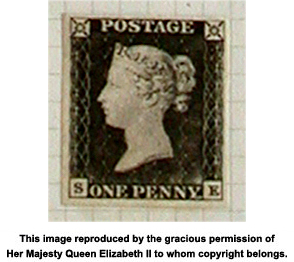 A stamp from an "imprimatur" sheet, submitted for approval by an official, from the first Penny Black plate.
British postal reform took place in quick stages. On January 10, 1840, the postage for all half-ounce letters was set at one penny. The introduction of prepaid stamps and stationery took nearly four more months, becoming valid for postage on May 6, 1840.
Hill and his assistant, Henry Cole, had to move fast to produce the first stamps by that date. Hill chose a printer, the leading security printing firm of Perkins, Bacon & Petch. He also selected a simple design that showed Queen Victoria's profile. Perkins, Bacon commissioned the artist Henry Corbould to draw her image, basing his work on a medal by William Wyon.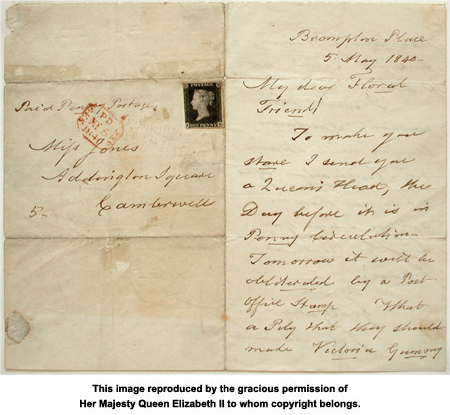 A letter carrying a Penny Black and deliberately sent on May 5, 1840, the day before the stamp was valid for postage. The postage was paid in cash.
Hill chose black ink for the penny stamp, which became known as the Penny Black. For letters just over half an ounce, a two pence value was needed. Hill changed only the stamp color and lettering, creating the Twopenny Blue. Far fewer Twopenny Blues were printed, and they are much scarcer today.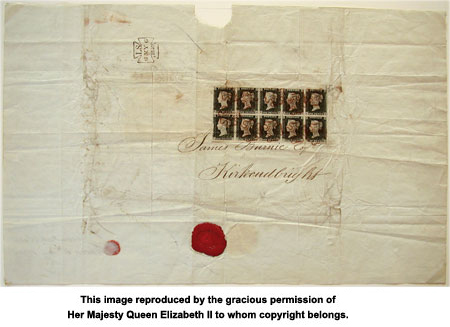 A mail piece bearing ten Penny Blacks, mailed on the stamp's first day of issue. More than 70 first-day Penny Black covers are known, but only this one, the "Kirkcudbright cover," has more than two Penny Blacks.
Because they were the first postage stamps, the Penny Black and Twopenny Blue did not show a country of origin. Today, British stamps are still the only postage stamps not to do so. All British stamps also follow the first stamps by incorporating an image of the reigning monarch.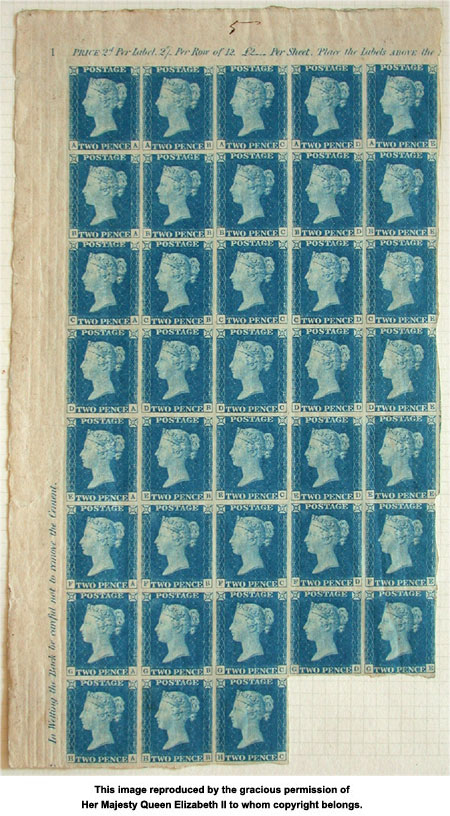 The largest known surviving block of the Plate 1 printing of the 1840 Twopenny Blue. In mint condition, the 38-stamp block was purchased by King George V in the 1920s.
Royal Philatelic Collection materials documenting the stamps' development include designs, or essays, for the stamps. Metal dies were made from the final designs. The approved die for each stamp was transferred 240 times onto a steel plate, from which sheets of 240 stamps could then be printed.