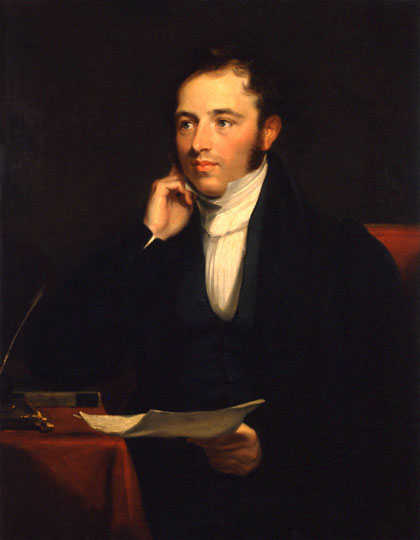 Rowland Hill, Mary Pearson
Postal reformer Rowland Hill, shown here as a young man, first became known as an innovative educator. Hill's wide-ranging interests included printing, railroads, and mathematics.
© Royal Mail Group PLC 2003. All rights reserved.
By the 1830s, railways were beginning to spread across the British countryside as factories continued to grow and expand around many cities. Overseas, the nation's commercial interests were thriving. But the Post Office seemed stuck in the past.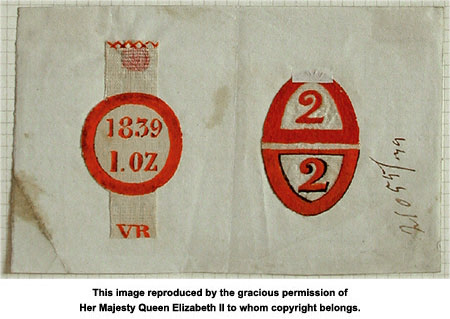 A September 1839 entry in a competition held by the British Treasury, seeking proposals "as to the best manner in which the stamp may be practically adopted."
Postage was too expensive—well beyond the reach of working families. Businesses increasingly saw the high rates as an obstacle to further growth. Postage also varied greatly, depending on the distance a letter was sent and how many pages it contained. Most mail was sent postage due, so the Post Office transported many letters that were never accepted or paid for.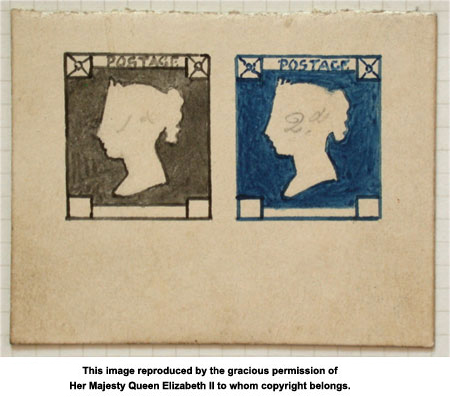 Watercolor sketch created in February 1840 to show how the first stamps would look in their chosen colors. Hill presented it to Francis Baring, Chancellor of the Exchequer, who headed the Treasury.
In a series of pamphlets beginning in 1837, the reformer Rowland Hill drew on his own ideas and those of others to propose sweeping changes. Hill called for a single postage rate of one penny, paid in advance, for all standard-weight letters (later defined as half an ounce). The new rate would make the mail accessible to almost everyone.
To prove that postage had been paid, Hill suggested using either prepaid stationery or a printed label, "a bit of paper just large enough to bear the stamp, and covered at the back with a glutinous wash." He was describing the world's first postage stamps.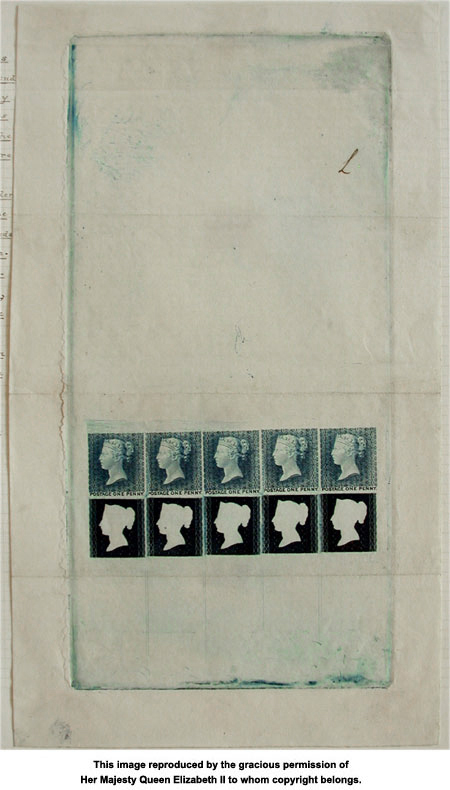 A January 1840 proof from a special plate, comparing the background of the first Penny Black die (top row), which was rejected, with its proposed replacement (bottom).
In 1839, postal reform became law. Hill was hired as an adviser to the Treasury, the government department responsible for the financial aspects of the Post Office. In the first year alone, the number of mailed letters more than doubled. By 1850, mail volume had increased more than four times. The first modern postal service was off and running, and Hill's ideas were adopted around the world.