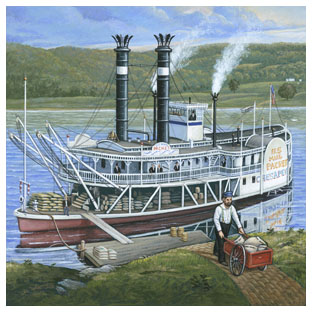 Transportation stamps show Americans on the move, literally and figuratively. From the Model T Ford to the SUV, from delivering the mail to defending the skies – transportation stamps provide a chronicle of our ever-changing world.
The original artworks for transportation stamps are highly-detailed homages to mechanical innovation. Some artists put the conveyance into its "natural habitat," such as a paddlewheel steamer on the Mississippi River or a B-29 Superfortress soaring above the clouds; others present a more formal "portrait," such as the 1935 Duesenberg. Behind the scenes, these subjects generally require extensive research and consultation with experts to confirm myriad technical details.
In the History & Exploration gallery, you will find some pioneers in aviation, including the Wright Brothers and Harriet Quimby. You will also see explorers venturing even farther above the earth, on stamps commemorating the First Man on the Moon and the first American spacewalk.
---
Model T Ford
Counting "Tin Lizzie" among its nicknames, the low-priced, 4-cylinder, 20-horsepower Model T Ford made the automobile more affordable for the average American. First built in 1908, this unpretentious car was literally the driving force that thoroughly altered the social and economic profile of the United States.
Artist: Richard Waldrep
Art Director: Carl Herrman
Medium: Airbrush & Ink on Paper
Year of Issue: 1998
---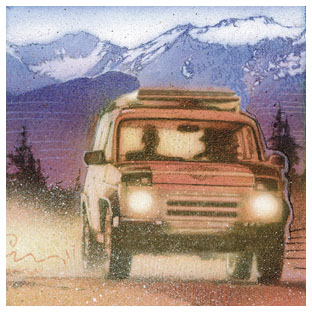 Sport Utility Vehicles
Sport utility vehicles - originally designed for off-road driving - became commonplace on city and suburban streets during the 1990s. Offering versatility, comfort, and a rugged image, SUVs remain a popular choice for American families and consumers.
Artist: Drew Struzan
Art Director: Howard Paine
Medium: Acrylic and Prismacolor
Year of Issue: 2000
---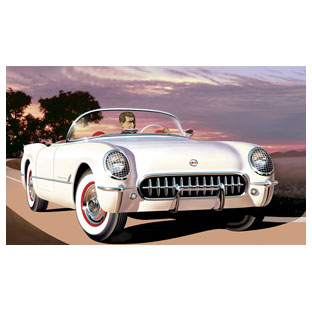 1953 Chevrolet Corvette
The fiberglass-bodied, two-seater Chevrolet Corvette captured the public imagination with its sleek styling and sense of fun. Only 300 were produced in 1953, and they were all hand-built, each sporting a Polo White body with a red interior and black convertible top. Their clean, modern appearance promised speed and high performance, setting the bar for the competition.
Artist: Art M. Fitzpatrick
Art Director: Carl Herrman
Medium: Digital on Paper
Year of Issue: 2005
---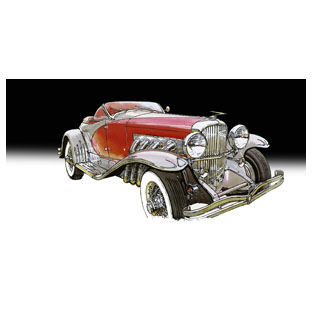 1935 Duesenberg
With its distinctive appearance and powerful engine, the Duesenberg was the embodiment of luxury and lavish detail. Custom-built by brothers Fred and August Duesenberg during an era when our nation's love affair with the automobile was only beginning, the Duesenberg represents an innovative melding of American elegance, engineering, and extravagance.
Artist: Ken Dallison
Art Director: Howard Paine
Medium: Ink and Watercolor on Paper
Year of Issue: 1988
---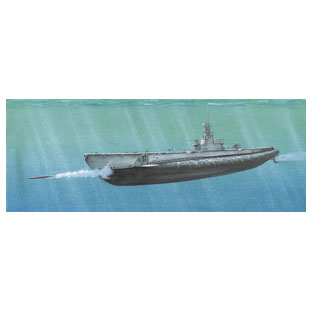 Gato Class Submarine
Gato class submarines patrolled most of the Pacific during World War II and played a key role in the destruction of Japanese maritime power. These tough submarines were 300 feet long, with six torpedo tubes forward and four astern. They could attack either by day or night. The profile of a Gato class sub emerging from the sea must have looked eerily like a gigantic shark, with its line of limber holes like a row of teeth.
Artist: James Griffiths
Art Director: Carl Herrman
Medium: Watercolor on Paper
Year of Issue: 2000
---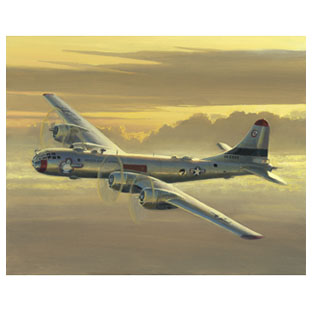 B-29 Superfortress
The Boeing B-29 Superfortress featured advanced armament, propulsion, and avionics systems, including remote-controlled gun turrets and pressurized crew compartments. The sophisticated long-range bomber saw action in both World War II and Korea.
Artist: William S. Phillips
Art Director: Phil Jordan
Medium: Oil on Board
Year of Issue: 2005
---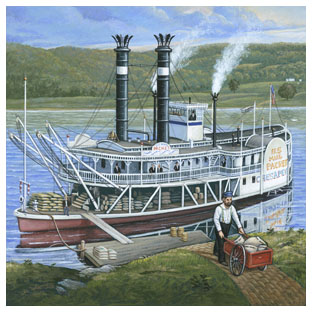 Paddlewheel Steamer
Steamboats plied the rivers of this nation for much of the 19th century, transporting agricultural goods and passengers of all descriptions. Postal officials were eager to make mail delivery just as reliable, so they began to issue contracts to individual steamers for carrying mail. Congress declared all steamboat routes "post roads" in 1823.
Artist: Mark Hess
Art Director: Richard Sheaff
Medium: Acrylic on Canvas
Year of Issue: 1989
---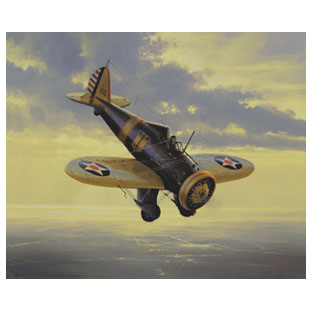 Peashooter
Affectionately called the "Peashooter," the Boeing P-26 was America's first all-metal, low-wing fighter. It was also the last fighter with an open cockpit, fixed landing gear, and wire-braced wings. First flown in 1932, the P-26 was the U.S. Army Air Corps' primary fighter in the mid-1930s and was used to help protect China and the Philippines during World War II.
Artist: William S. Phillips
Art Director: Phil Jordan
Medium: Oil on Board
Year of Issue: 1997