Like National Historic Sites, National Historical Parks preserve an aspect or area of America's diverse history. While Historic Sites usually focus on individual properties, Historical Parks encompass multiple themes or a large tract of territory, sometimes across several states. Under the National Historical Parks umbrella, an entire downtown area such as Boston or the area around Philadelphia's Independence Hall might be designated, incorporating centuries of history.
---
Jamestown Exposition postcard, 1907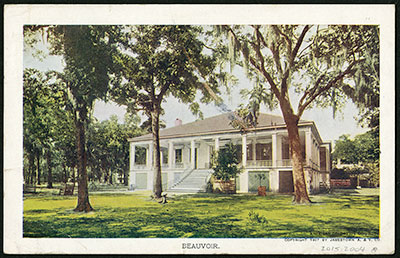 In 1907, to celebrate the 300th anniversary of the founding of America's first English settlement, enthusiastic Virginians organized the Jamestown Exposition. The Post Office Department issued three commemorative stamps at the exposition. Jamestown became part of Colonial National Historical Park in 1930.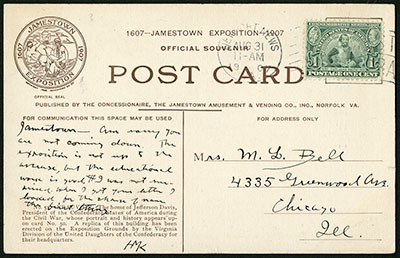 ---
2¢ Yorktown Issue plate block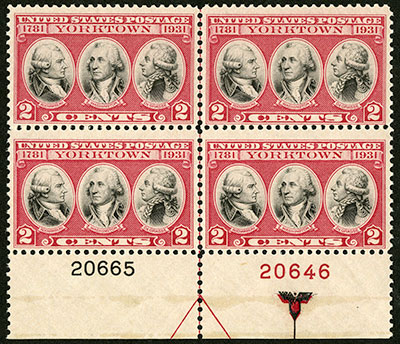 The American Revolution ended at the Battle of Yorktown, Virginia in October 1781. The Post Office Department issued a stamp in 1931 to commemorate the battle's 150th anniversary. The site of the battle was incorporated into the Colonial National Historical Park in 1930.
---
"B Free Franklin" cancel, 1975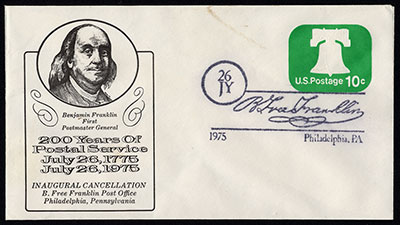 The B Free Franklin Post Office at 316 Market Street in Philadelphia lies within Independence National Historical Park. The handstamped cancel used at the post office since 1975 reproduces Benjamin Franklin's signature and the circular postmark he introduced, with the date at the top and two-letter month code below.
---
13¢ Thirteen-Star Flag and Independence Hall (Americana Issue) large die proof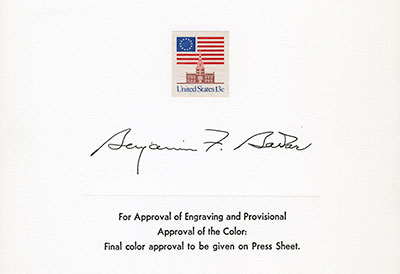 Americans celebrated the nation's 200th anniversary in a grand way. The USPS kicked off festivities by issuing a stamp picturing iconic Independence Hall, where the Founding Fathers drafted, debated, and endorsed the Declaration of Independence and U.S. Constitution. Independence Hall is part of Independence National Historical Park.
Loan from United States Postal Service, Postmaster General's Collection
---
Manhattan Project cover, circa 1944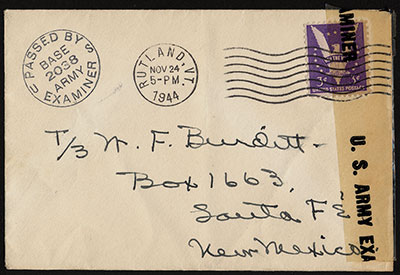 While General Leslie Groves, physicist Dr. J. Robert Oppenheimer, and others developed the atomic bomb at Los Alamos, New Mexico, they sent and received their mail from several secret addresses, including one in nearby Santa Fe—PO Box 1663. The Los Alamos Laboratory is now a National Historical Park.