Dates: June 9, 2016 – March 3, 2019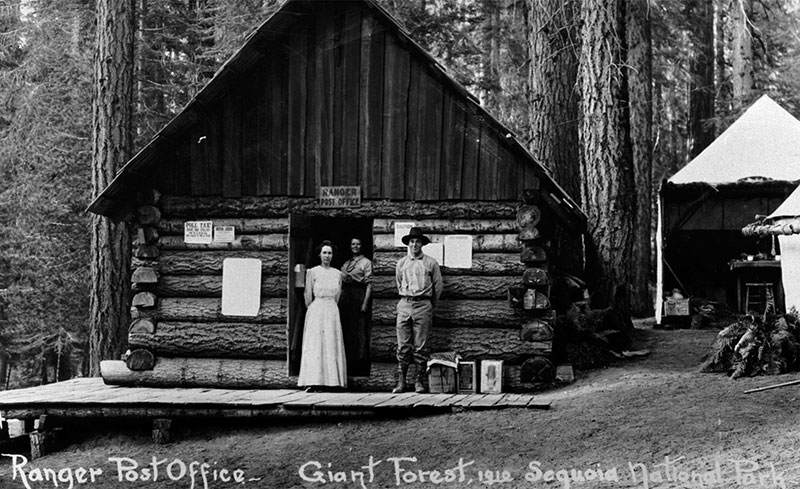 Did you know that a village at the bottom of the Grand Canyon eats most of its mail? Or that one of America's newest national park units was once so secret it used multiple undercover addresses? Trailblazing: 100 Years of Our National Parks, a two-year temporary exhibition at the Smithsonian's National Postal Museum, chronicles these and numerous other intersections between the mail and our national parks. Featuring original postage stamp art from the United States Postal Service and artifacts loaned by the National Park Service, Trailblazing explores the myriad and sometimes surprising ways that mail moves to, through, and from our national parks.
We are especially grateful to our donor-sponsors, Douglas and Kathrin Mattox. Publication of an illustrated gallery guide was supported by the George W. Brett Philatelic Publications Endowment Fund.
This exhibition was greatly enriched by numerous pieces generously loaned by the following units of the National Park Service: Agate Fossil Beds National Monument; Big Bend National Park; Grand Canyon National Park; Petrified Forest National Park; Sequoia National Park; Wind Cave National Park; Yellowstone National Park; and the Division of Law Enforcement and Uniform Services.
Additional loans came from institutions and private collectors, including the United States Postal Service, Postmaster General's Collection; Roland H. Cipolla II; Gordon E. Eubanks, Jr.; Laboratory of Tree-Ring Research, University of Arizona; Doug Leen; J. Mel Poole; Marjory J. Sente; and Xanterra Parks and Resorts, Inc.
Others who contributed to the exhibit's success include Lonny Schwartz, Samantha Scott, and Bay Koulabdara of The Design Minds, Inc.; Christine Lefebvre Design; scriptwriter M.T. Sheahan; Katie Wagner, rare book conservator with Smithsonian Institution Libraries; Smithsonian Institution Exhibits; contract conservators Jayne Girod Holt and Catherine Valentour; and Richard Lewis Media Group. Printing and additional production services were provided by Global Printing; Colours, Inc.; EPI Colorspace; and Moss Inc.
Images came from many sources, including the National Park Service; Library of Congress Prints and Photographs Division; National Archives and Records Administration Still Picture Branch; Smithsonian Institution Libraries, National Postal Museum Library; Northern Arizona University, Cline Library; Collier County (Florida) Museums Historic Photo Archive; Atomic Heritage Foundation and Los Alamos National Laboratory; and Ansel Adams Publishing Rights Trust/CORBIS.
---
Please note, due to Smithsonian Institution conservation and preservation protocols, the selection of objects and images on this website may have differed from the items on exhibit in the museum's Trailblazing: 100 Years of Our National Parks gallery.