Congress expanded the idea and role of national parks with the 1906 Antiquities Act, which originally protected geological formations and paleontological sites as well as manmade structures such as cliff dwellings and other ruins. Later, the Act was extended to places related to early explorations, European settlement, and fortifications. These cultural or natural features are known as National Monuments. A number of the National Monuments are icons of the shared American experience, such as the Statue of Liberty, Fort McHenry, and Pearl Harbor. More recently, emphasis has been placed on designating new monuments that recognize America's diversity, including sites related to Black, Hispanic, and women's history.
---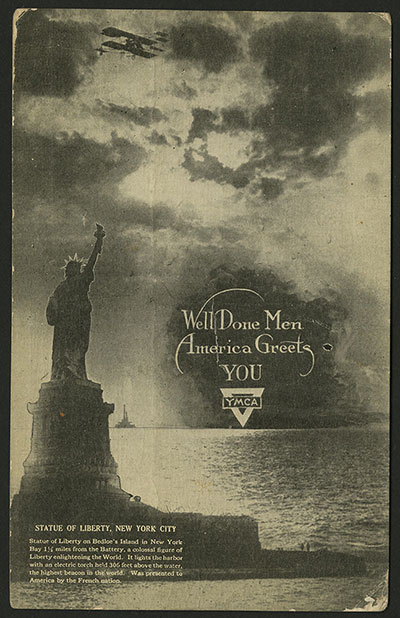 World War I 'safe return' postcard, 1919
Army transport ships returned U.S. soldiers from Europe throughout 1919. Civic and religious groups provided arriving troops with free postcards to let friends and family know they would be returning home after discharge. This card, provided by the YMCA, featured an image of the Statue of Liberty, the first sight that greeted ships entering New York Harbor.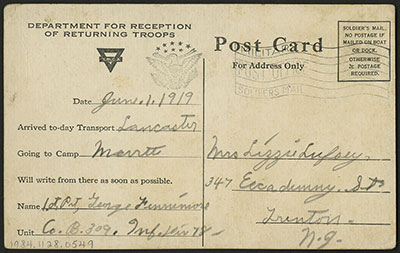 ---
Statue of Liberty signed plate block (Liberty Issue)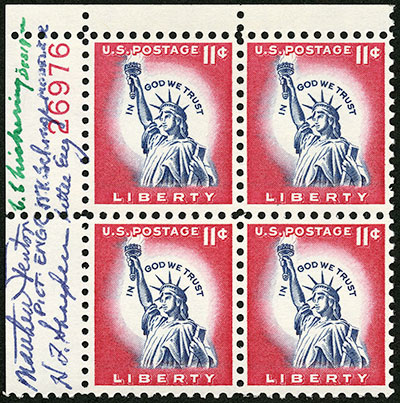 The Statue of Liberty took on new symbolic meaning during the long Cold War with the Soviet Union. Congress added the phrase "In God We Trust" to all U.S. currency in 1956, and it appeared on these Statue of Liberty stamps in the same era.
---
15¢ Fort McHenry and 15-Star Flag large die proof (Americana Issue)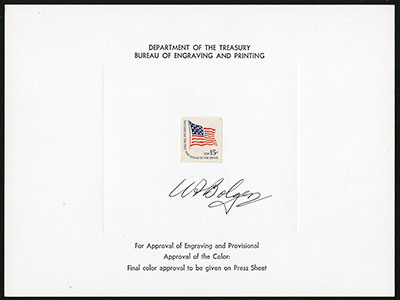 When Baltimore became the target of a British invasion in the waning days of the War of 1812, Fort McHenry withstood 25 hours of continuous shelling and blocked the Royal Navy's advance up the Patapsco River. Unable to enter the harbor and short of ammunition, the British fleet retreated. Eight miles downriver, "by the dawn's early light," Francis Scott Key penned a celebratory poem that became the U.S. national anthem more than a century later in March 1931.
Loan from United States Postal Service, Postmaster General's Collection
---
Fort McHenry Red Cross hospital cover, 1919-1920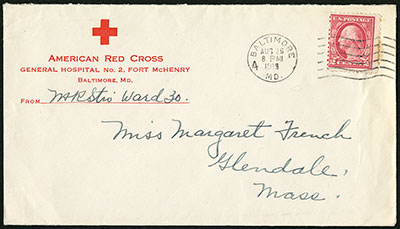 Fort McHenry served during World War I as U.S. General Hospital No. 2. The patients were returning soldiers, a high percentage of whom were shell-shocked, gassed, or blinded. At first, mail for the fort's patients, Army medical officers, and Red Cross nurses was delivered to the gate by a carrier from Baltimore. As the population swelled to more than 20,000, a fully functional post office opened, staffed by convalescent patients.
---
Fort Monroe Union naval cover, 1862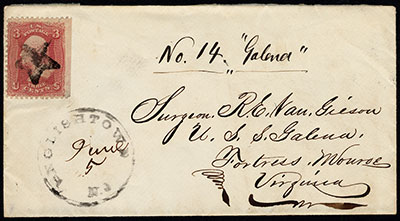 Fort Monroe in southern Virginia guarded the entrance to the James River and Chesapeake Bay. It was so large and well-defended that the Confederate States never attempted to conquer it, even though leaving it in Union hands cut the capital at Richmond off from the sea. This envelope is addressed to a U.S. Navy surgeon stationed there.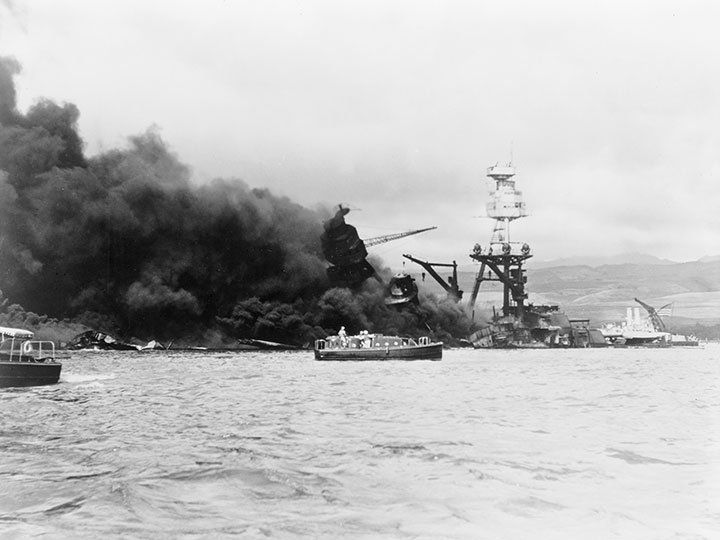 ---
USS Arizona cover, 1941 and USS Oklahoma cover, 1941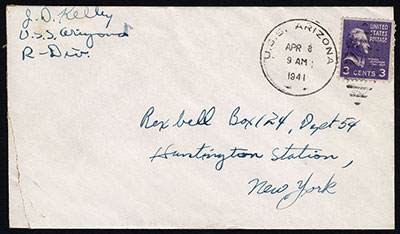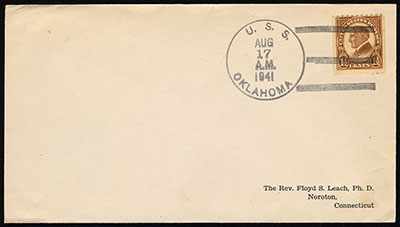 The Japanese surprise attack on the U.S. Pacific Fleet at Pearl Harbor, Hawaii brought the U.S. into World War II. Nearly 3700 military personnel and civilians were killed or wounded and nineteen ships sunk or damaged. Most of the ships were salvaged and returned to service, but the remains of Arizona and the Oklahoma wreck site are administered by the Park Service as part of World War II Valor in the Pacific National Monument, created in 1998. These envelopes were sent from the two ships' onboard post offices in the months before the attack.
---
Agate, Nebraska post office sign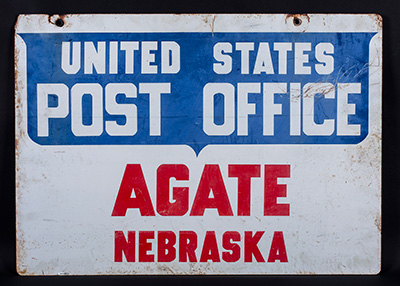 James H. Cook purchased his father-in-law's northwest Nebraska ranch in 1886 after discovering agate, fossils, and Plains Indian artifacts there. He invited paleontologists and scientists to excavate and study the fossils and minerals. Members of the Cook family operated a post office at the ranch, which they called Agate, from 1899 until it closed in 1968. Agate Fossil Beds National Monument was established in 1997.
Loan from National Park Service, Agate Fossil Beds National Monument