Park rangers, seasonal employees, and backpackers live deep in many national parks and interact with a range of postal facilities. Grand Canyon, Yosemite, and Yellowstone national parks have full-service post offices on par with those of any mid-sized American city. Other parks are served by postal contractors at part-time or seasonal facilities. Either way, the USPS is the only lifeline to books, movies, magazines, medicines, hardware, and other small articles that would otherwise be difficult to obtain.
---
Petrified wood specimen, Triassic period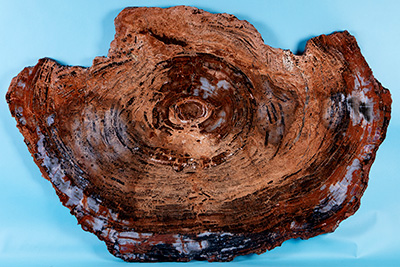 Arizona's Petrified Forest formed more than 200 million years ago, when the area had a drastically different, vegetated landscape. Now a desert strewn with the fossilized, brilliantly colored remains of prehistoric trees, it became a national monument in 1906 and a national park in 1962. This status protects it from looters who would carry away the brilliant stones.
Loan from National Park Service, Petrified Forest National Park
---
10¢ Petrified Wood (Mineral Heritage Issue) large die proof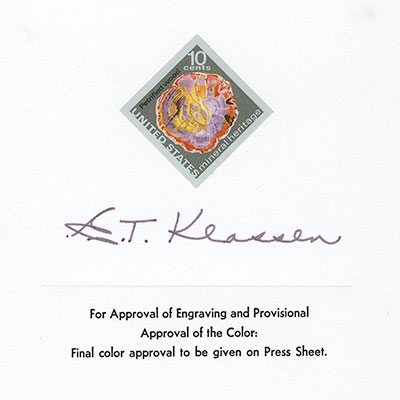 The Arizona petrified wood specimen pictured on this stamp is from the collection of the Smithsonian National Museum of Natural History.
Loan from United States Postal Service, Postmaster General's Collection
---
15¢ Giant Sequoia stamp art (American Trees Issue)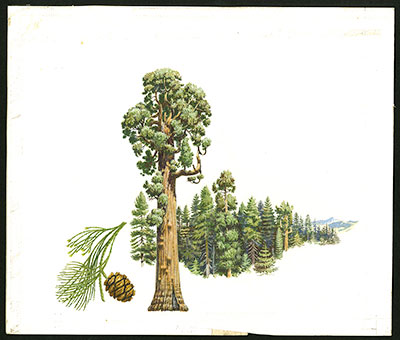 Loan from United States Postal Service, Postmaster General's Collection
---
Sequoia tree cross-section, circa 500-1000 years old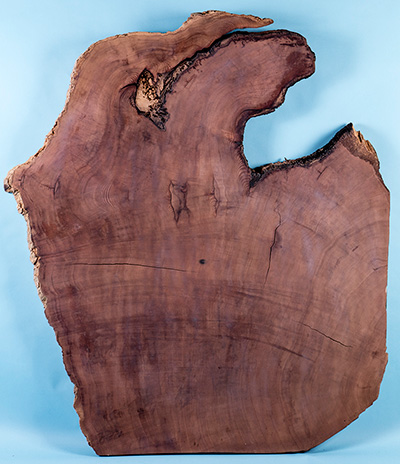 No visit to Sequoia and Kings Canyon National Parks in California is complete without viewing the displays of old growth sequoia slabs harvested from dead trees and prepared so that the rings are visible. Besides the age of the tree, these specimens record changes in temperature and patterns of disease, fires, flood, and human damage. Prepared slabs can be up to 30 feet in diameter, weigh 6 tons or more, and be up to 3,000 years old. Sequoia trees are native to the western slopes of California's Sierra Nevada Mountains, but have since been successfully cultivated in Europe and Oceana.
Loan from Laboratory of Tree-Ring Research, University of Arizona.
Kaweah Post Office was established by a short-lived utopian settlement. After Sequoia National Park was founded in 1890, the colony disbanded — but their post office remained. Near the original entrance to the park, it also served as an unofficial visitor center that sold tires, gasoline, snacks and water to tourists in their Model T Fords. Kaweah was bypassed by a new park highway in 1926 and the post office lost its contract in 2010. However, about forty paying boxholders still receive daily mail delivery there, and outgoing mail receives a decorative cachet.
---
Hot Springs, Arkansas resort advertising cover, 1876-1895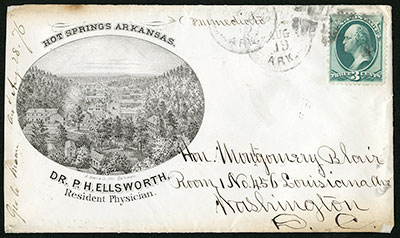 Shortly after the Arkansas Territory was carved from the 1804 Louisiana Purchase, Americans perceived healing properties in the mineral- and gas-rich thermal springs of the Ouachita Mountains. The springs were set aside as a government reservation in 1832 to prevent individuals from claiming ownership of them and turned over to the National Park Service in 1922.
---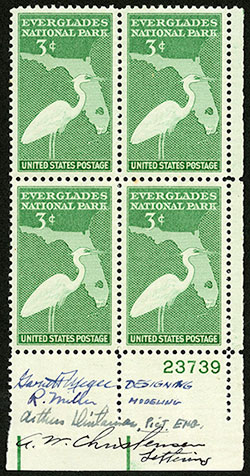 3¢ Everglades National Park Issue plate block of four
Everglades was the first National Park to open after World War II. It was the second national park established east of the Mississippi and is the third largest in the continental United States (only Death Valley and Yellowstone are larger). Everglades preserves several unique ecosystems not found in any other national park.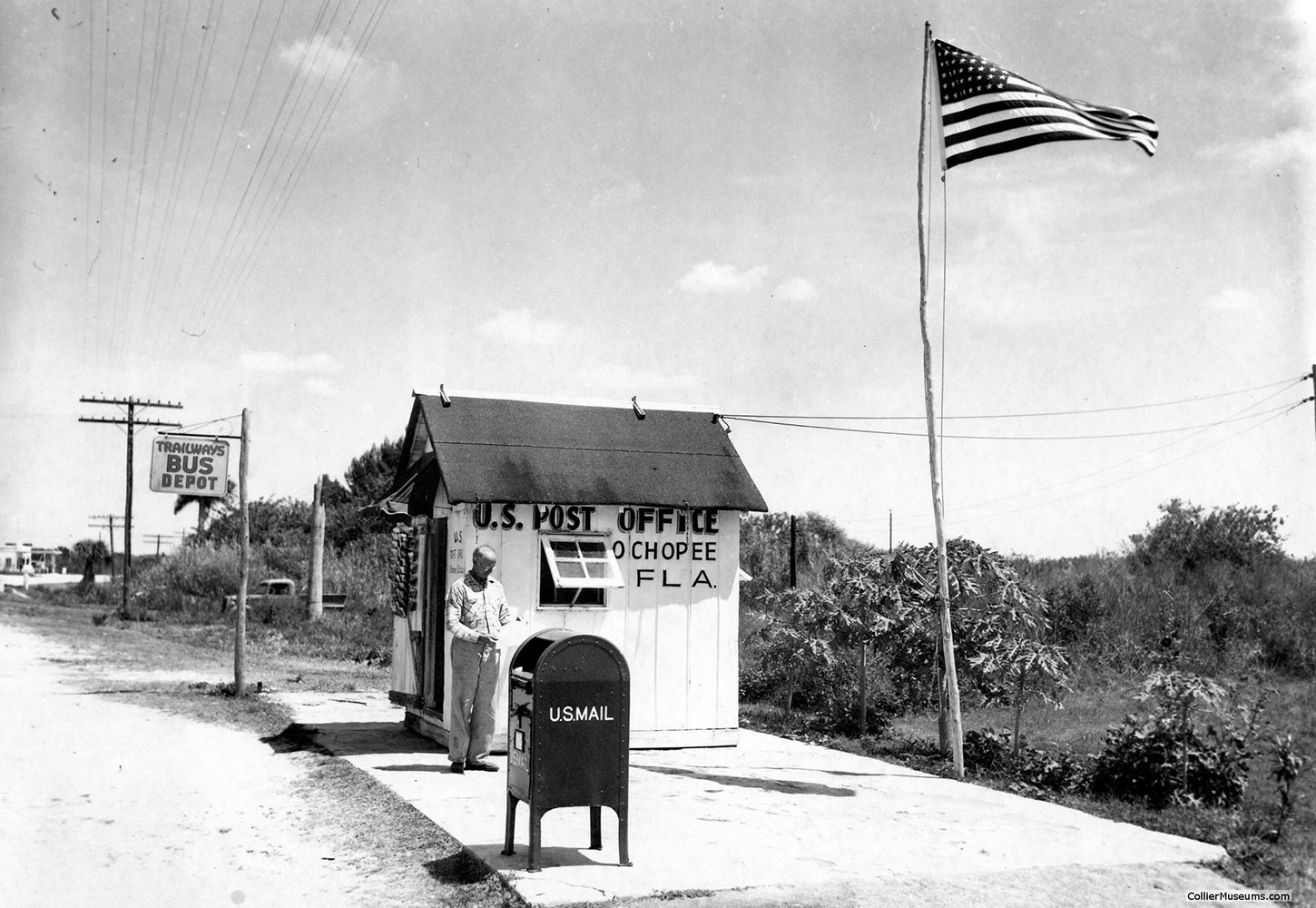 ---
Hot Springs, Texas post office sign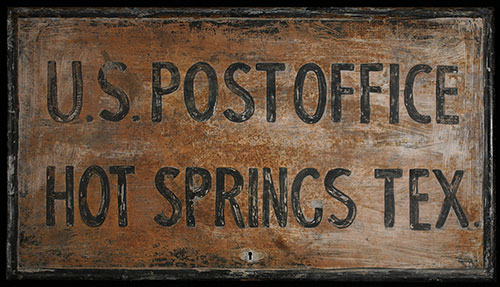 Near the big bend of the Rio Grande in West Texas, 105°F water bubbles up from hot springs located just a few hundred feet from the cool river. Mississippi salesman Joseph O. Langford came to soak in the springs in 1909, seeking relief from poor health. He returned several years later to develop a tourist attraction that included a bathhouse, store, motor hotel, and post office. The post office closed about 18 months before Hot Springs, Texas became part of Big Bend National Park in 1944.
Courtesy National Park Service, Big Bend National Park