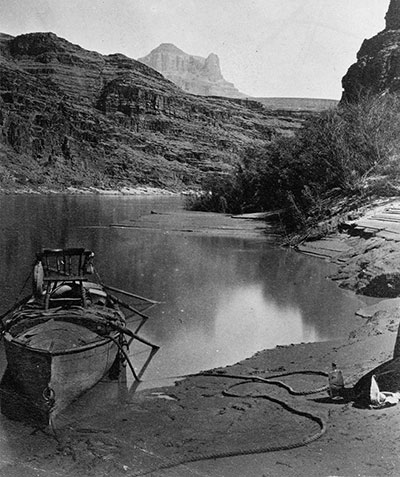 During the 1890s, as settlers claimed the last of America's frontier territories, dedicated private citizens fought to protect Western landscapes for posterity. Conservationists joined with John Muir and others to campaign for the establishment and protection of national parks. Enlightened politicians such as Theodore Roosevelt joined the crusade, and his administration added sites of historic significance to the system. Finally, in 1916, Congress established and funded the National Park Service, whose umbrella now protects natural wonders as well as heritage sites.
---
John Muir stamp art
(Celebrate the Century Issue)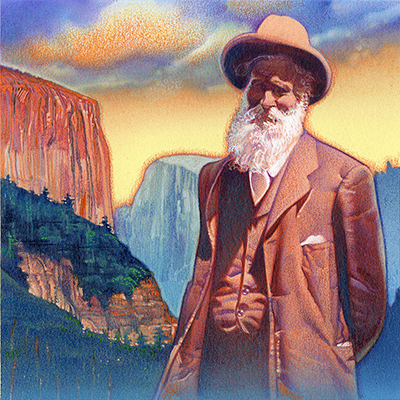 Scottish immigrant John Muir (1838-1914) first visited Yosemite in 1868 and was captivated by its magnificence. He lived in the valley for ten years, studying its wildlife, botany, and geology and preaching his "gospel of the mountains" to visitors. The remainder of his life was devoted to Yosemite's preservation as a national park and to the Sierra Club, which he founded in 1892.
Loan from United States Postal Service, Postmaster General's Collection
---
6¢ John Wesley Powell Issue stamp art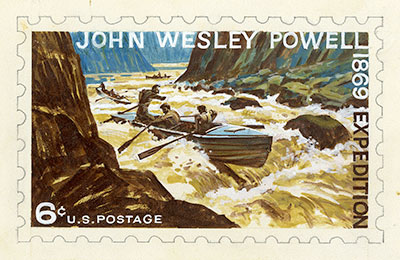 Civil War veteran John Wesley Powell (1834-1902) led two expeditions to the Colorado River, in 1869 and 1871. He and his companions produced the first photographs, reports, and maps of the Grand Canyon and its native people, awakening public interest and spurring further exploration.
Loan from United States Postal Service, Postmaster General's Collection
---
8¢ Old Faithful, Yellowstone stamp art
(National Parks Centennial Issue)
Congress created Yellowstone National Park in 1872. The first national park anywhere in the world, it became a model for the rest of the globe. Today, national parks exist in more than 100 countries. Yellowstone is notable for its geothermal features, especially geysers such as Old Faithful, depicted here. More than half the world's geysers are in Yellowstone.
Loan from United States Postal Service, Postmaster General's Collection
---
National Park Service Ranger hat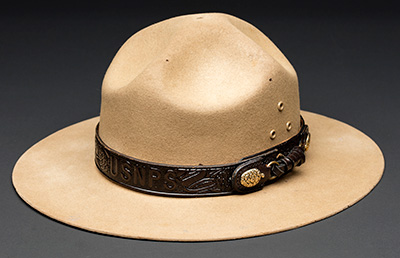 Modern park rangers wear distinctive uniforms that have remained basically unaltered since 1920. The wide-brimmed felt hat is derived from U.S. Army campaign hats of the nineteenth century, recalling the cavalry detachments that once patrolled western parks against vandals, poachers, and squatters.
Loan from J. Mel Poole.
---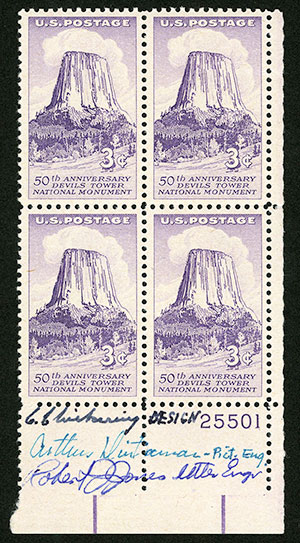 3¢ Devils Tower Issue plate block
Congress passed the Antiquities Act in 1906, enabling the president to protect historically and culturally significant sites from vandalism and looting by declaring them to be national monuments. Later that year, President Theodore Roosevelt (1858-1919) used this power for the first time when he declared Devils Tower in Wyoming as the first national monument.
---
Ralph H. Cameron hotel cover, circa 1905-1906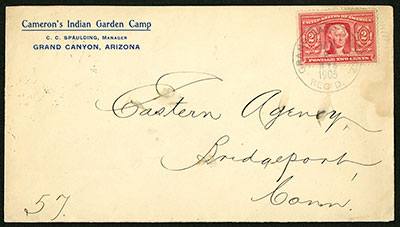 Establishing the early national parks sometimes provoked battles with commercial interests. Ralph H. Cameron (1863-1953) owned enterprises within Grand Canyon and fought the national park's creation every step of the way. Elected U.S. senator from Arizona in 1920, he used his one term in office to antagonize the new Park Service and its first director, Stephen Mather.
Loan from Marjory J. Sente
---
7¢ Acadia (National Parks Year Issue) die proof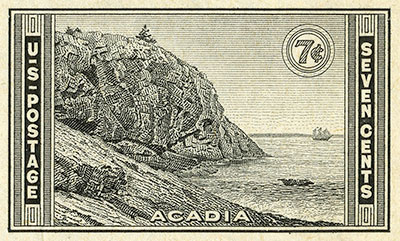 The national parks idea gradually migrated to the more thickly-populated East. Acadia, on Maine's Mount Desert Island, became the first national park east of the Mississippi River in 1919.
Loan from United States Postal Service, Postmaster General's Collection
---
5¢ National Park Service Issue die proof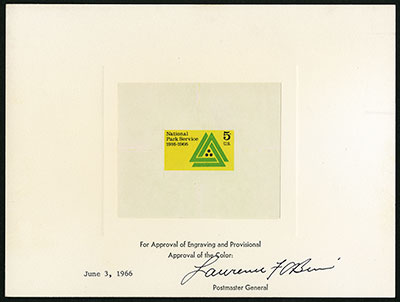 To celebrate the 50th anniversary of the National Park Service, the Post Office Department released this stamp featuring the service's recently designed "triangles and cannonballs" logo. Intended to symbolize the service's natural and historical functions in a modern, abstract way, the logo proved unpopular and was discontinued within a few years.
Loan from United States Postal Service, Postmaster General's Collection
---
Ansel Adams's stamp album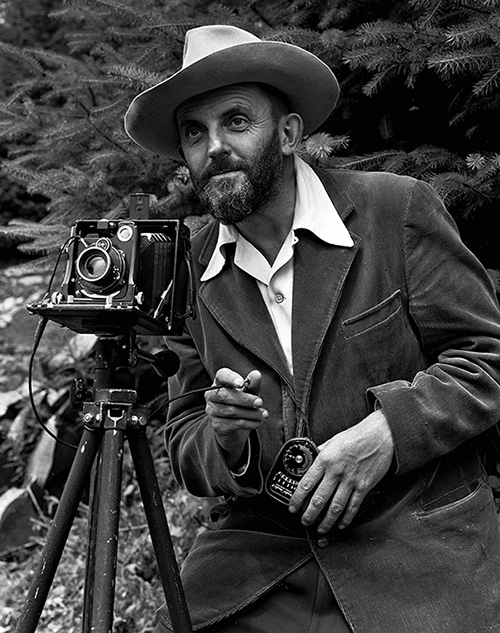 Photographer Ansel Adams received his first camera on a family trip to Yosemite National Park in 1916. He later settled in the valley and became celebrated for his iconic photographs of western national parks such as Yosemite, Glacier, Sequoia, and Kings Canyon. His work reflects the influence of composition and framing techniques Adams first encountered as a young stamp collector.