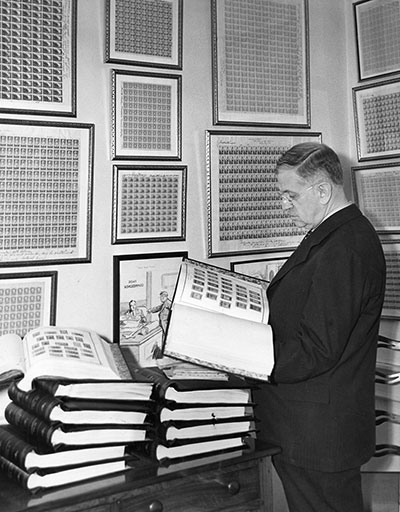 Thanks to the booming economy of the 1920s, affordable automobiles, and new roads, the national parks became an inexpensive alternative to European vacations during the Great Depression and World War II. To entice visitors, the government created an extensive visual culture around the parks, including posters and a natural architectural style known as "Parks Rustic." Postage stamps—visual, inexpensive, and widely disseminated—entered this mix in 1934 with the National Parks Year Issue. President Franklin D. Roosevelt reorganized the National Park Service in 1933, and his Civilian Conservation Corps made many park improvements that are still in use today.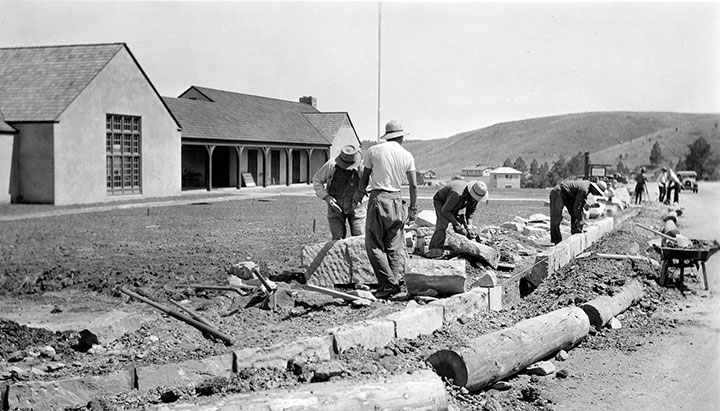 ---
Autographed National Parks Year Issue imperforate press sheet, 1934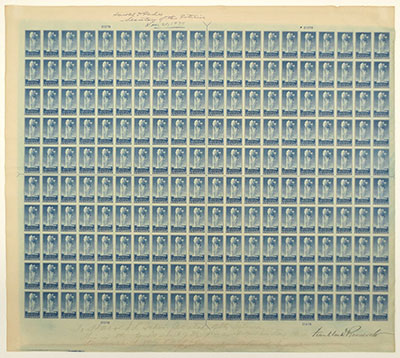 When the National Parks Year Issue appeared in 1934, it was perforated and gummed like most ordinary stamps of the time. Soon, however, the public learned that Postmaster General James Farley had purchased imperforate, ungummed full press sheets as gifts.
The outcry from stamp collectors led Farley to order the National Parks stamps reprinted and sold to anyone who desired them in similar condition. This minor scandal and the reprinted stamps are known to collectors as "Farley's Follies." The sheet shown here is one of the original gifts that created the uproar, as attested by the 1934 dates in Farley's and Ickes' handwriting.
---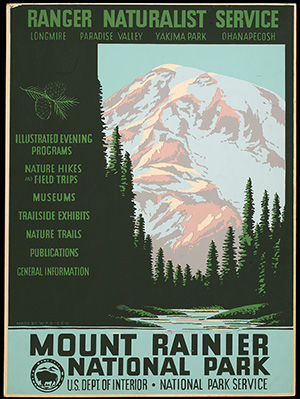 Federal Art Project National Parks poster, circa 1935-1943
During the Great Depression, President Franklin D. Roosevelt created the Works Progress Administration (WPA) to provide work for artists and craftspeople. WPA artists designed fourteen different posters promoting various national parks. Although more than a thousand copies of these posters were printed, only about forty survive today.
Loan from Doug Leen
---
National Parks Year Issue first day cover and letter, 1934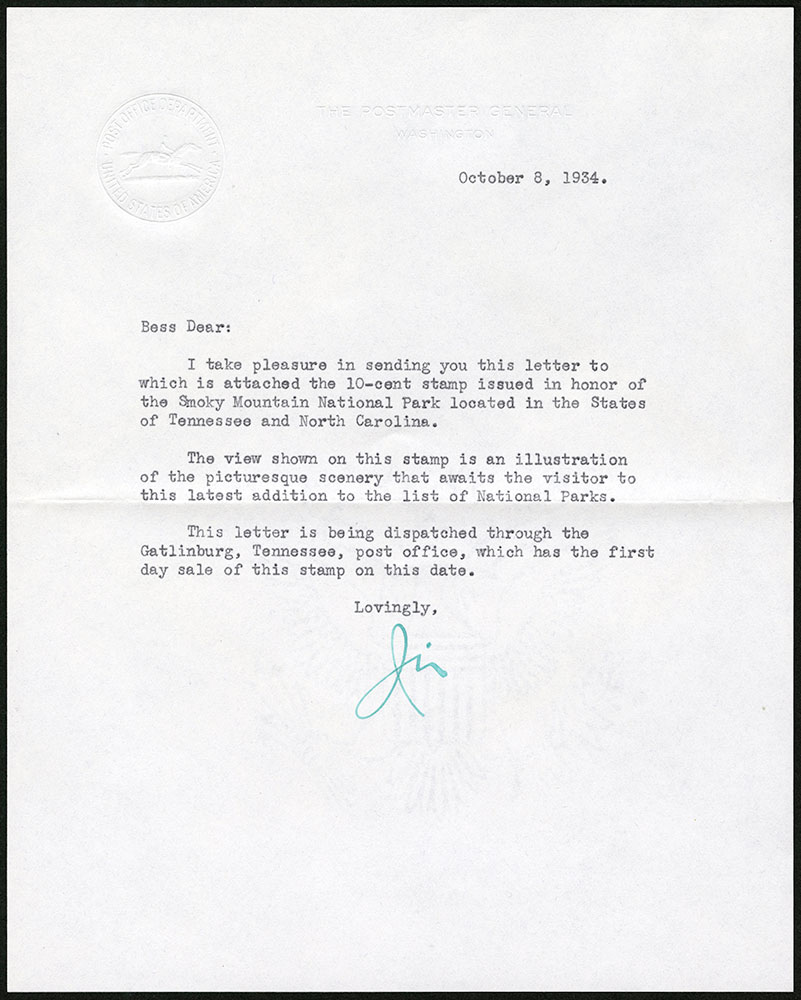 The National Parks Year Issue was released simultaneously in Washington, D.C. and at the various parks depicted on the stamps. Postmaster General Farley sent first day cancellations and letters from each of the parks to his friends, family, and political supporters.
---
Civilian Conservation Corps letter and cover from Wind Cave National Park, 1939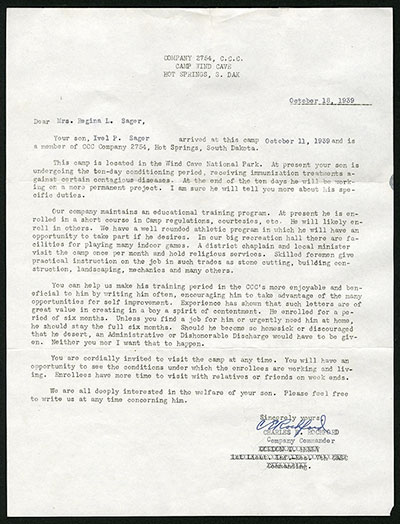 Families of CCC enrollees received form letters describing camp life, encouraging frequent written communication, and threatening "dishonorable discharge" for "desertion." Although a civilian organization, the CCC was headed by Major General Douglas MacArthur and operated with a distinctly military air.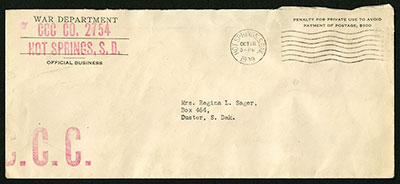 Loan from National Park Service, Wind Cave National Park
---
Stony Man Camp cover, circa 1894-1903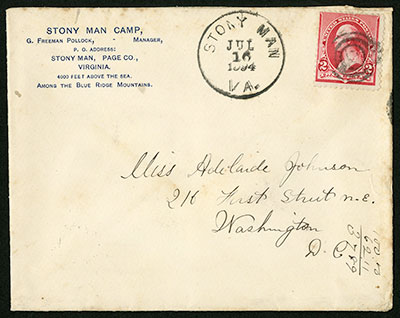 CCC workers built an entirely new national park—Shenandoah—on land that once boasted several small towns and a resort called Stony Man Camp (later Skyland). Stony Man Camp's owner and postmaster from 1895-1934 was the colorful George Freeman Pollack, who lives in park legend as the man whose bugle joyfully announced the daily mail's departure.