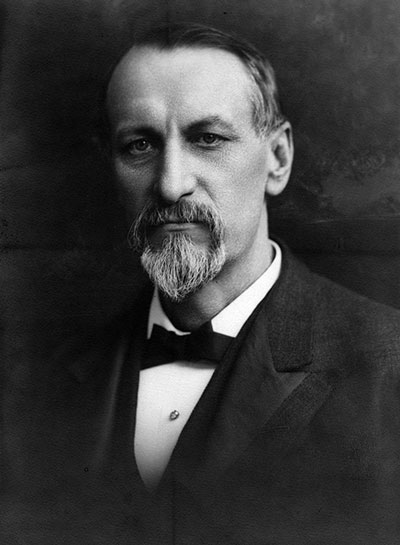 From the beginning, Congress intended the national parks to be open to everyone—unlike the private hunting grounds and exclusive gardens for aristocrats found in Europe. At first, access was by foot, stagecoach and railroad, limiting tourism to the adventurous. The booming economy of the Roaring Twenties, however, brought better roads and affordable cars with middle-class tourists behind the wheel. National parks and historic sites contribute to local economies, while tourism in turn can contribute to the parks' long-term sustainability.
---
Park hotel advertising cover, circa 1916-1917
The railroads opened many of the early national parks to tourism, including Yellowstone, Glacier, and Grand Teton. Hoping to increase passenger traffic, railroad companies built some of the first hotels and amenities in the parks. Visitation boomed during World War I, which closed off most European travel.
---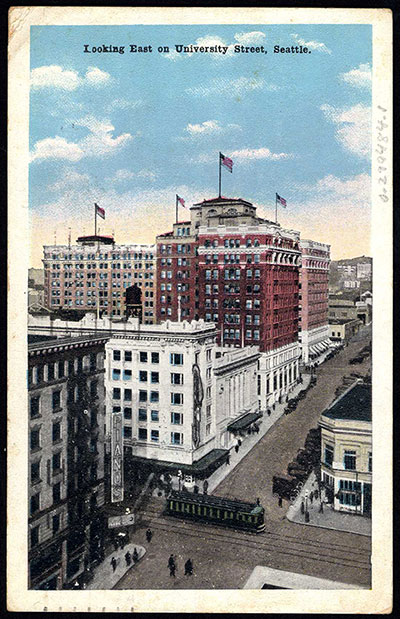 National Park slogan cancels, circa 1917-1921
Promoters and politicians, knowing that a nearby national park meant tourist dollars for the local economy, turned to the post office for cheap and effective advertising. Special postmarks bearing slogans such as "Visit Glacier National Park" carried the message across the country and worldwide.
---
$1 Trailer Permit stamp on license, circa 1939-1940
House trailers grew in popularity during the Great Depression as an economical alternative to hotels. From the 1930s through the '50s, operating trailers in a national park or monument required a special license with a trailer permit stamp affixed.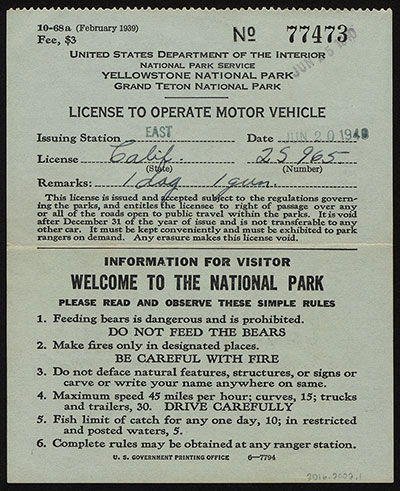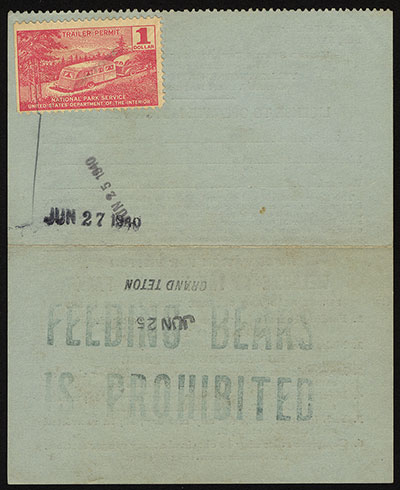 ---
Golden Eagle Pass, 1988
The Golden Eagle Pass program allowed the public to pay a single fee for entrance to all national parks for one calendar year. In 1988, the National Park Service issued revenue stamps for the program; participants detached the two right-hand stamps from the sheet and affixed them to a carrying card. The system was cumbersome and the stamps were never issued again.
---
Fred Harvey Company collapsible tin cup, early twentieth century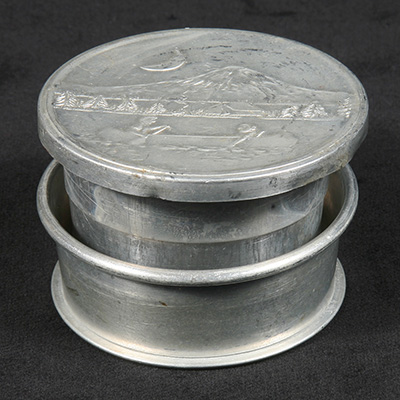 The Harvey Company catered to a wide spectrum of tourists. A visitor to the Grand Canyon could rent a tent for 75 cents per night and buy this aluminum camping cup for 15 cents, or rent a room at Harvey's luxurious El Tovar Hotel for $5.
Loan from Roland H. Cipolla II
---
Fred Harvey Company Painted Desert Inn plate, circa 1947-1962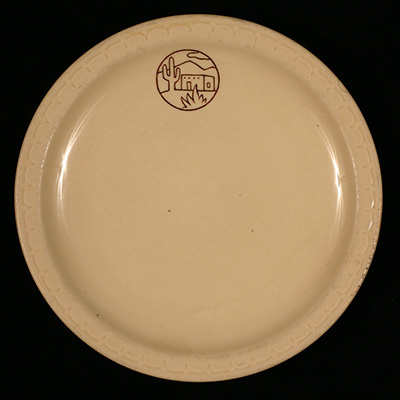 Many tourists welcomed the relative elegance offered by the Fred Harvey Company's restaurants and hotels. They preferred being served by a "Harvey Girl" on china dishes to more rustic aluminum dinnerware. This plate once graced tables at Petrified Forest National Park's Painted Desert Inn.
Loan from Roland H. Cipolla II