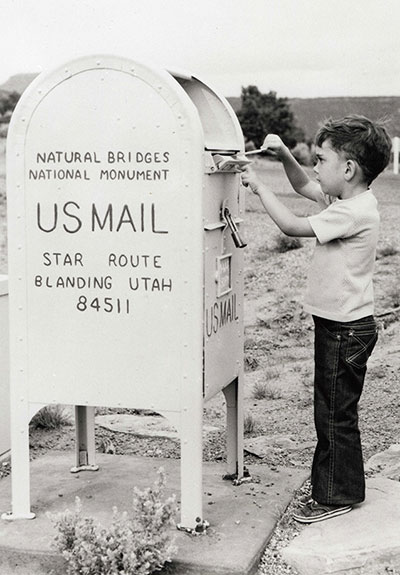 Post offices have played a key role in the development of many National Park Service units. Tourists as well as those who live in the parks rely on mail as a lifeline to the broader world. Tourist mail has always been popular to send and receive, and some examples are featured here. Picture postcards and three-dimensional mailings proved particularly popular during the twentieth century's first decades. Three-dimensional mailings are enjoying a bit of a revival since 2010 and the introduction of the non-machine able surcharge rate with its own special stamps. Even in the age of Twitter and Facebook, postcards remain a popular way to let people know you were really there—and prove it with a postmark!
---
Yellowstone National Park pictorial postmark, circa 1997-2004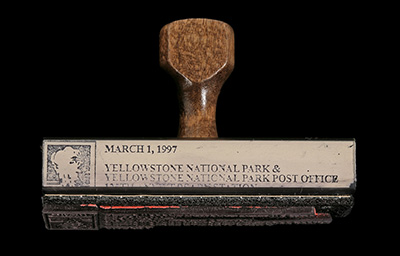 Souvenirs, mementos of a place or a person, come in many forms. Visitors frequently buy and send postcards from historic sites and parks. The postmark itself can be special. This temporary pictorial postmark commemorates a celebration in Yellowstone Park, and it verifies that the sender was "really there."
Loan from National Park Service, Yellowstone National Park
Yellowstone leather postcard, July 12, 1934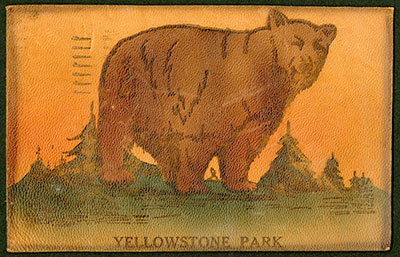 Postcards made of leather, wood, and other non-paper materials appeared around 1900, and their popularity continued for decades. The Post Office Department discouraged using them, however, claiming they clogged cancelling machines. They now require hand-stamping and additional postage.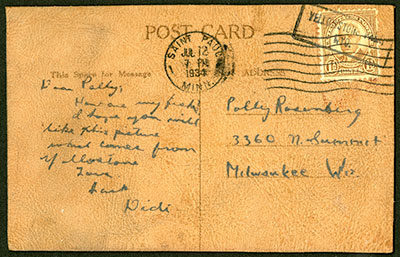 Souvenir picture postcard, circa 1953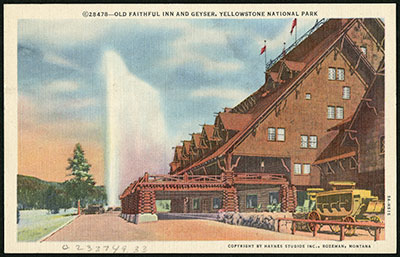 Postcards offer an inexpensive means of communication, and were particularly popular before telephones. The postcard industry expanded right along with the growth of tourism and visits to national parks, where visitors mailed untold thousands of postcards. Printers saved ink by leaving a white border.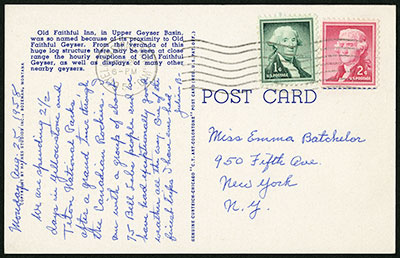 ---
Mailed souvenirs, circa 1965-2013
Mailable, three-dimensional souvenirs had attached tags for the address and postage. Trinkets like miniature moccasins and small bags filled with salt, corn, coal, or even faux gold nuggets made from bubble gum revealed tourists' sense of humor and desire to share their fun.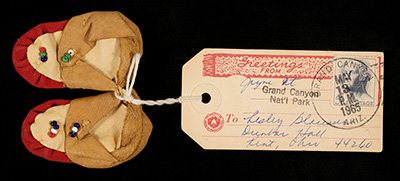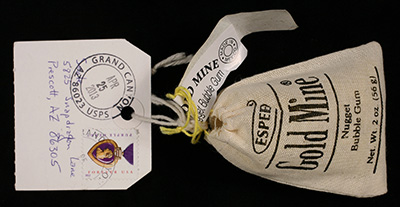 Mailed Skookum, circa 1938-1945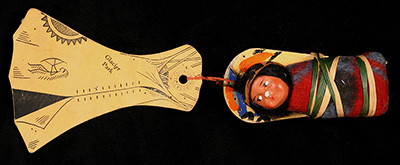 Among the Chinook people of the American Northwest, a skookum is a small doll in native dress. Before World War I, tourists in the West purchased and mailed the dolls, believing in their authenticity. In reality, a company in Los Angeles manufactured them, not the Chinook people.
Loan from Marjory J. Sente
---
Scorched Kilauea postcard, 1913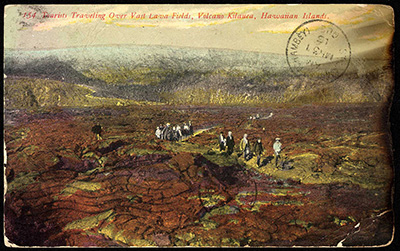 Tourism to the active volcano at Kilauea on the island of Hawaii took off when it became a national park in 1916, just a few weeks before the National Park Service was created. A popular early tourist activity was walking out onto the hard crust of an active lava flow and using a stick to thrust their postcards into a fissure and scorch it before mailing.