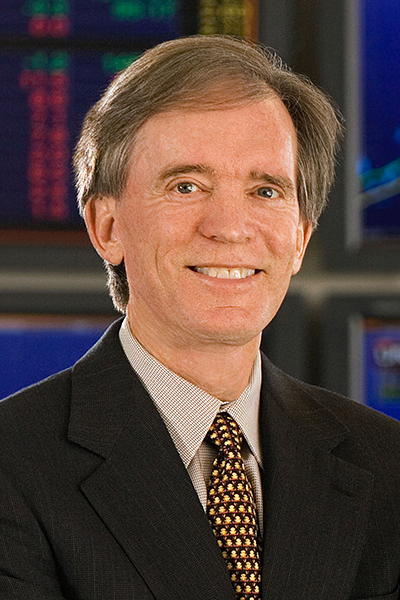 "Stamp collecting has been such a rewarding and educational hobby for me that I wanted to share the joys of philately in a way that would benefit future generations of students, citizens and scholars. The gallery at the Smithsonian's National Postal Museum will use stamps and mail to offer a unique perspective on American history and identity. The story of stamps in America is the story of America, and I am proud to be part of preserving and showcasing these treasures."
Bill Gross was the founder and CIO of PIMCO, one of the largest investment management firms in the world. He founded the firm in 1971 where he remained until 2014 when he exited for Janus Capital where he is a portfolio manager. He is the author of numerous articles on the bond market, as well as the book "Everything You've Heard About Investing is Wrong." He appears frequently in national publications and worldwide media. Among the awards he has received, Morningstar named Mr. Gross Fixed Income Manager of the Year for 1998, 2000, and 2007, making him the first person to receive this award more than once. He holds an MBA from the Anderson School of Management at the University of California, Los Angeles. He received his undergraduate degree from Duke University. Through his family foundation, Mr. Gross and his wife, Sue, have been skillfully making donations affecting change in such areas as education, women's health, stem-cell research and social issues in Africa.
The William H. Gross Stamp Gallery showcases many philatelic gems, including three extraordinary rarities which were previewed at the National Postal Museum October 1-31, 2009.
---
Founding Donors
Founding donors are individuals who contributed $10,000 or more by October 31, 2012. These donors played a critical role by providing seed money for the construction of the William H. Gross Stamp Gallery.
To recognize founding donors for their significant role in creating the William H. Gross Stamp Gallery, each donor's name is etched on the consolidated donor panel in the gallery for the life of the gallery.
The National Postal Museum is extremely grateful for our founding donors.
The Gross Family: Bill, Sue, Jeff, Jenn and Nick
Anonymous

Hubert N. (Jay) Hoffman III

Patrick Maselis

TurningPoint Foundation
Raimondo and Anna Maria Craveri
Eubanks Family
Tito and Laura Giamporcaro
Harry (Sonny) and Kathy Hagendorf
Vince and Becky King
George Jay Kramer
Livingston Family Fund
Mystic Stamp Company
Mark J. Porterfield
Richard C. Sennett
Charles F. Shreve
Tracy Mayfield Shreve
Donald Sundman Family
United States Postal Service
Alan and Sandy Whitman
Michael and Janice Aldrich
Clifford J. and Elizabeth M. Alexander
Thomas J. Alexander
American Stamp Dealers Association
Roger and Meredith Brody
Roland H. (Ron) Cipolla II
The Collectors Club
Confederate Stamp Alliance
Daniel B. Curtis
Dr. Edward and Joanne Dauer
Richard Friedberg
Alfredo Frohlich
Dr. Cheryl R. Ganz
Ian Gibson-Smith
Fred Gregory
Charles Hack
Elizabeth Hisey
Alan and Mitch Holyoake
Patricia A. Kaufmann
Daniel F. Kelleher Auctions, LLC
Kamila and Nick Kirke
Dr. Daniel M. Knowles
Anna Lee
Linn's Stamp News
Curtis Livingston
Richard Malmgren
Greg Manning
Family of David H. McNerney
Harvey Mirsky
Gordon Morison
National Postal Museum Staff
NAPEX Stamp Show
Robert P. Odenweller
Alan Parsons
Philatelic Foundation
Robert G. Rose
Daniel and Dianne Ryterband
Gail and Wade Saadi
Mark Schwartz
Scott Publishing Company
Smithsonian Women's Committee
SPINK
Dr. K. David Steidley
Daniel E. Stone
David L. Straight and Carol Giles-Straight
Bill and Jamie Strauss
David and Christine Sundman
May Day Taylor
Scott R. Trepel
Thurston Twigg-Smith
The U.S. Philatelic Classics Society
United States Stamp Society
Philip T. Wall
Lee King Yue
---
All Donors
The National Postal Museum is grateful to the generosity of all donors who helped to create the new Stamp Gallery.
Scott Aiken
Michael and Janice Aldrich
Clifford J. and Elizabeth M. Alexander
Thomas J. Alexander
American Association for Philatelic Exhibitors
American Stamp Dealers Association
Joan Anderson
Ann Arbor Stamp Club
Anonymous
Thomas K. Baer
Ted Bahry
Mr. Beasley Stamp Club
Lawrence Beckwith, III
John J. Beirne
Karen Bertha
Victor Bird
Black River Stamp Club
Leslie Blacksburg
Howard Blum, Jr.
Lyle Boardman
Peter Bonanno
Robert Bond
Thomas Boozer
Carl Bouchaert
MaryAnn Bowman
Camille Bradford
Ione Branan
Brattleboro Stamp Club
Michael Brenner
Roger and Meredith Brody
John Buesseler
Maurice Bursey
Molly Byrne
Mario Cabases
Robert Cagna
Kathleen Cameron
John Campbell
Francis Capiro
Richard Celler
Stephen Chazen
Roland H. (Ron) Cipolla II
The Collectors Club
Wm. Wallace Cleland
Arthur J. Cole
Peter Colwell
Confederate Stamp Alliance
David Cordon
Anne Crane
Raimondo and Anna Maria Craveri
Toni Currin
Daniel B. Curtis
Daniel F. Kelleher Auctions, LLC
Dr. Edward and JoAnne Dauer
Norma Dawson
David Dearborn
Peter Deutsch
Charles DiComo
Thomas Donat
Michael Patrick Downs
Anne Dunkin
David Durbin
Dale and Edith Eggen
Gerald Elliott
Floyd Ellis
Eubanks Family
Charles Falahee, Jr.
Robert Finkel
Carol Foster
Sarajane Foster
James Frankiewicz
Richard Friedberg
Alfredo Frohlich
David Fuller
George Gallup
Dr. Cheryl R. Ganz
Charles Ganzel, Jr.
Michael Gartzke
David Gass
German Philatelic Society Herman H. Halle Chapter #16
Tito and Laura Giamporcaro
Alice Gibson
Debra Gibson
Ian Gibson-Smith
Richard Giessler
John C. Gilkey
Dennis Gilson
Hal Ginsberg
James Ginsburg
Eric Glohr
Goebel Senior Center Stamp Club
Martin Gordon
Jamie Gough
Robert C. Graebner American First Day Cover Society #17
Robert B. Grafton
Fred Gregory
Michael Griesmer
Laura Guinan
Charles Hack
Charles Hagan
Harry (Sonny) and Kathy Hagendorf
Paul Hager
Ann Harrison
Donald Harrop
Mary Haugen
James Headrick
Bruce Henning
David Herendeen
Charles Herren, Jr.
William Hine, Jr.
Thomas G. Hirschinger
Elizabeth Hisey
Curtis and Jane Hoffman
Hubert N. (Jay) Hoffman
Norma J. Hollowell
Alan and Mitch Holyoake
Stanley Hooper
Laraine Balk Hope
Charles Horn, III
Thomas Horsman
Stephen Hoskins
John Hotchner
Michael Janis
Edward Jarvis
Richard C. Kelly
John Kott
Dennis Kruse
Timothy Holls
Alan Holyoake
Terry Hutson
Nobuo Ida
Charles Iknayan
Mark Indelicato
James Inverarity
Michael Jaffe
Michael Janis
Mark Jenness
Christine L. Johnson
Patricia A. Kaufmann
Daniel F. Kelleher Auctions, LLC
Ronald King
Vince and Becky King
Brendan Kirby
Kamila and Nick Kirke
Vernon Kisling, Jr.
Janet Klug
Dr. Daniel M. Knowles
Kenneth Knox
Leon Komkov
George J. ;Kramer
Melvin Kravitz
Theodore Kury
Leon La Chance
Michael Lamothe
Michael Lampson
Lester C. Lanphear, III
William A. Lardie
Burdette L. Larson
Michael Laszewski
Anna Lee
James Lee
Leslie Lee
Douglas Lehmann
Richard Lehmann
Thomas Lera
Arthur Liberman
J. Leon Lichtin
Brian Liedtke
Fred Linker
Linn's Stamp News
Curtis Livingston
Livingston Family Fund
Richard Lohman
John Lowe
Robert Lowman
Lt. Col. Kenneth Lucas, Retired
John Lyon
Patricia Lyons
Carol E. Macknis
Michael Madesker
Samuel Malamud
Richard Malmgren
Greg Manning
John Manzolillo
George Marion
Kenneth Martin
Patrick Maselis
Arthur William McCullough
Thomas McKeon
George McName
David W. McNamee
Family of David H. McNerney
Clifford Mestel
H. Harvey Mette, III
Paul Meyer
Thomas Minor
Harvey Mirsky
Forrest Mischler
Gordon Morison
National Postal Museum Staff
David Most
Barbara R. Mueller
Matthew Murphy
Marvin Murray
Paul Muskopf
Mystic Stamp Company
NAPEX Stamp Show
Kenneth Nilsestuen
Diane Neidner
Randolph Neil
Richard A. Newell
Laura and Matthew Nicholas
William O'Brien
Robert P. Odenweller
Reinhard O'Neill
Richard Otten
Donald Palmer
Alan Parsons
J.R. Patterson
Mr. and Mrs. Robert Paulus
Elmer Pensack
The Philatelic Foundation
David Phillips
Michael Plett
1st Lt. Petter A. Poppe
Mark Porterfield
Frederick Preddie
Vicki Rafel
James Read, Sr.
Cathy Reuter
Richard Ridenour
James Risner
Stanley Robboy
Steven J. Rod
Omar Rodriguez
James Rogne
Ronald Ronconi
Robert G. Rose
Roseville Postage Stamp Club
Margaret Ross
Karl Rove
Mr. and Mrs. Kenneth S. Rothschild and Sharon Ann Dror
Herbert and Margaret Rue
Daniel and Dianne Ryterband
Gail and Wade Saadi
Frederick A. Saar
Ronny Sayers
Philip Scholly
William Schreiner
Donald S. Schultz
Paul Schwab
Mark Schwartz
Scott Publishing Company
Smithsonian Women's Committee
Richard C. Sennett
Gene Sessamen
Ralph D. Sexton
William Sherman
Luke Shewmaker
Charles Shreve
Tracy Mayfield Shreve
Billy F. Skinner
Robert Smetana
Timothy Smith
Smithsonian Women's Committee
William A. Sommers
Edith Speert
SPINK
David Spivack
Springfield Stamp Club
Dr. K. David Steidley
Jeffrey Steinback
Linda Stevens
Clarence Stillions
Walter Stillman
Seymour Stiss
Daniel E. Stone
David L. Straight and Carol Giles-Straight
Bill and Jamie Strauss
St. Clair G Strong, Jr.
Russell Struckman
James Stultz
David andChristine Sundman
Donald Sundman Family
United States Postal Service
Marc Sweet
Stuart Tanner
May Day Taylor
Robert Taylor
Paul Terry
The Philatelic Club of Will County
Brock Thoman
Terry Thomas
Thomas Thornbahn
Herbert Trenchard
Scott R. Trepel
Gordon Trotter
Aslan Turer
TurningPoint Foundation
John Tyson, II
Thurston Twigg-Smith
Mary Jane Urbanowicz
The U.S. Philatelic Classics Society
United States Stamp Society
Venice Stamp Club
Carol Visalli
Steven Waguespack
Robert Walker
Philip T. Wall
Alan Warren
William Webster
Florence Welch
Richard Wenzelberger
Harald Werner
Wesley Westmeyer
Alan and Sandy Whitman
Charles M. Wills
Charles Wooster
Lee King Yue
Adam Zaner
Steven Zwillinger