Transcontinental Delivery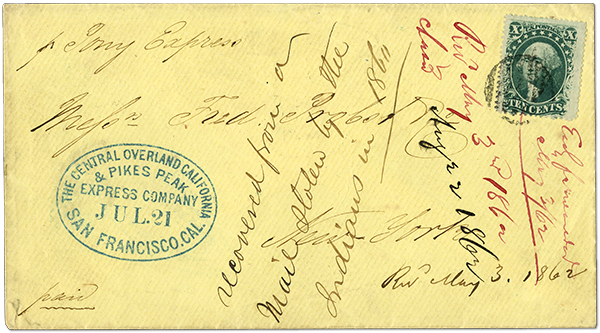 10c Washington on Pony Express cover, 1860. Loan from William H. Gross.
A Pony Express rider carried this cover, considered one of the most historically significant in U.S. postal history. Notice the notation on the front: "recovered from a mail stolen by the Indians in 1860."
This cover bears an oval marking that reads "The Central Overland California & Pikes Peak Express Company." That enterprise administered the Pony Express. American Indians overtook the Pony Express rider, interrupting delivery. The pony escaped with the letter pouch, which was later recovered on the plains. The letters were forwarded to their destination. This cover is one of only two known examples. It reached New York in 1862. By then, the Pony Express no longer existed.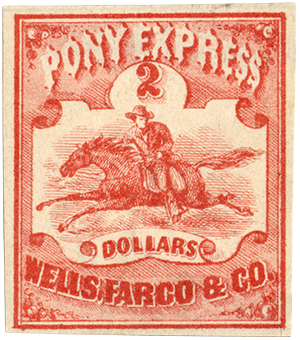 Wells Fargo Pony Express Stamp.
Wells Fargo managed the Pony Express from April 1, 1861, until its demise in October. During that time the company issued five "Horse and Rider" stamps of this type in different colors and denominations. These semi-official stamps were used only on eastbound mail originating in California.