---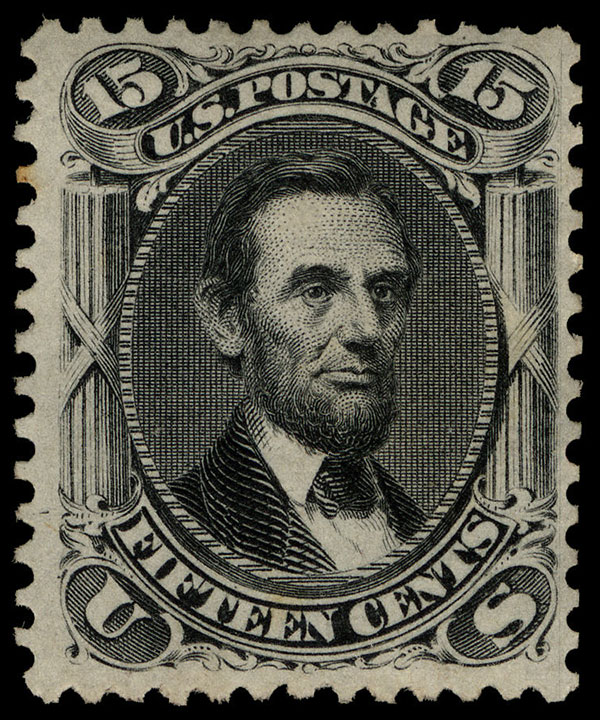 15-cent Abraham Lincoln, 1866
In 1866 the Post Office Department issued what is considered the nation's first presidential memorial stamp, the 15-cent Lincoln. It was the first stamp of that denomination issued by the United States, and Lincoln was the first person pictured on a postage stamp who would have seen the 1847 Issues. John Wilkes Booth had assassinated Lincoln on April 14, 1865.
The 15-cent denomination paid the single-weight rate to France or, in combination with other denominations, greater weight and foreign destination rates. After January 1, 1869, it could have paid the registered mail fee. Approximately 2,139,300 stamps of the 13-cent issue were printed by National Bank Note Company.
Alexander T. Haimann, National Postal Museum
---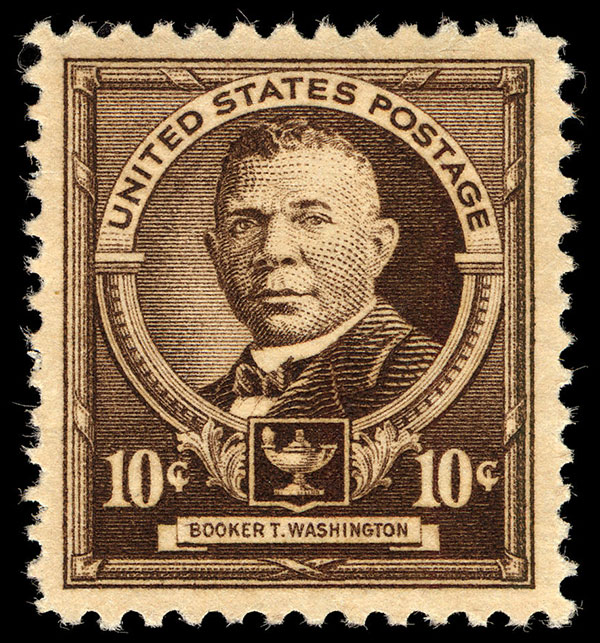 10-cent Booker T. Washington, 1940
The first U.S. stamp to depict an African-American, the 10-cent Famous American Educators issue features Booker T. Washington (1856-1915). The stamp was released on April 7, 1940.
Born a slave, Washington was mentored in the years following the Civil War by sympathetic and influential whites. He pursued his education earnestly, adopting his mentors' beliefs that education of freed slaves was the key to adjustment to free society. When in 1888 the state of Alabama established the Tuskegee Negro Normal Institute, Washington was appointed principal. By following conservative educational policies and stressing practical, job-related skills, he attracted significant funding from wealthy whites and built the school into an esteemed institution.
Gordon T. Trotter
---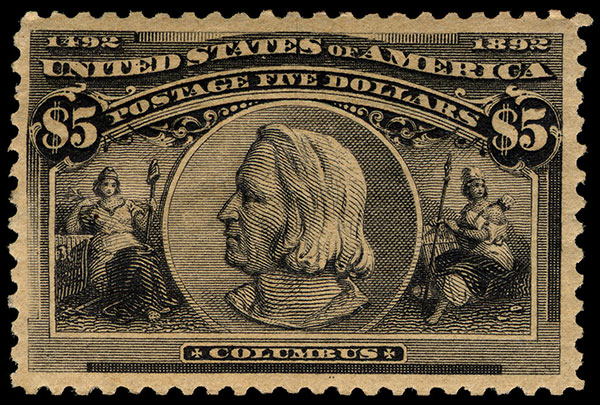 $5 Christopher Columbus, 1893
The United States issued its first commemorative stamps—the Columbian Exposition Issue—in 1893. The issue's most famous stamp is the 5-dollar denomination, which features a bust of Christopher Columbus. Prized more than any other, the stamp has an almost mystical aura in the United States philatelic community. In cooperation with the U.S. Post Office Department, the United States Mint also issued a commemorative Columbus half-dollar coin.
Alfred Jones engraved the Columbus portrait for both the stamp and coin; Charles Skinner engraved the two figures on both sides of the stamp vignette. Columbus faces a different direction in each-to the right on the stamp, to the left on the coin. The back of the half-dollar coin displays a ship and the words "World's Columbian Exposition Chicago 1892."
Collectors and dealers who saw the opportunity to create collectible covers used the 5-dollar stamp to drastically overpay the usually low-value domestic rates. But in a few cases, it paid expensive heavyweight foreign destination rates. American Bank Note Company printed a total 27,350 stamps of the 5-dollar issue.