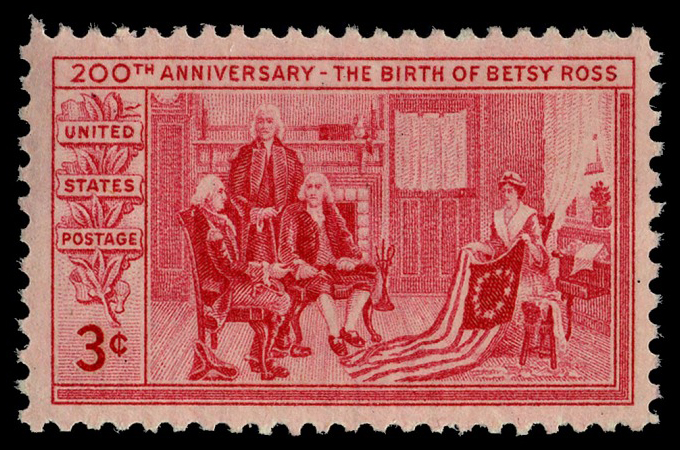 Many women have been honored for their legendary patriotism. Women such as Betsy Ross (1752-1836) symbolize women's contribution to the American Revolution and founding of the new nation.
In 1870, Betsy Ross' grandson told the Pennsylvania Historical Society an important story his grandmother had told him. Betsy, a well-known seamstress in Philadelphia, claimed that General George Washington and two congressional representatives visited her in June 1776. They asked her to make a flag based on their drawings. Betsy agreed, although she recommended a five-point star as opposed to the six-point stars on the sketch. Although this story has no factual record, the flag Betsy made continues to be one of the most beloved versions of the American flag.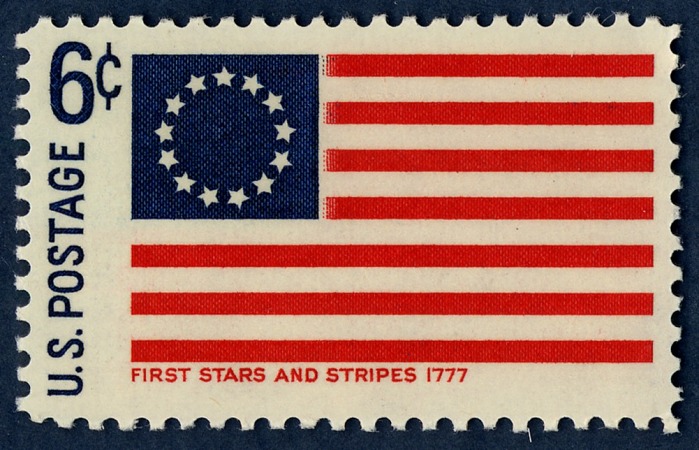 Betsy was an ardent patriot during the Revolution and her story represents the many people that rose to the cause and used their skills in support of their country.
The story of this event was commemorated in Charles H. Weisgerber's painting Birth of Our Nation's Flag, first exhibited at the 1893 Columbian Exposition in Chicago. The success of this painting greatly increased interest in the American Flag House and the Betsy Ross Memorial Association. The image serves as the basis for the 3-cent Betsy Ross stamp.