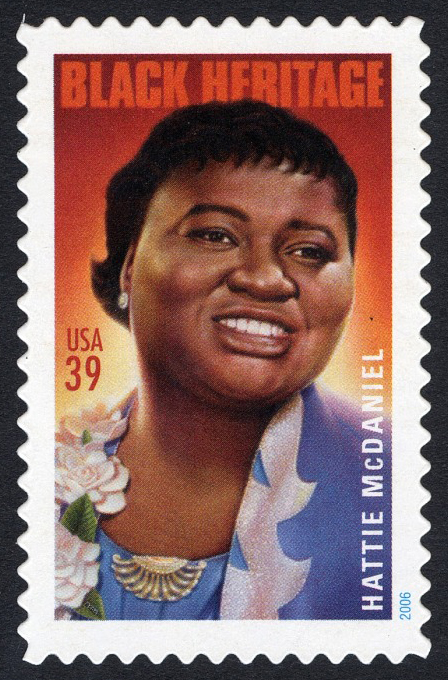 African American actors and singers experienced extreme discrimination in both their personal and professional lives during the twentieth century. However, despite this hardship, many African American performers still achieved national success in their careers. One particular actress that persevered through racism is Hattie McDaniel.
Although there are many African American artists that broke through the racial boundaries of their time, Hattie McDaniel (1895-1952) is one of the most accomplished African American actresses of the 1930's. As many actresses of the 1920's and 1930's did, McDaniel started out her career in vaudeville. She then expanded her career through singing with the Morrison Orchestra. In 1931 McDaniel shifted from stage to screen and started appearing in films, and eventually achieved national fame with her role as Mammy in the film, Gone With the Wind. She became the first African American to attend the Academy Awards in 1939, when she won the award for best supporting actress.
Because of her contributions to film, the Postal service issued a Hattie McDaniel stamp in her honor. The stamp was issued at the Margaret Herrick Library of the Academy of Motion Picture Arts and Sciences in Beverly Hills, California, as part of the Black Heritage Series. The stamp features a portrait created by Tim O'Brian that is based on a 1941 photograph of McDaniel.
"Academy of Motion Picture Arts and Sciences, fellow members of the motion picture industry and honored guests: This is one of the happiest moments of my life, and I want to thank each one of you who had a part in selecting for one of the awards, for your kindness. It has made me feel very, very humble; and I shall always hold it as a beacon for anything that I may be able to do in the future. I sincerely hope I shall always be a credit to my race and to the motion picture industry. My heart is too full to tell you just how I feel, and may I say thank you and God bless you."
—Hattie McDaniel's Academy Awards acceptance speech