The Singing Mailmen of Miami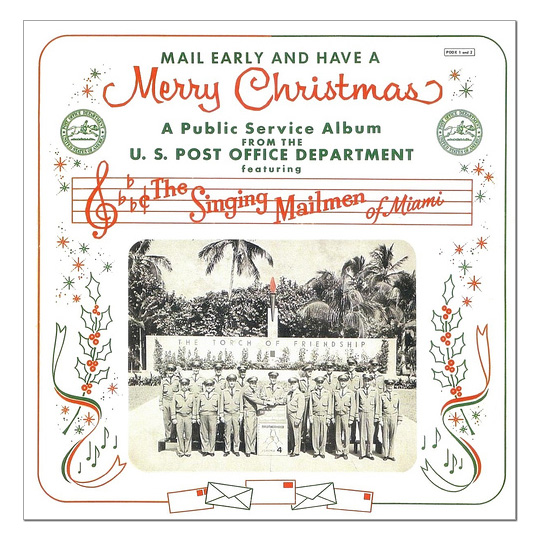 The Singing Mailmen of Miami's album promoting the Shop and Mail Early campaign.
In the 1950s and 60s, a group of postal workers from the Miami Branch area joined together as the Singing Mailmen of Miami and were later adopted as a voice of the Post Office Department. Twenty-five letter carriers and clerks organized in 1954 as a non-profit nondenominational glee club.(1) A letter to a local Miami newspaper stated "We are not a fanatic group, but this we do believe: where others have failed, music has opened the heaviest doors and left peace, good will, and understanding".(2) This letter emphasizes the Singing Mailmen of Miami's main intent: good will, a desire for which brought together the group of diverse postal workers (thirteen letter carriers, five clerks, two supers). Each performance was completed by a performance by the "JCP Trio," composed of a Jew, a Catholic, and a Protestant who would remind the audience of the importance of brotherhood.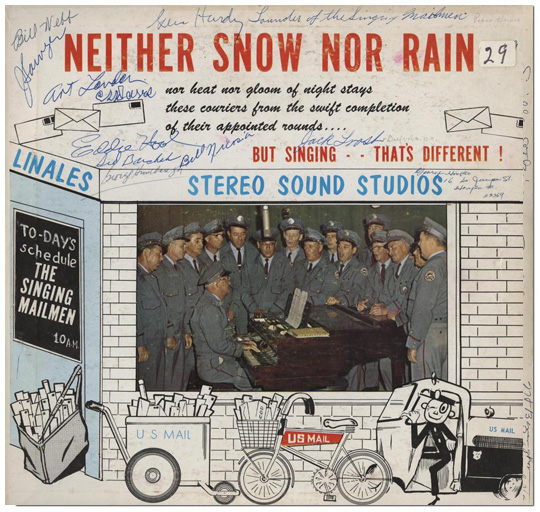 The Singing Mailmen of Miami's album "Neither Snow Nor Rain". Signed by the members of the chorus.
At their beginning the group was purely for the enjoyment of each other's company and the chance to sing. But as time passed, they began to sing at post office events, local events, and nursing homes. By 1960 they had garnered national interest and the Post Office Department adopted them as their official spokes-group. Their fame continued to grow as they released an album entitled "Neither Snow Nor Rain," the money from which came their funds for the ZIP Code tour.
They even became popular enough to be featured on the prime-time television program "Sing Along with Mitch" where they sang their theme song, "Men with the US Mail." They were also the only organization at the time to be granted special permission by the Postmaster General to perform in their uniforms, which they declared as "a great honor".(3) Other notable performances were at the White House, the U.S. Congress, and for Florida Governor Ferris Bryant.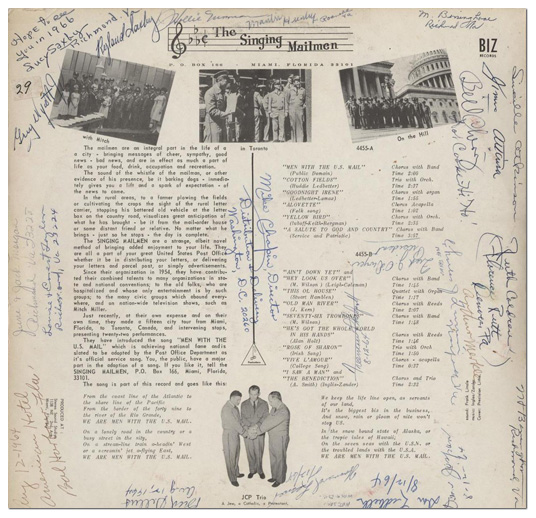 The Singing Mailmen of Miami's album "Neither Snow Nor Rain". Signed by the members of the chorus.
In 1961, they made a trip to various radio stations around the United States to promote the "Shop and Mail Early" campaign during the Christmas season. Their itinerary was vast; they visited Menasha, WI; Galveston, TX; Hagerstown, MD; Santa Fe, NM; Terre Haute, IN; and Jamesville, WI. The next year they recorded a song for the same purpose:
(set to the tune of Jingle Bells)

Christmas stamps, Christmas stamps, making our debut.
We'll brighten up your Christmas cards and speed them on to you.
Don't delay; mail today. It's later than you think.
We'll put them through for all of you, quicker than a wink.(4)
Later in 1963 they made a similar goodwill tour up and down the East Coast to promote the use of the ZIP Code. They traveled in a large bus loaded with a piano, their luggage—and hundreds of coconuts to pass out at each performance to represent Mr. ZIP. They played for twenty-one audiences in twelve different cities, again armed with a song:
(set to the theme of ZIppity Do Da)

Welcome to the ZIP Code
Use it today
Send your mail out
The five-digit way
For speedier handling
To lighten the load
Your return address
Should have the ZIP Code(5)
The Singing Mailmen were never paid for their local Florida appearances or for their trips for the Post Office Department. Instead, they raised money for charities or used the funds to make their goodwill tours and share their music with others. They even each used annual leave for their trips. One member put it well: "There was a lot of camaraderie—we all stuck together and looked after one another's well-being. We also brought joy to a lot of people. It was a great pleasure to see the smiles on their faces".(6)
Most of the members retired by 1970 and the chorus disbanded, though nine did reunite again in 1985 for a local television reunion concert in Miami. In 1989, a writer for the Miami Herald found Sidney Barshak, then seventy-one years old, and previous member of the Singing Mailmen of Miami and the J in the JCP Trio.(7) He did not know if any other members were still alive, as had contact slowly faded over the years. But he still remembered those times very fondly saying "I don't like to toot my own horn, but when the lights came down, the spotlight came on, the curtain opened, there we were. We had some great times".(8)
The Singing Mailmen of Springfield
Around the same time, a similar group existed up in Springfield, MA. Also called the Singing Mailmen, these men formed a barbershop quartet and performed mainly at local Massachusetts post office and charity functions. In 1954 around its inception, the quartet comprised of Bill Grady as bass, Bill Lowe as tenor, Harry Mould as lead, and Al Duquette as baritone. By 1961 Robert O'Brien had replaced Duquette.(9) However, The Singing Mailmen did appear on Springfield's Channel 22 to sing Christmas carols—"with the Christmas rush in the offing you wouldn't think mailmen have much to sing about [but] 'The Singing Mailmen' disprove that".(10)
Detroit Post Office Male Chorus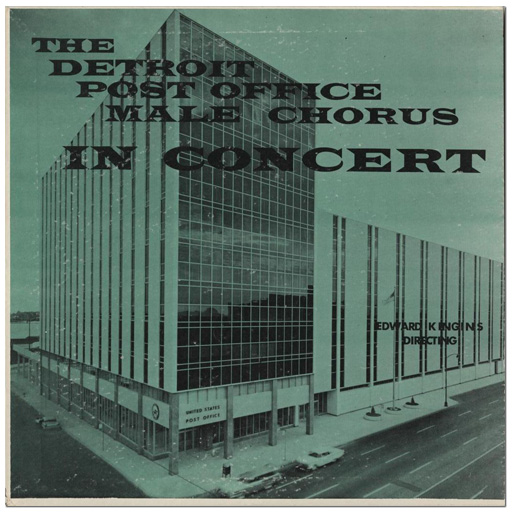 Detroit Post Office Male Chorus album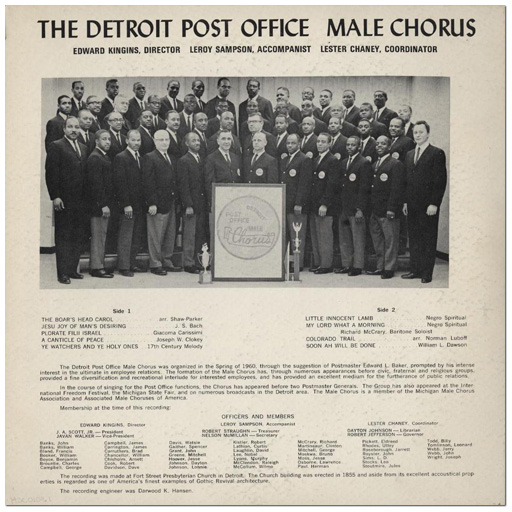 Detroit Post Office Male Chorus album
Also in the 1960s, the Detroit Post Office Male Chorus began. After "realizing the importance to the Post Office Department of sound and effective public relations," the chorus was organized "for the purpose of creating a bond with our patrons through public offering of choral entertainment to varied groups".(11) The chorus would gather to rehearse two hours every week on each member's own time. By 1964 they had gained enough popularity to be able to be selective in their engagements when they were asked to perform at the World's Fair in New York City. Their director reported, "The feeling of accomplishment through their own efforts has created a beneficial and infectious morale factor among members,"(12) showing the collective effects such groups have on workers.
Columbus District Postal Gospel Choir
More recently, in 1990 the Columbus District Postal Gospel Choir was organized in Ohio. The goal of this chorus as reported by Postal Life was "diversity in action," which they tried to achieve by reaching out to different races and religions both in postal customers and other employees.(13) One member stated, "there is simply nothing in the world like introducing people of many walks of life to this beautiful art form".(14) Like most of the musical groups, their goal was not only creating community within the post office, but also with its customers, the people they interact with everyday.
Philadelphia Postal Employee Choir
In September of 1985 some postal workers in Philadelphia began to meet once a week to sing and have fun. Soon there were about thirty members singing and enjoying themselves every week. A few months later the Philadelphia General Post Office needed a group to sing the National Anthem at a function.  Thus, the Philadelphia Postal Employee Choir made its first public appearance. From there, they began singing at more post office functions, shopping centers, malls, retirement homes, ribbon cutting ceremonies, and new stamp celebrations. And soon their popularity grew and they found themselves singing at elementary schools, and even for the mayor of Philadelphia and at a Philadelphia Flyers hockey game. At the beginning, the group was expected to use their annual leave time when performing at engagements. However, as they became a more and more important part of the Philadelphia Post Office's public image, and with the help of petition letters extolling the choir's goodwill, the members were granted the ability to stay on the clock during their performances. In this way, they are able to enjoy themselves as well as facilitate good relations between the post office and the community. For this reason they are able to visit a wide variety of sites for performances because they do not need to charge. They typically perform three to four times a month, but that increases to two to three times per week during the holiday season.
Currently the choir is a bit smaller, with fifteen to twenty members, including five or six original members, one of which is James Cochran II, musical director for the choir and clerk at a Philadelphia neighborhood office. Cochran got his musical start playing the piano at seven years old and now plays piano and organ at church. Most of the other members work at the main facility, though about three others are clerks at neighborhood stations. The choir holds auditions about every other year, or whenever a specific range needs to be replaced. They like to sing a variety of music—40s and 50s songs, some modern, religious and inspirational, and anything that is about love, togetherness, and peace, according to Cochran. The song choices mirror their event locations in their focus on diversity and inclusion and acceptance. And, when asked why so many postal workers participate and find it so rewarding, Cochran cited the chance to not only inspire and support other people through though times, but also the fact that these people constantly inspire them.(15)
Spiritual Harmonizers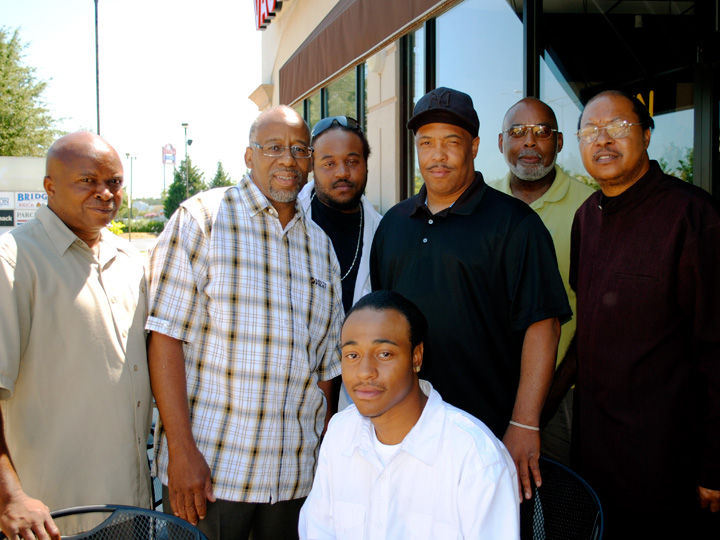 The Spiritual Harmonizers
Several postal workers were sitting in a Richmond, Virginia, post office locker room when one man started to sing. On the other side, another voice joined in. They were Leon and Doc of the now popular choir "The Spiritual Harmonizers" (a name picked by vote at rehearsal early on). But it all started that day about twelve years ago with the song "Hem of His Garment." Similarly to the many other postal musical groups, The Spiritual Harmonizers began slowly in someone's living room purely for fun and quietly gained momentum with practice. Their first postal appearance was at the regional post office during a Black History Month Celebration. Soon they were asked to play at local community events in the Richmond area, such as at churches, cookouts, family reunions, and funerals. Currently The Spiritual Harmonizers is comprised of:
Leon Lewis, who sings lead vocals and all parts except bass and composes music. Leon is a mail processor as well as L.J. and Brandon's father.
L.J. Lewis, who sings 1st tenor. L.J. is a pre-K teacher and former postal employee.
Brandon Lewis, who sings 2nd tenor and produces music and melody.
Lewis Hatcher, who sings lead and all voices and acts as spokesperson. Leis is a custodian at the Brookroad, VA post office and is a former clerk and mail handler.
Michael Ellis, who sings baritone, bass, and falsetto. Michael has been a mail handler for 22 years.
Robert "Doc" Dockery, who sings bass. "Doc" is a retired postal clerk.
Alton Jones, who sings 2nd tenor. Alton is a postal mechanic.
Alex Oritz is a former member and special guest who sang lead and 1st tenor for the group's appearance on America's Got Talent. Alex is a former postal worker.
LeQue "Q" Slaughter, who serves as the group's manager. "Q" is a postal clerk.
Adrian Hodge, the group's assistant manager, driver, and security, is a former postal employee.
Each member has his own reasons for participating in the choir, which include the ability to spend time with family, getting joy out of being able to touch people's hearts, and the fellowship created by the group. But the one reason that they all listed was a love of singing.
In 2009, a friend of the choir suggested they audition for the popular reality show "America's Got Talent." Having heard similar sentiments from other fans, they rented a van and drove all the way up to New York City after work one day. After waiting in line for many hours, with Adrian Hodge running to feed the meter every four hours and pick up food at a nearby hotdog vendor for the group, they were finally able to audition—"it must have been 11:30 pm by that time" one recalled. As they began to sing, the producers who had been staring neutrally at their laptops and notepads slowly looked up and began to smile. The group was allowed to sing their entire song, despite having been told they would only have about thirty seconds. They had made it on to the next round, where they would be assessed by the celebrity judges: David Hasselhoff, Piers Morgan, and Sharon Osbourne, who clearly adored them along with an entire auditorium of viewers.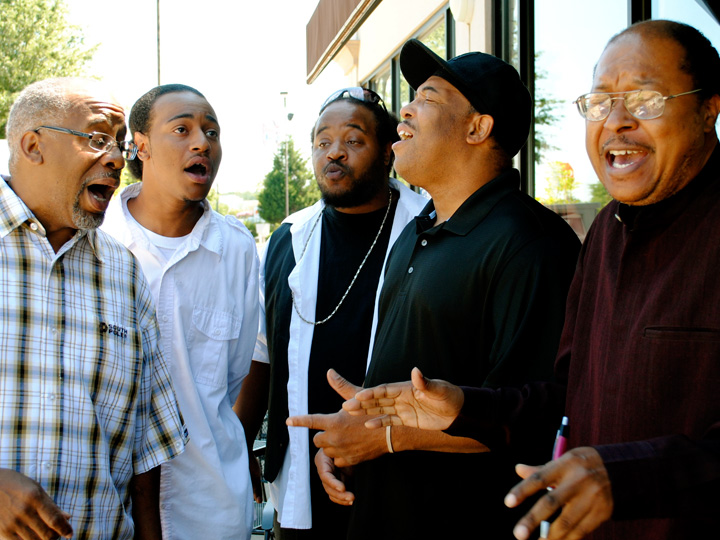 Some of the Spiritual Harmonizers give an impromptu performance during their interview in July 2010.
The Spiritual Harmonizers made it all the way to Las Vegas in the competition. They all expounded on the wonderful opportunities they received because of the show, one of the best of which was the chance to travel and meet new people. Just traveling for the show took them to New York City and Las Vegas. And after the show finished, the Habad Jewish Telethon contacted them and asked them to perform live in Los Angeles for the charity; they were more than happy to do so. When interviewed in July 2010 they still raved about the amazing hotel at which they stayed in Venice Beach and its view from the rooftop basketball court. They also visited Washington, DC to sing at the National Postal Museum for the inauguration of Washington's Postmaster, Yverne Patrice Moore in February 2006 and more recently returned to the city for the Christmas tree lighting ceremony in December 2009.
The group has become celebrities—strangers have recognized them in airports, at hospitals, on the street, and a Harlem Globe Trotter even asked them for their autographs!
The Spiritual Harmonizers have received tremendous support from the postal community, and have adopted the phrase "Giving a new meaning to going postal" as their slogan. They've received letters from postal employees saying they don't take their badges off when they leave work anymore and has made them feel important. Hearing from their fellow employees all around the country has expanded their community, making them aware that they sing not only for themselves, but for a greater community.(16)
Dog Bite Money
There is also currently a rock band in the Philadelphia area called Dog Bite Money, named for the compensation money one of the all postal employee band members received that they then used to start the band. The band won a house band contest on Philadelphia's local 102.9 WMGK in 2009.
---