Expanding Horizons with Docent Field Trips
10.23.2009
Blog
By Jeff Meade, School and Tours Coordinator
The docent program at the Postal Museum is taking off in a new direction! Through the inspiration of a great intern-turned-docent, Sara Victorson, the docent program embarked on a series of field trips to connect the Postal Museum with other Smithsonian museums and Washington DC cultural attractions. Making connections to other DC landmarks takes the Postal Museum experience outside its physical walls and let's visitors see the importance of our collection in different ways. The field trips not only expand docent knowledge, they help build a sense of community. We've already toured the Smithsonian's African Art Museum, the Freer-Sackler Gallery of Art, the National Portrait Gallery and the National Gallery of Art.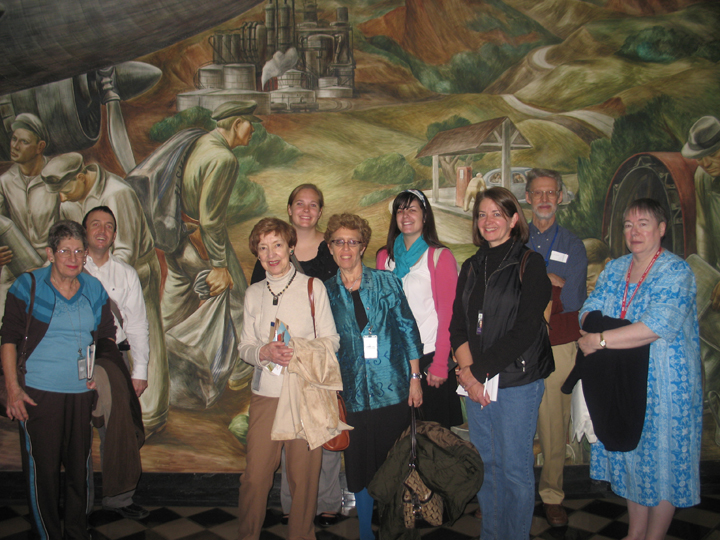 Just recently, the docents toured the Department of the Interior Museum's 1930's murals. The murals, depicting Depression-era themes, correspond to the Postal Museum's exhibit FDR: Delivering Hope which tells the story of stamps collected and created by President Franklin D. Roosevelt during the Great Depression. Roosevelt used stamps to inspire Americans during times of economic misfortune and to promote his New Deal programs. The murals at the Department of the Interior reflect the themes of individual DOI organizations, such as the Bureau of Reclamation, the Bureau of Indian Affairs and the National Park Service. Many of these organizations saw tremendous energy from New Deal work programs such as the Civilian Conservation Corps and the Works Progress Administration. One of the murals even depicted the benefits of petroleum production, and included an image of a happy postal carrier carrying his bag of mail! With Washington DC's amazing history at our fingertips, finding connections with Postal Museum stories makes for better tours for both locals and out-of-town visitors.
Several field trips are in the works for the winter and spring to build on the new tradition of expanding our interpretation of the Postal Museum. The December field trip focuses on the history of Airmail and includes docents from the Smithsonian's Air and Space Museum. We also plan on touring the Navy Yard in the spring to look at steamboat mail transportation, and hope to tour some of the art galleries in town that feature works by stamp designers. The possibilities are virtually endless, which makes the field trips so exciting! The timing of these field trips also helps us think about the museum's planned expansion. With more museum space, we'll have more stories to tell!