Exploring Postal History at Brooks Elementary in North Carolina
11.23.2009
Blog
By Alexander Haimann, Collections Specialist

A major highlight of my trip to the Raleigh, North Carolina area two weeks ago was my time with the fourth and fifth grade classes of Brooks Museums Magnet Elementary School. I spent an hour with each grade exploring the ins and outs of the National Postal Museum's collection website.
I asked the students to tell me different things they liked to do in their free time. Since the question did not have a wrong answer, every hand shot up to be called on! I collected a number of answers including swimming, playing video games, playing baseball, drawing, watching movies, collecting things, hanging out with friends etc…Then I jumped on the collection website and showed the students how all the topics they had just mentioned have been featured on American postage stamps…even video games! This demonstrated the versatility of postage stamps in that they represent almost every aspect of American history, heritage and culture.
Following the part of the presentation with the collection website, I illustrated a number of stories about the American Revolution and U.S. history between 1800-1850 using several genuine letters and envelopes sent by famous historical figures during these periods. When I told the students that each of them would have the chance to hold these objects in their hands, the look on their faces was priceless. Many times when you put 70+ students in an auditorium for an hour-long presentation, attentions can be short, but not the fourth and fifth graders of Brooks Elementary. They were among the most well behaved student groups I have ever encountered.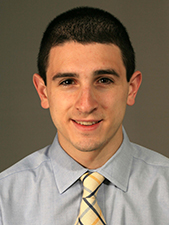 About the Author
Alexander T. Haimann, Collections Specialist & Web Projects Developer at the Smithsonian National Postal Museum, collects and writes primarily about the stamps and postal history of the U.S. during the first one hundred years of stamp production (1847-1947). Additionally, he develops internet based education projects and exhibits for the National Postal Museum. He is a member of the Board of Directors of the American Stamp Dealers Association, the Chair of the American Philatelic Society's Young Philatelic Leaders Fellowship and the publicist for the United State Philatelic Classics Society. His national and international society memberships include the American Philatelic Society, United States Stamp Society, Collectors Club of New York and the Royal Philatelic Society London.