Finding a New York – Chicago Route
09.05.2012
Blog
By Nancy Pope, Historian and Curator
The Post Office Department took full control of the new airmail service on August 12, 1918. Less than a month later, the department was trying to prove to Congress that the economic advantages of Air Mail Service made it worth additional funding. A critical segment of the plan was the connection of the two leading U.S. business centers, New York City and Chicago, Illinois. Congress agreed to test flights between New York and Chicago, provided the distance could be covered by airplane in less than ten hours. Anything more than that, and mail could be transported faster by train.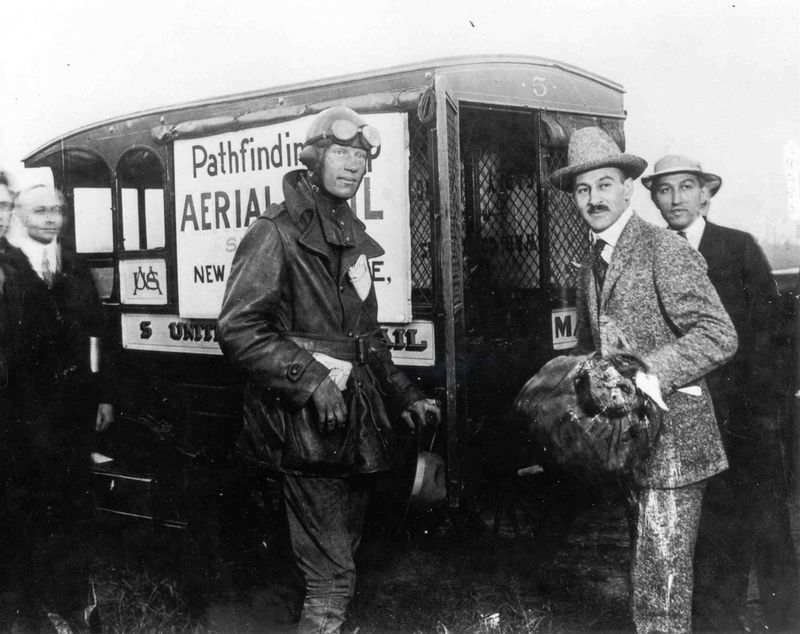 In September 1918, Air Mail Service Superintendent Benjamin Lipsner sent his two best pilots on a path-finding flight from New York City to Chicago, Illinois. Among the challenges they would face on this route were the Allegheny Mountains, considered by some to be the most dangerous territory on the route. The pair, Max Miller and Eddie Gardner left New York on September 5, 1918. Miller flew in a Standard airmail airplane with a 150-horsepower Hispano-Suiza engine. Gardner followed in a Curtiss R-4 with a 400-horsepower Liberty engine and was accompanied by mechanic Eddie Radel.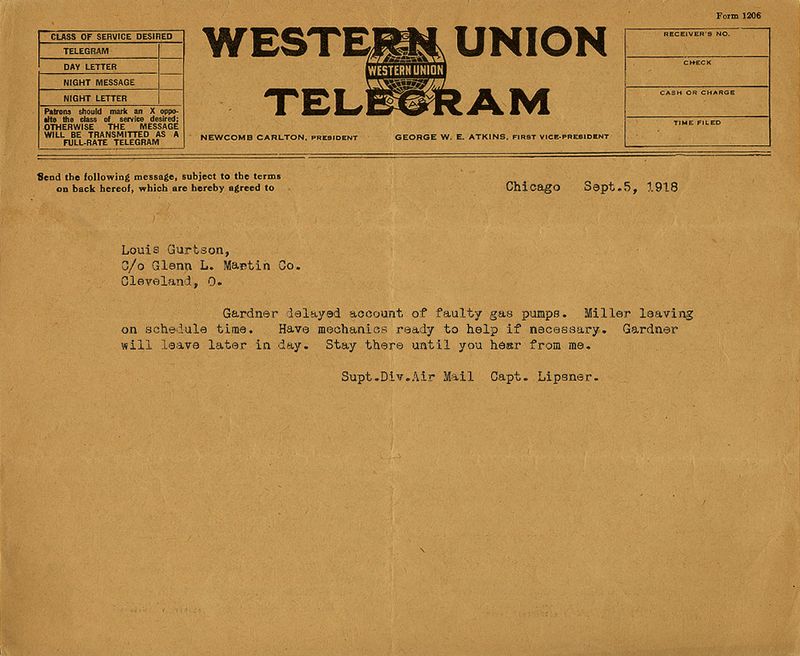 As each pilot landed to refuel or make repairs, he eagerly contacted Lipsner in Chicago to find out where the other one was. A set of telegrams now in the National Postal Museum tracked the pair's progress. Mechanical troubles caused problems for both pilots. Neither managed to finish their trip that day as hoped. Miller landed in Chicago first, at 6:55 p.m. on September 6. Gardner arrived the next morning, landing at 8:17.
Learn more about the trip, including Gardner's thrilling and nearly fatal return flight.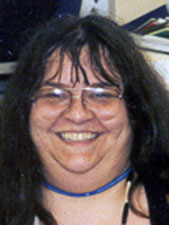 About the Author
The late Nancy A. Pope, a Smithsonian Institution curator and founding historian of the National Postal Museum, worked with the items in this collection since joining the Smithsonian Institution in 1984. In 1993 she curated the opening exhibitions for the National Postal Museum. Since then, she curated several additional exhibitions. Nancy led the project team that built the National Postal Museum's first website in 2002. She also created the museum's earliest social media presence in 2007.