Album: Contains an essay, stamps and covers of the Aguinaldo Revolutionary stamps (1898-1899)
Page 1 – a dedication letter from Col. Lagerloef
Pages 2 – 3 – text about the Revolution and a photostaic copy of the decree authorizing telegraph and postal services
Page 4 – essay card with two impressions in blue (2c and 10c de peso) designs for the proposed stamps of the Revolutionary Government
Page 5 – a provincial Provisional cover handstamped "Repub a Filipinas", Sello Provia" addressed to Dimas Guzman, Governor of Isabella Backstamped at Ilagan
Pages 6 – 11 – postage stamps (Scott Y-2) 2 cents red with "2 cents" on white tablet including a complete stheet of 192 stamps (12 x 16).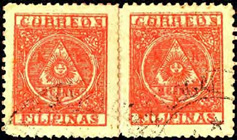 Pages 9 – 12 – postage stamps (Scott Y-1) 2 cents red with "2 cents" in lined background including a double impression
Pages 13 – 14 – postage and telegraph stamps (Scott Y-3) 2 cents red including a complete sheet (10 x 5) of 50 stamps
Page 15 – two covers with 2 cents red with "2 cents" on white tablet
Pages 16 – 18 – registration stamps, 8c de peso green (Scott Y-F-1) singles, blocks of four, complete sheet and imperforate pair used on cover with 2 cents red telegraph stamp
Pages 19 – 24 – newspaper stamps 1 milesima black (Scott Y-P-1) includeing stamps imperforate and perforate with complete sheets of each and an imperforate pair used on wrapper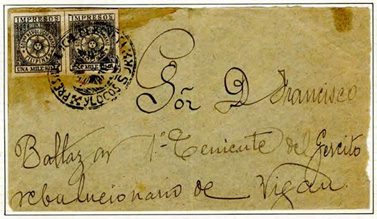 Pages 24 – 26 – receipt stamps (Scott Y-R-1) brown 10c de peso, singles, blocks, and a complete sheet
Pages 27 – 30 – telegraph stamps (Scott Y-T-1) 2 cents purple singles, pairs, blocks and two complet sheets
Pages 31 – 34 – telegraph stamps (Scott Y-T-2) 50 c de peso, singles, pairs, blocks single with double perforations, complet sheet and used stamps
Pages 35 – 38 various covers and combinateion rates include a block of 6 on a piece with the "Presidential Headquarters" cancellation and two singles (Scott Y-2) with "Mil. Sta. No. 1 Philippine Is. San Francisco, Cal, Jan. 1, 1899" and postage due 2 cts marking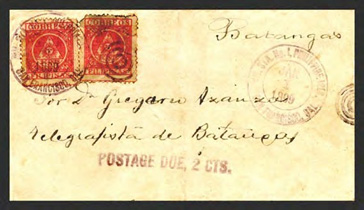 Pages 39 – 41 – official cachets from Secretary of War, Secretary of Interior, and Sectretary of the Exchequer. General Treasurer, and Director of Printing
Page 42 – Panay provisional – E.E.B. Ejercito Estado Bisayon strip of three, 4 cuartos, perforated
Page 43 – strip of three of the newspaper stamps (Scott Y-P-1) and postage stamps (Scott Y- 1) 2 cents red with "2 cents" on lined background
Page 44 – Sheet with one each of the five stamps
Page 45 – Cattle tax stamps including a block of four
Cream Box: Six folders with the only known complete set of documentary stamped revenue paper (Papel Sellado). The stamped paper of the Revolutionary Government was issued in double sheets, 8
½ x 12 ½ inches, the same size as the sheets of stamped paper issued under Spanish rule. The stamp was printed at the top of the first page. At the left of the stamp was an embossed seal, which occurs in two forms. The serial number of the sheet was at the right of the stamp. The paper varied considerably in quality and thickness and bore different watermarks. Eight different denominations and colors were issued.
There are also sign letters from Capt John RM Taylor and F.W. Vaille, Director General of Posts transmitting the documentary stamped revenue paper to the Postmaster General. Two of the folders contain complete documents and letters, one with a block of 8, pair and two singles of the postage stamps (Scott Y-1) 2 cents red with "2 cents" on lined background.
25c No. 009501, 016979, 016980, 016981, 016992
50c No. 009500, 009506, 009507, 010685
Un Peso No. 003237, 007455, 007459, 010654
2 Peso No. 001783, 001784, 001785, 003497
5 Peso No. 002929, 002930, 002931, 002936
10 Peso No. 001979, 001980, 001981, 001996
15 Peso No. 000326
20 Peso No. 000436