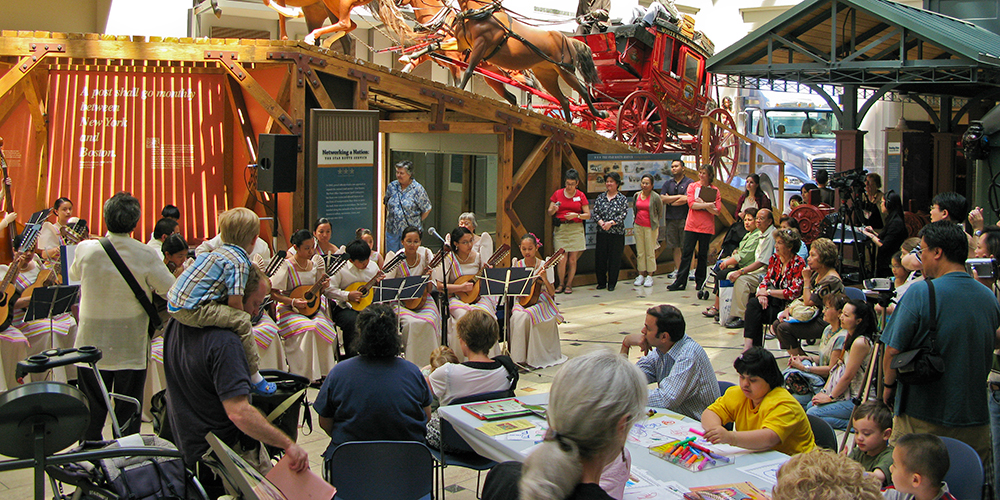 Les programmes publics du Musée national de la poste suscitent une réflexion sur l'histoire postale, la philatélie et des sujets connexes pour des publics variés.
La plupart du contenu des programmes publics reste en anglais.
Guest Artist Program
Le MNP collabore avec des artistes invités sur une série de programmes éducatifs pour les enfants de la naissance au lycée.
Hello, Museo
Rejoignez les éducateurs du Musée national de la poste un mardi sur deux pour un programme bilingue — Anglais et Espagnol — comprenant de la musique, des histoires, de l'artisanat et une visite de galerie. Conçu pour les enfants de 2 à 5 ans et leurs accompagnateurs, mais tout le monde est le bienvenu !
postcards with heART
Nous vous invitons à réfléchir et à réfléchir sur l'ampleur de la crise actuelle des réfugiés et sur les expériences des personnes déplacées à travers le monde.
Postmarks & Paperbacks
Cachets & Paperbacks est un club de lecture en ligne pour les amateurs de livres, de lettres, d'art et d'histoire de la communication.
Story Time
Le musée invite adultes et jeunes enfants à découvrir ensemble le monde qui les entoure dans Virtual Story Time.
Super Stamps and the Season of Giving
À une période de l'année où beaucoup recherchent des occasions de faire une différence, les visiteurs de Super Stamps et de Season of Giving apprendront comment les timbres semi-postaux émis par le service postal des États-Unis (USPS) collectent des fonds pour des causes importantes. Avec d'autres musées et organisations éducatives, le Musée national de la poste explorera les thèmes de l'action communautaire et de l'entraide à travers une variété de spectacles et d'activités pratiques.
Symposia and Lectures
Liste des colloques et conférences à venir et passés.
Wine & Design
Wine & Design réunit l'happy hour et la création de thèmes postaux tous les trimestres au Musée de la poste ! Si vous êtes un écrivain, un fan d'Etsy ou si vous cherchez simplement quelque chose de nouveau à faire, rejoignez le club !