Fun for all at the National Postal Museum's Family Day!
07.05.2016
Blog
By Katie Burke and Ren Cooper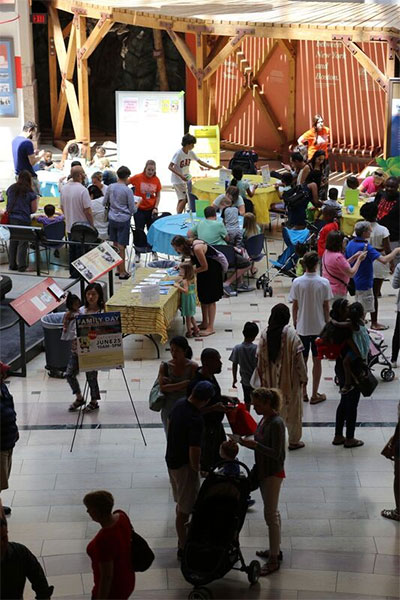 The National Postal Museum recently hosted a Family Day with SpongeBob SquarePants. The event originated from a collaboration with Nickelodeon and the United States Postal Service, and sought to encourage letter writing and philately in children, educate participants about marine life, and provide engaging entertainment for the whole family. As soon as the museum opened at 10:00 a.m., it was packed with visitors of all ages!
Several interactive stations were set up throughout the museum. One of the most popular was "Greetings from Bikini Bottom," a post card writing activity. Visitors were able to write and send a postcard through the museum's newly acquired, special edition SpongeBob SquarePants mailbox. Instructions were provided for kids to familiarize themselves with all the necessary steps to send a piece of mail. Friends and loved ones can look forward to receiving a handwritten message in the next few days!
Participants had the opportunity to take home a topical stamp collection featuring ocean-themed stamps. We were happy to see budding young philatelists at work!
SpongeBob SquarePants himself was there – in an extra special mail carrier costume – to meet and take pictures with his friends!
Of course, we had to work in a little bit of old fashioned fun in the form of nautical-themed games! Kids could play dolphin ring toss or fish for jellyfish in hopes of winning a prize!
The modern wonder that is kinetic sand was a big hit at our sand castle station! The sand mimics the consistency of wet sand and is easily malleable. 
Visitors were wowed by renowned comic bubble entertainer Casey Carle who performed several shows throughout the day! 
Inspired by the wackiness of Bikini Bottom, the sky was the limit for kids as they designed their own deep sea creatures. Our community mural filled up quickly with colorful and imaginative fish, crabs and jellyfish!
We turned one of our galleries into a theater full of comfy beanbags for screenings of classic SpongeBob SquarePants episodes. We even debuted a brand new episode from the show's upcoming Season 11!
This photo booth printed pictures on the spot, so visitors could take home a memory of their day at the museum with SpongeBob SquarePants! Thanks to everyone who attended and we hope to see you again soon!