Gearing up for Stamp Stampede!
10.20.2009
Blog
By Jeff Meade, School and Tours Coordinator
Starting up the school year means getting ready for Stamp Stampede, the Postal Museum's busiest guided school tour. Stamp Stampede targets early elementary school students (Kindergarten through third grade) by emphasizing theatrical and visual connections to classroom content.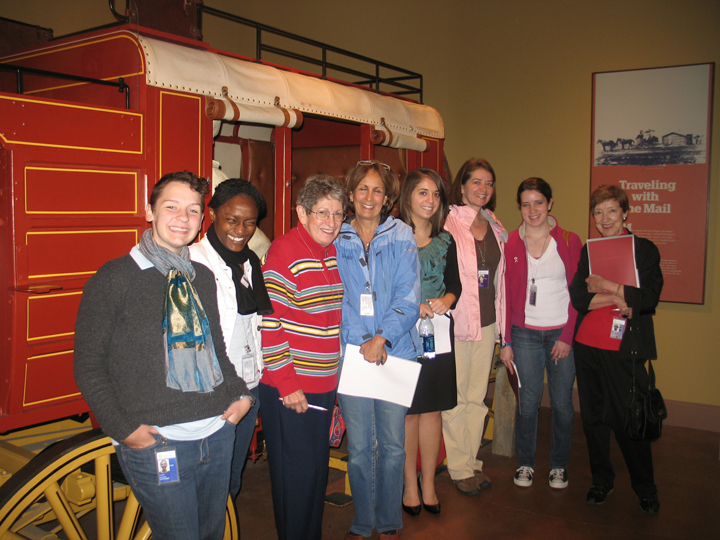 Tour guides, or "docents" as we call them, make Stamp Stampede an unforgettable experience for students. Docents lead students on journeys back in time, delivering mail with a variety of transportation systems (stagecoach ride, anyone?). Docents also organize kids into a miniature version of the modern US Postal Service, assigning students jobs like delivering mail or repairing delivery trucks. Students enjoy visiting Owney the dog, the unofficial mascot of the railway mail service, and writing him an imaginary letter. The tour wraps up with a healthy dose of philately, where students practice sorting and organizing topical collections.
These docents drive the Stamp Stampede experience, donating hundreds of hours each school year. Over 3,500 students visited the museum last spring, and the number continues to grow. Expecting a higher volume of tours this school year, the Stampede docents recently gathered to discuss ways to make the tour even more effective. The guides swapped strategies for managing groups of excited elementary students and identified educational goals. Creating educational goals links the museum field trip with the classroom experience, encouraging student appreciation of the Postal Museum as a fun place to learn.
The guides enjoyed the opportunity to creatively brainstorm and get together as a group. During the training, docents shared their favorite, and least favorite, experiences of touring over the last school year. Sharing knowledge and ideas makes the tour more effective, but increases the camaraderie and friendship the docents have with the museum and each other.
To learn more about the Postal Museum's popular school programs, visit: postalmuseum.si.edu/for-educators.