Germany-USA Joint Issue: "Concord" in 1683
10.01.2013
Blog
By Cheryl Ganz, Philately Department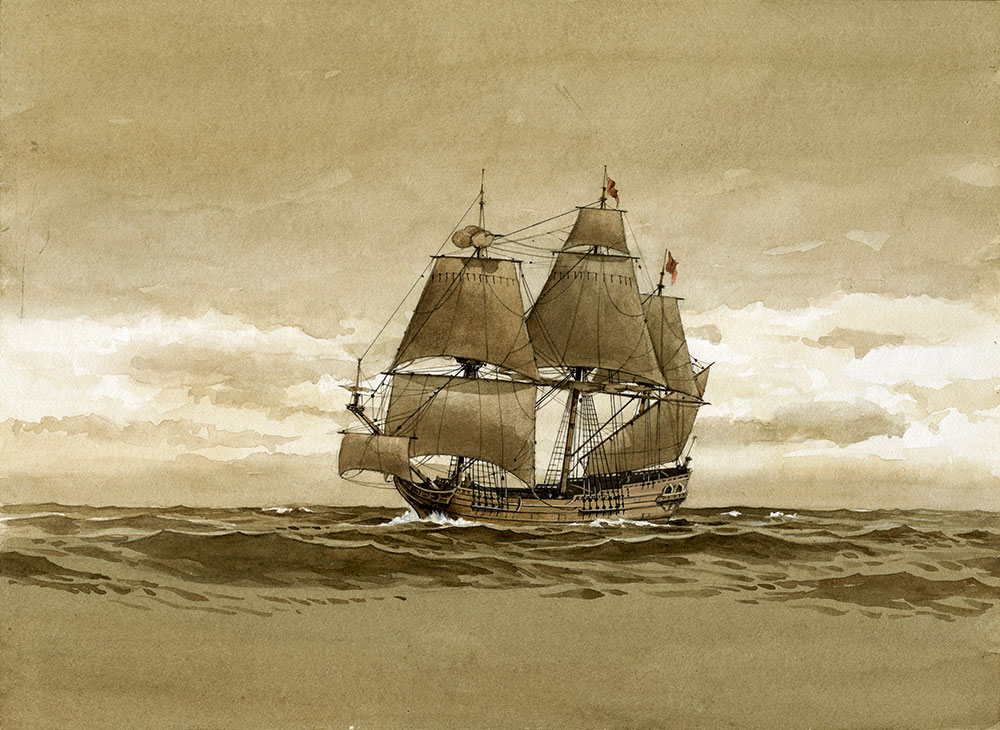 Painted by Artist Richard Schlecht, the watercolor wash of the merchant charter ship Concord served as the source artwork for the modeler and engravers of the Federal Republic of Germany and United States jointly issued postage stamps of 1983. Joint issues are stamps released by two or more countries on the occasion of a common event or anniversary and sharing a common design or date of issue. (The first joint issue of the United States was with Canada for the 1959 opening of the St. Lawrence Seaway.) Schlecht's artwork is part of the Postmaster General's Collection of objects and archival materials for stamp design and production, now on long-term loan at the National Postal Museum.
Concord transported emigrants from Krefeld, Germany, to America in 1683. Since no engraving or painting existed of Concord, Schlecht drew on his experience as a freelance illustrator of Native Americans, archaeology, history, and exploration for National Geographic Magazine and the National Park Service. Schlecht's artwork for USPS postage stamps includes the transportation coil series (1981), Ponce De Leon (1982), Wolf Trap Farm (1982), Steamboats (1989), Voyages of Columbus (1992, 1993), National Postal Museum (1993), USS Constellation (2004), and selvage of the Jamestown Settlement sheet (2006).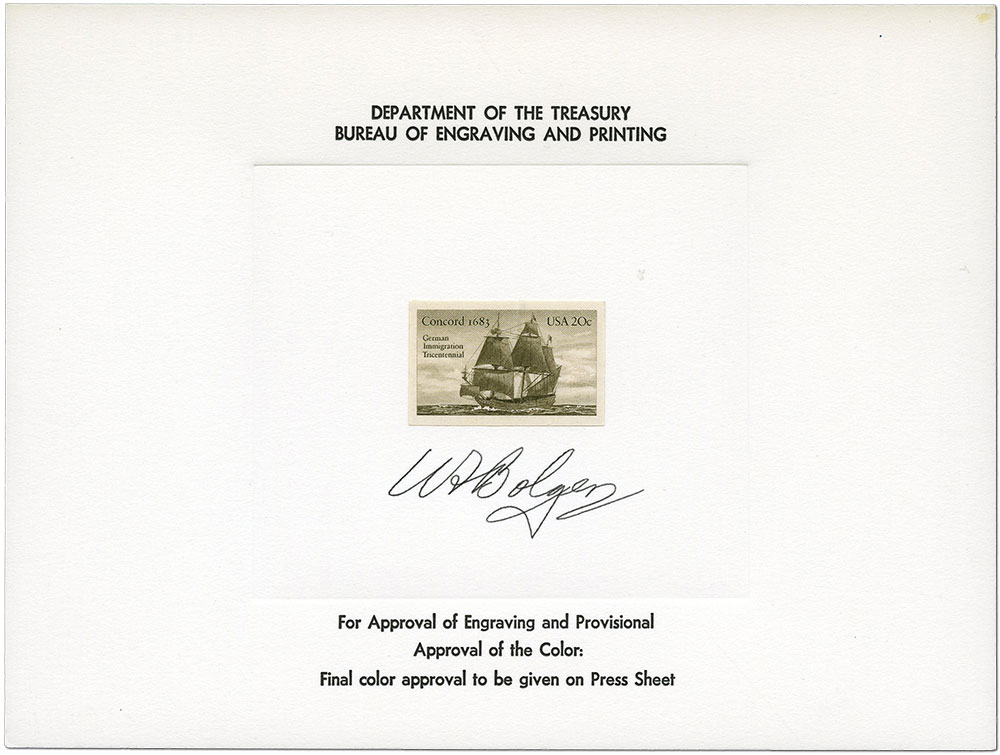 Schlect also studied marine paintings from the seventeenth century, an era during which many artists in Great Britain and Holland painted merchant ships on the high seas. From such sources as the London Port Books and other colonial office records, statistics about Concord surfaced, which allowed Schlecht to compare the vessel with others of its time.
The most detailed account of Concord and its famous transoceanic crossing appears in the Letter Book of James Claypoole. This compilation of about a thousand letters dating 1681 to 1684 documents the business affairs of a merchant trader and his family. Claypoole had apprenticed in Bremen and spoke German. As a London businessman and Quaker, he knew George Fox and William Penn. Enthusiastic about Quaker settlement in America, Claypoole bought 5,000 acres in what would become Pennsylvania, and he moved his family and business there. For the move, he contracted with William Jefferies, master of Concord. On January 13, 1683, he wrote that Concord was "about 500 ton or more, 26 guns, 40 men, to be ready to sail from Gravesend," near London on the Thames, to the new port of Philadelphia in the British colonies.
He continued, "the ship is the best that sails to the West Indies. He is to carry no more than 180, which may be done with ease. She is 130 feet long between decks and 32 feet broad, and they will build, for every considerable family, a room whereby they shall be private with their beds, etc." Jefferies offered to stow about a third of the guns to provide more space for the travelers. A full load meant no other stops en route. Charges were based on head count and freight. German families from Krefeld made their way to Gravesend to join the Claypoole family on the voyage. Today these pioneer settlers of Philadelphia who endured the Concord transatlantic journey from July 24 to October 8 of 1683 are known as the "Original 13" families of Germantown and Philadelphila.
Three hundred years later, Schlecht and a USPS official traveled eastbound by plane in a fraction of the time to Germany to meet with Ministry of Posts officials in Bonn. Schlecht took sketches, and the two postal administrations agreed on the Concord design. The final artwork took about 30-35 hours of painting. Engravers at the Bureau of Engraving and Printing and in Germany then translated the art into postage stamp designs. A study of the two issues shows slight differences. The text and values changed for language, font, and placement. The brown inks are different. While the vignettes follow Schlecht's design, the emphasis created by the engraving of the ships, waves, and clouds varies.
The first day of issue ceremony in the United States took place in Germantown (part of Philadelphia), Pennsylvania, on April 29, 1983, as part of the community celebration of the German settlement tercentennial. Stamp collecting is one of the ways that Americans celebrate their ancestral heritage and teach new generations about the history, culture, and traditions of their homelands.
Resources
Marion Balderston, James Claypoole's Letter Book: London and Philadelphia, 1681-1684 (San Marino, CA: Huntington Library, 1967). The original manuscript is in the Historical Society of Pennsylvania collection.
Collecting Ancestral Homelands
Richard Schlecht Artist Homepage
Additional Imagery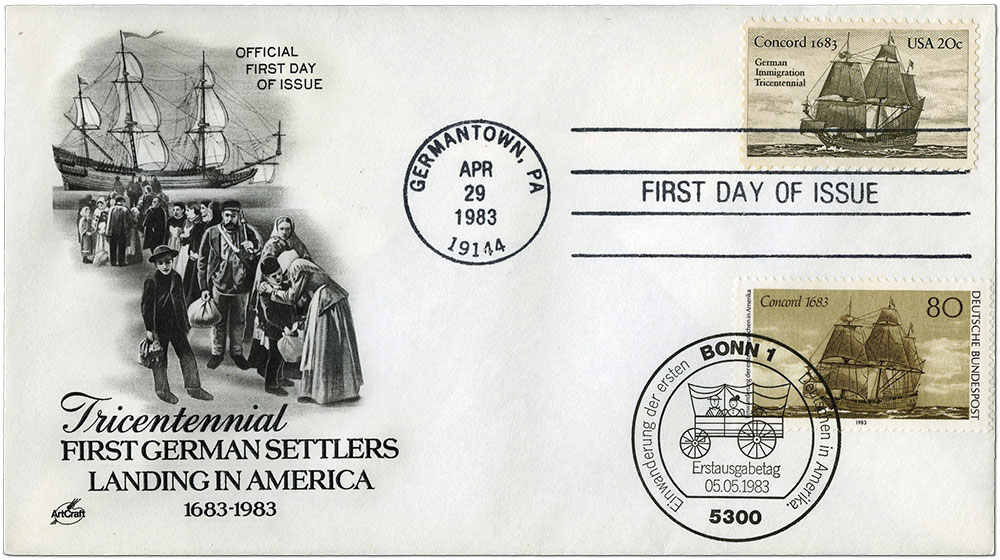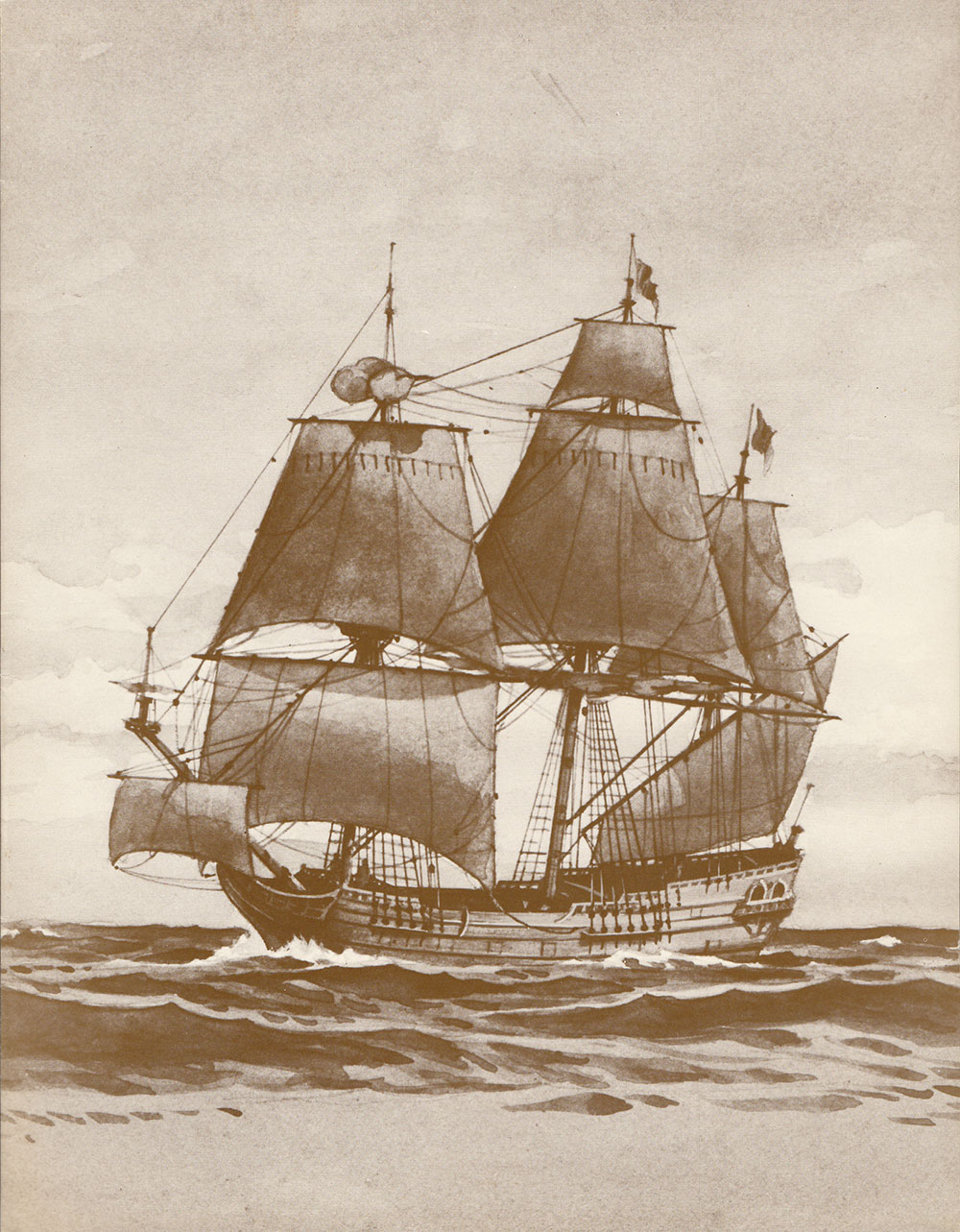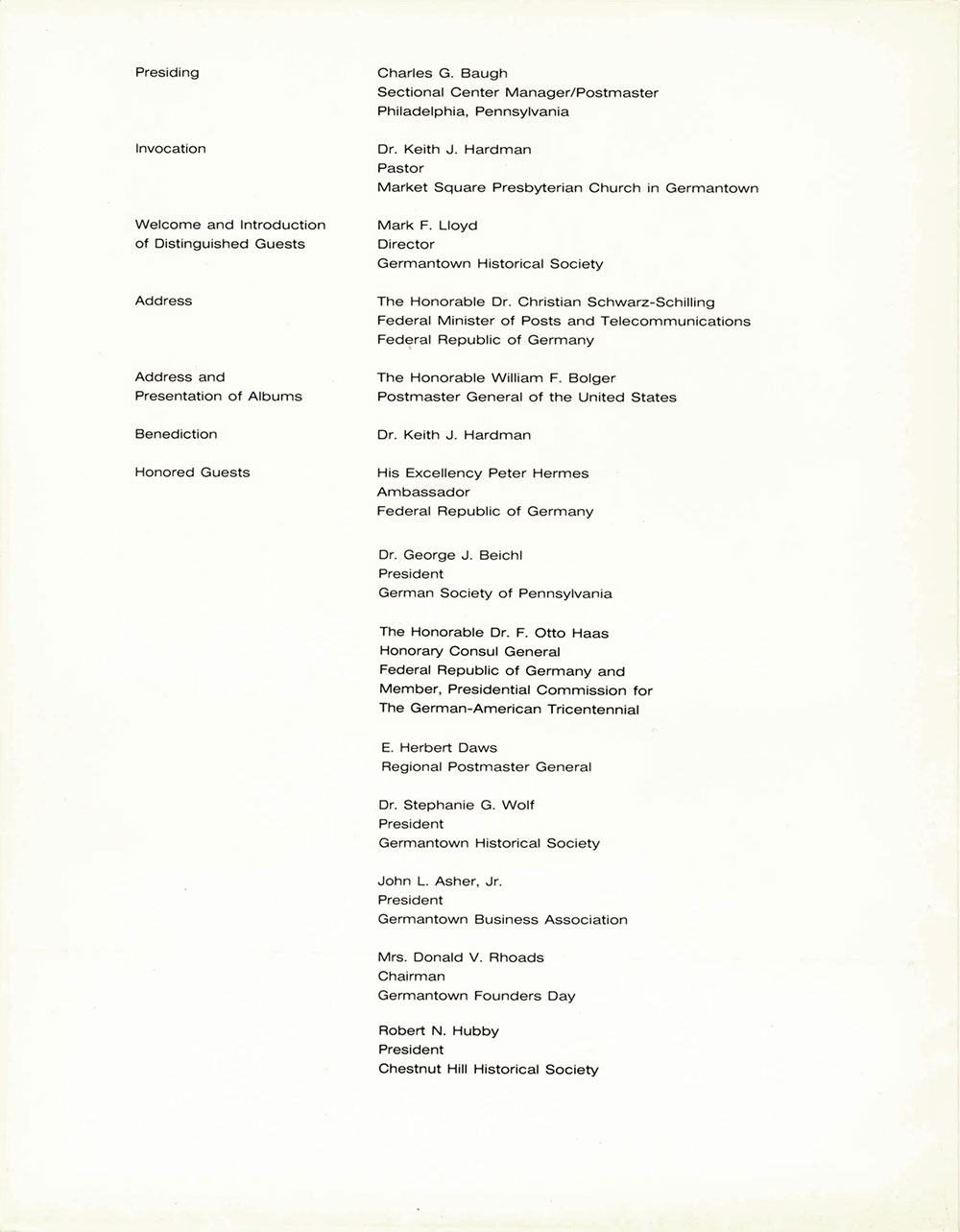 Related Content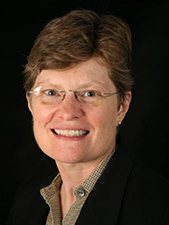 About the Author
Cheryl R. Ganz, Ph.D., is an internationally known philatelic expert, author, exhibitor and researcher specializing in aerophilately and zeppelin mail. She joined the staff of the National Postal Museum after earning a doctorate from the University of Illinois at Chicago and became chief curator of philately in February 2008. Ganz has curated an impressive array of exhibitions and brought the William H. Gross Stamp Gallery to life.