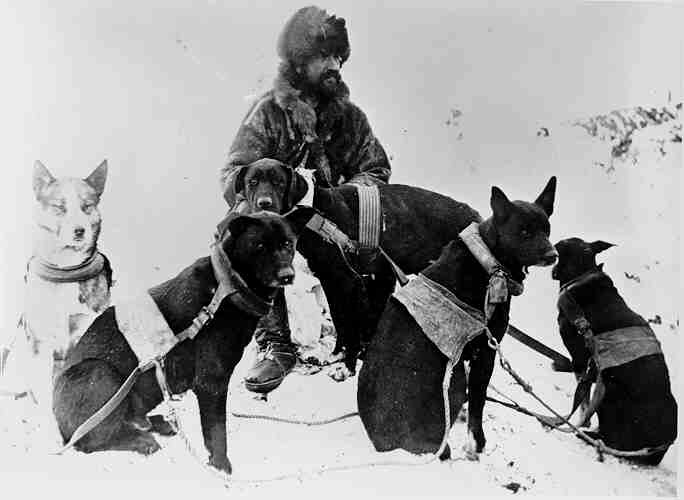 Ben Atwater had a mail contract between Skagway and Dawson (later extended to Nome). The route took him over the White Pass trail, through Bennett and down the Yukon River to Dawson, then across the Alaskan Territory to Nome, 2,300 miles away.
Before his contract, during the winter of 1898/1899, mail was not delivered with any regularity to the Americans at Dawson. Between September 1898 and January 1899, not a single U.S. mail sack was brought into the town. Stampeders' mail piled up in Juneau and Skagway. By the time carriers were able to start bringing in the mail in February and March, the huge amount taxed the strength of the best sled dogs.
Ben Downing was a tall, determined carrier, originally from Missouri. He held the mail contract between Dawson and Nome. At their best, Downing's dog team could travel up to 40 miles a day. On one trip, he fell into some frigid water. He managed to get to a roadhouse where he warmed up a bit. Determined to get the mail into Dawson, he had left before his clothes were completely dry. By the time he arrived in Dawson, his toes were frostbitten and in such bad shape it was said that "as he hobbled into the post office there, his footsteps were marked with blood."
Unfortunately for Downing, while he was laid up in the hospital, he lost the mail contract because "the mail must go on." But he did not have to wait long when he got out of the hospital for work. The Dominion Government gave him a contract to carry the royal mail between Eagle, Alaska, and Dawson, Canada.
Percy DeWolfe was one of the thousands who sailed into Dawson in June 1898. Like most of those who rushed for the gold that summer, Percy, broke by the time he reached the fields, was unable to find any gold. He and his partner, Pete Anderson, opened up a fishing business. In 1910 DeWolfe made a career change. He won the mail contract between Dawson, Canada and Eagle, Alaska. The mail trail was 102 miles along the Yukon River. He held the route until 1949, when the contract was discontinued.
During his days as a contract mail carrier, DeWolfe had a number of close calls, especially during winter "freeze up" and summer thaws, when traveling on icy rivers was especially dangerous. He earned the title "Iron Man of the North" with his relentless determination. Percy DeWolfe died in St. Mary's hospital in Dawson in February 1951.
During his 40 years as a mail carrier, DeWolfe traveled over 100,000 miles by dog team. An annual dog sled race, the "Percy DeWolfe Memorial Mail Race," has been held each winter between Dawson City, Yukon and Eagle, Alaska since 1977 in honor of his memory.