Guest Blog: Posting Early for Christmas
12.09.2010
Blog
John Tingey, author of The Englishman Who Posted Himself and Other Curious Objects, takes a look at an early British post card to Santa.
As the days start to grow shorter and the weather turns colder, at least in the Northern hemisphere, the thoughts of children young and old turn to the delights offered by the approaching festive season and the prospect of receiving much treasured gifts. For decades letters have been written to Santa Claus/Father Christmas extolling the virtues of the writer and describing the most sought after items.
As we know, Santa has been associated with Christmas for centuries, with the modern views having been strengthened by Charles Dickens and certain soft drink advertising. Today, a number of national postal authorities offer the opportunity for letters to be "posted" to Santa, usually at the North Pole, Reindeerland, Snowland or Toyland. Often armies of volunteers are engaged to send back personalised replies thus adding to the overall magic of the season. The Royal Mail (British postal system) started its scheme in November 1963 and has been a popular service ever since.
In my research into the postal activities of W. Reginald Bray I came across a postcard that was simply addressed to Santa Claus Esq. and posted on October 23, 1899 (shown below).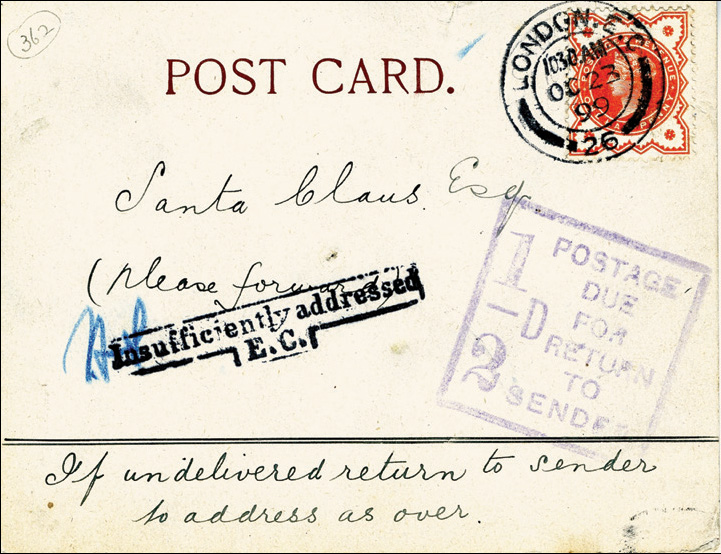 The message on the back asks the venerable old man to "Please call at the above address early next month and oblige, Yours truly, W.R. Bray". As can be seen from the postal markings, the Post Office determined that the card was "Insufficiently addressed" and subsequently returned it to Bray charging him an extra halfpenny for failing to meet the requirements of the regulations. He took the precaution of including a return address to ensure that the card ended up in his possession.
During his lifetime Bray claimed to be the first person to be sent through the (British) postal system; to be the owner of the world's largest collection of postmarks; and to be the owner of the world's largest collection of autographs.
As a tribute to Bray's inventiveness, I would like to issue a challenge to determine the earliest dates on which letters and/or cards were sent to Santa Claus through the official postal systems. Can anyone provide evidence of items earlier than Bray's card or is he able to, albeit posthumously, claim yet another title?