Guest Post: Coal and Valentines, An Unlikely Pair with a Rich Philatelic History
02.10.2011
Blog
Guest post by Dr. Catherine J. Golden, Professor of English at Skidmore College and author of Posting It: The Victorian Revolution in Letter Writing.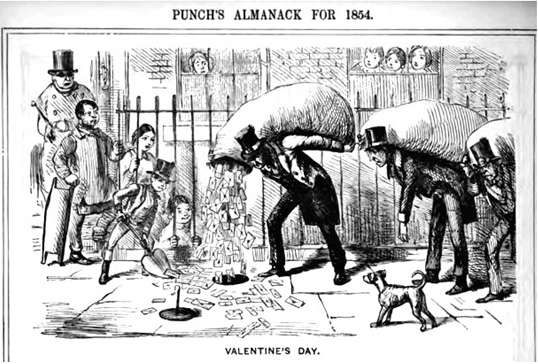 Today, the only holiday we associate with coal is Christmas. Children—at least those who believe in Santa Claus—still fear that if they have been naughty rather than nice, Santa will fill their holiday stockings with a lump of coal. We do not pair the holiday of love with coal—but the association does have philatelic importance.
Our world is powered by electricity, but when this 1854 cartoon appeared in Punch, the Victorian Londoner's New Yorker, coal fueled the family hearth. "Valentine's Day" likely responds to a popular Victorian poem attributed to James Beaton, written around 1840, the year that marked the coming of the Penny Post in England: on January 10, 1840, all mail weighing up to ½ ounce could travel anywhere in the UK for only a penny. Beaton's poem accurately predicts how the growing British custom of sending valentines—which came to America in the mid nineteenth century—would become enormously popular when one could post a valentine for only a penny:
The letters in St. Valentine so vastly will amount,
Postmen may judge them by the lot, they won't have time to count;
They must bring round spades and measures, to poor love-sick souls
Deliver them by bushels, the same as they do coals.
It was common practice for private companies to send coal to homes via deliverymen, sometimes referred to as coal porters or coal bearers. The Punch cartoon shows deliverymen laden with carrier bags filled not with coal but valentines, which they pour into a basement's coal vault through an open pipe from the street. The round iron plate that covers the pipe (resembling a manhole cover) rests alongside the open pipe, and a well-dressed young messenger uses a heart-shaped shovel to scoop not coal but valentines that "so vastly amount" in a fashion that resembles the frequent coal deliveries the Victorians relied on for warmth.
Today we still associate valentines with hearts, cupids, lace, and flowers, all of which we find on the first American valentines created by Esther Howland in 1849. That year, Howland—dubbed "The Mother of American Valentines"—received advance orders for $5,000 worth of fancy handmade valentines of lace, ribbon, and colored papers. She was stunned by the popularity of her orders rivaling home coal deliveries, much as Punch and Beaton predicted in their satires of Valentine's Day in England.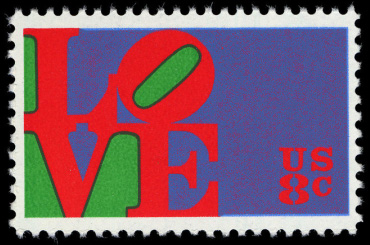 Beginning in 1973, the concept of love migrated from the valentine card to the postage stamp, giving rise to numerous series of  LOVE stamps featuring, over the years, images ranging from Robert Indiana's LOVE sculpture (1973), a puppy (1986), flowers (1988), cupid (1995-96), John Adam's love letters to his wife (2001), lovebirds (1990), and tiny heart candies (2004). In 1987, the USPS decided to issue an annual LOVE stamp, popular not only for Valentine's Day but wedding invitations and other special occasions. If we were ever to conceive of LOVE postage stamps as a way to pay tribute to the rising popularity of the valentine in Victorian America and Britain, might I suggest that we pair hearts aflame amid the embers of a coal-burning stove?
About the Author
Dr. Catherine Golden is Professor of English at Skidmore College and author of Posting It: The Victorian Revolution in Letter Writing (2009). She spoke at the museum in January 2010 and you can view her talk on the museums YouTube channel.