Guest Post: From Knighthood to Obscurity: Sir Rowland Hill
09.16.2010
Blog
Guest post by Dr. Catherine Golden
Dr. Catherine Golden, author of Posting It: The Victorian Revolution in Letter Writing, spoke at the Postal Museum on the 170th anniversary of the Penny Post. Past blog posts include "Forever Young: Queen Victoria and the Face of the Penny Black" as well as "My Mailbox is Full with... Direct Mail from Victorian England" and "Love and Derision; Or, Valentine's Day Victorian Style." She will speak at the 2010 Winton M. Blount Postal History Symposium: "Stamps and the Mail: Imagery, Icons, & Identity" on Friday, October 1, 2010.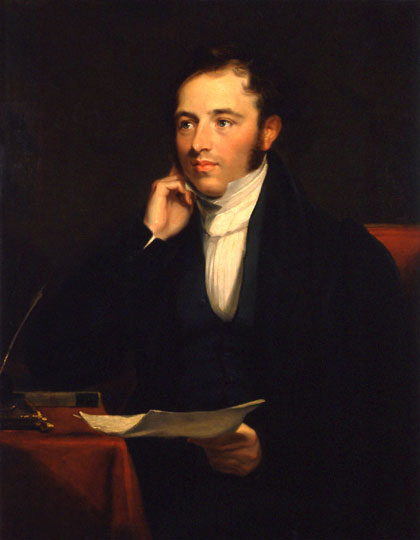 During a recent research trip to London, I visited the National Portrait Gallery, hoping to view John Alfred Vintner's 1879 official portrait of Rowland Hill (1795-1879), founder of the Penny Post and inventor of the postage stamp, the Penny Black. Hill became a nationally known figure overnight when he set in motion a revolutionary 1840 reform that changed postal services in the UK and around the world. Unable to locate Hill's portrait, I asked a museum staff member which gallery it might be hanging in; she gave me a puzzled look and said, "Sir Rowland Who?" The National Portrait Gallery—which displays portraits of historical, literary, and political figures, such as Disraeli and Gladstone, Shakespeare, and Queen Victoria—relegated Hill's portrait to storage (although one can view it upon appointment).
One hundred and fifty years ago, Queen Victoria knighted this now forgotten postal reformer for his services to his nation. Hill became a Knight Commander of the Order of the Bath (K. C. B.), a British order of chivalry dating to 1725. In 1860, "honours were bestowed more sparingly and with greater discrimination than later came to be the case; and merit was considered of more account than money-bags" (299), notes Eleanor Smyth, author of Sir Rowland Hill: The Story of a Great Reform. The Victorians bestowed more than knighthood on Hill—he received an honorary degree from Oxford, designation of Freeman from the city of London, and burial in Westminster Abbey. Punch, the Victorian Londoner's New Yorker, even dubbed Hill "Sir Rowland le Grand."
Although "snail mail" may seem outdated in the twenty-first century, Hill's Penny Post was revolutionary in the Victorian age where letter writing was the only way to communicate with those living at a distance. Prior to 1840, the post was expensive; for the working class, a letter could cost more than a day's wage. The burden of payment fell to the receiver, so if the recipient could not pay, the letter was returned to sender. Leaving home often meant losing touch with family and friends. Hill's plan established a uniform, affordable rate—all mail weighing up to ½ ounce could travel anywhere in the UK for only a penny.
On August 17, 1839, Queen Victoria gave royal assent to the Postage Duties Bill. On opening day of the Penny Post (January 10, 1840), people cheered for Rowland Hill, who received a Treasury appointment to oversee the Penny Post transition. To signal prepayment, Hill invented prepaid stationery (called Mulreadies) and postage stamps, which he describes in his landmark reform pamphlet Post Office Reform as "a bit of paper just large enough to bear the stamp, and covered at the back with a glutinous wash" (45). The prepaid, adhesive postage stamp, featuring a bust of young Queen Victoria, was an instant success and quickly became a model for other nations including the United States, which issued its own stamps in 1847.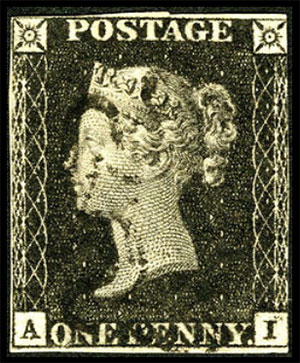 Hill's service to the Treasury ended in 1842; with the election of the Conservative party, Hill was unseated. However, in 1846, Hill returned to the Post Office as secretary to the postmaster general and, in 1854, became secretary to the Post Office, a position he held until his retirement in 1864.
Rowland Hill had friends and foes—some found him arrogant, while others hailed him as a godsend and a blessing to the nation. But even those who found his personality trying recognized Hill's achievement. Well-known Victorian author Anthony Trollope, who worked for the Post Office for over thirty years and was a vocal anti-Hillite, wrote Hill the following in a letter when Hill retired: "'I have regarded you for several years as one of the essential benefactors, not only of your own country, but of all the civilized world. . . . There are national services for which a man can receive no adequate reward, either in rank or money, and it has been your lot to render such a service to the world at large'" (qtd. in Colin Hey, Rowland Hill: Genius and Benefactor, 117). For his "service to the world," Queen Victoria honored Hill's memory by becoming Patron of the Rowland Hill Memorial and Benevolent Fund, designed to give relief to needy postal workers or to deceased postal workers' widows and orphans.
The name Rowland Hill may be little known today, except to philatelists and collectors. But every time we purchase a postage stamp, we benefit from Hill's legacy. With Hill's invention of a prepaid postage stamp, Victorians could transcend geographical boundaries and stay connected despite relocation, emigration, and travel. Hill created a postal "network" that is arguably the forerunner of current information technologies today. As we mark the 150th anniversary of Hill's knighthood, isn't it time to take Sir Rowland's portrait out of storage to hang permanently on the walls of the National Portrait Gallery?
About the Author
Dr. Catherine Golden is Professor of English at Skidmore College and author of Posting It: The Victorian Revolution in Letter Writing (2009). She spoke at the museum in January 2010 and you can view her talk on the museums YouTube channel.