Heroes on Stamps: A Unit for After-School Programs
09.21.2011
Blog
By Laura DiSciullo, Postal Museum Intern
What is a hero? What can we learn from people who have made a difference? And how can we leave our own stamp on history?
These are the questions that I posed to 3rd-5th graders at Elsie Whitlow Stokes Community Freedom Public Charter School during my internship at the Postal Museum. In their after-school program, they participated in a unit called Heroes on Stamps, developed by the National Postal Museum, which included a visit by museum staff to Stokes for a culminating celebration.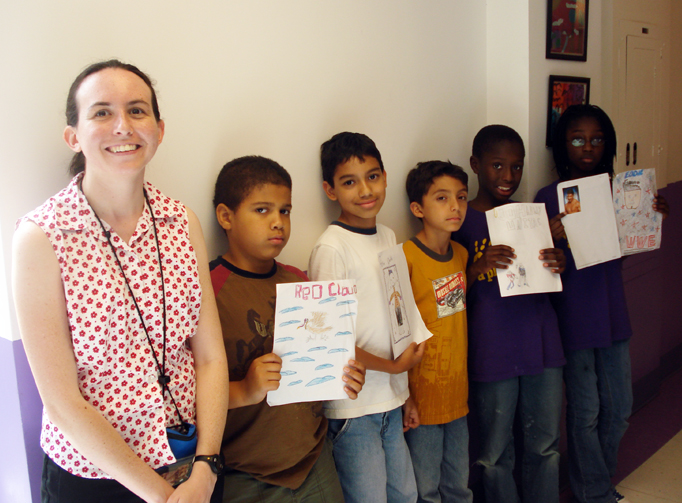 Laura (NPM Intern) with Isaac, Diego, Raul,Omar, and Hawa.
I first met the kids in March 2010, when I visited the after-school program and its coordinator, Jo-Anne Hurlston. The kids were excited about the opportunity I presented to them: they would spend one session in each of the next six weeks researching a hero from American history and would then creatively present what they had learned. I introduced the kids to the idea of honoring individuals by featuring them on postage stamps. One budding stamp collector in the group learned a fancy word to describe himself: philatelist.
In May, I visited the kids again, along with Allison Wickens, our Director of Education. The kids had designed stamps in honor of the heroes they had researched. Some of their choices have already been on real stamps: Red Cloud, Jackie Robinson, and Ms. Hurlston's choice of Mary Church Terrell.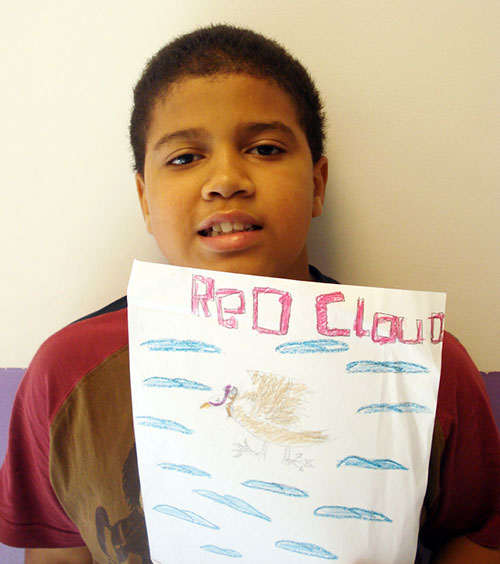 Isaac designed a stamp in honor of Red Cloud, a hero who has also been featured on a real postage stamp
Others have not been on US stamps so far but have the potential of meeting the Citizens' Stamp Advisory Committee (CSAC) criteria for approval in the near or far future. These choices were Eddie Guerrero, Jimi Hendrix, Rosa Parks, and Johnny Unitas.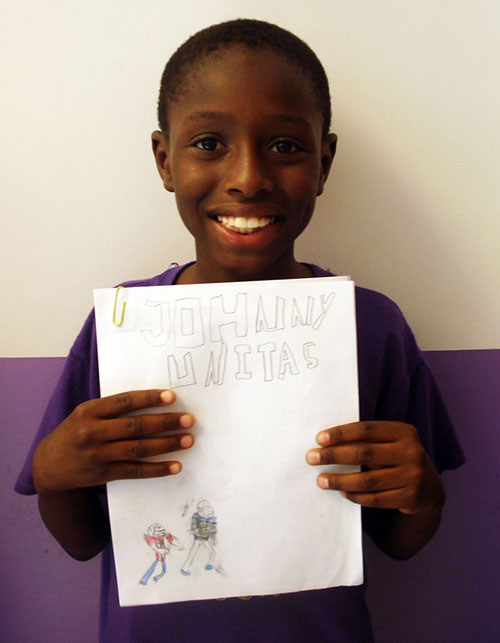 Omar chose to honor Johnny Unitas on his stamp.
After the kids presented their stamps, I gave a brief workshop on stamp design. But it was clear that this was not unknown territory for the kids: they had learned about art elements and considered these while making their hero stamps.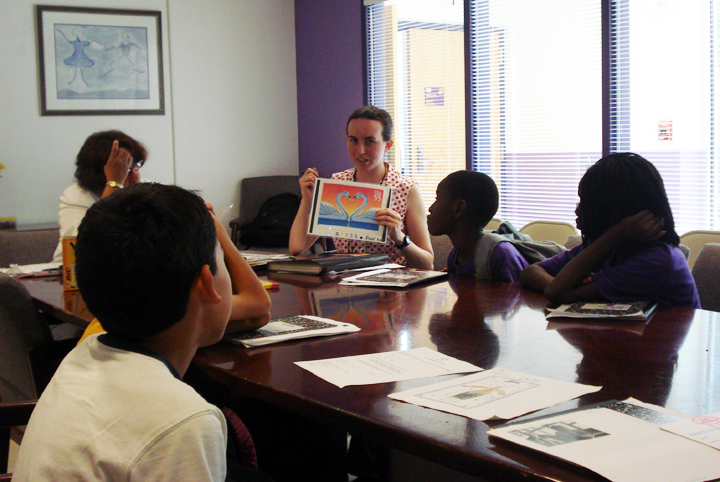 Laura talks to the kids about art elements in stamps.
Next, I gave the kids a new challenge—to imagine far into the future, when it's their turn to be honored on a stamp. Each kid was invited to consider: Why will I be on a stamp someday? What goals do I hope to accomplish, and what difference do I want to make? What kind of hero will I be?
The resulting designs were inspiring. Kids drew themselves stopping crime, healing sickness, and playing in the Super Bowl. One drew himself as a leader, encouraging others to help make a difference.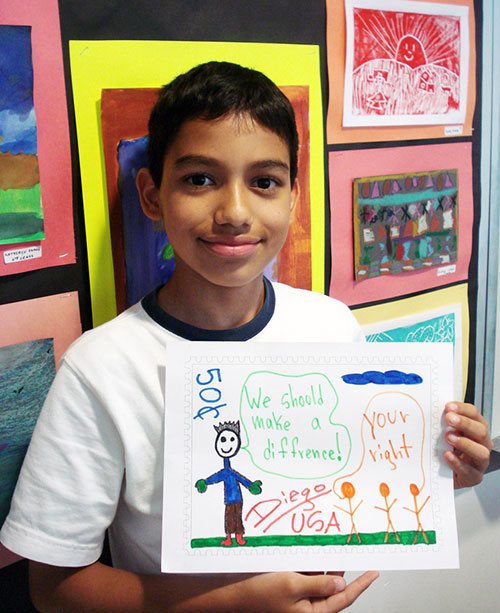 Diego designed a stamp honoring his future self, a leader who inspires others to make a difference.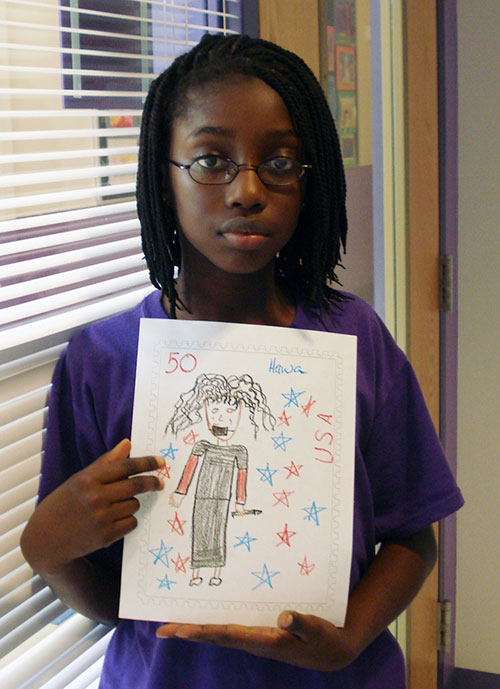 Hawa created a stamp showing her future accomplishments as a doctor.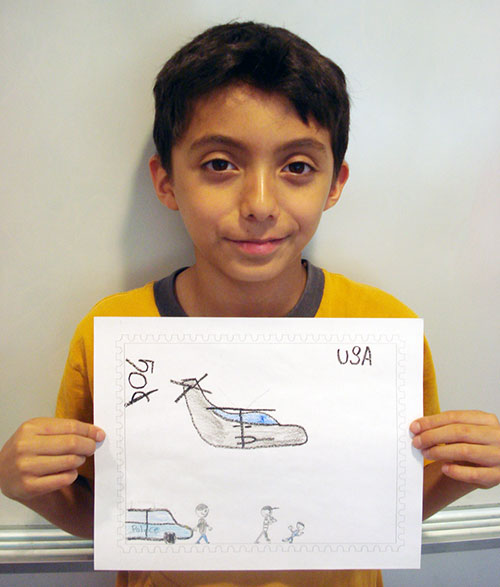 Raul's stamp shows himself as a police officer stopping crime.
The kids used elements of art and principles of design in these stamps. They also added country and denomination to their drawings, thus including all the required information a stamp needs to be official.
That afternoon in May was not only the culmination of the kids' participation in Heroes on Stamps, but also the conclusion of my own semester of learning. As part of the Museum Education graduate program at the George Washington University, I spent the spring semester as an intern at NPM. My main focus was Heroes on Stamps, but I also had the opportunity to volunteer at family days, participate in Education Department meetings, and take field trips to several Mall museums as well as Smithsonian facilities in Suitland, Maryland. I also fell in love with Owney.
My work also brought me to after-school programs, meeting kids and coordinators, and helping Heroes on Stamps grow. The unit began in 2009 at Rosa Parks Middle School in Montgomery County and will enter its third year in 2011, with the heroes reaching and inspiring even more young people.