Jack Knight Saves the Airmail
02.22.2016
Blog
By Nancy Pope, Historian and Curator
After an historic and triumphant beginning in 1918, the U.S. airmail service settled into a series of experimental growth spurts. The original Washington-Philadelphia-New York City route was followed by a route connecting the nation's two large financial centers, New York City and Chicago, and finally followed by connecting Chicago and San Francisco. Part of the Chicago-San Francisco airmail route even followed the old Pony Express route.
In 1920, the Post Office Department's moderately friendly Democratic Congress was replaced by a majority Republican House and Senate. In order to obtain funding for continued airmail service experiments and growth postal officials spun a variety of expectations. The service would cost only slightly more than existing railway mail and speed delivery more than a day faster across the country.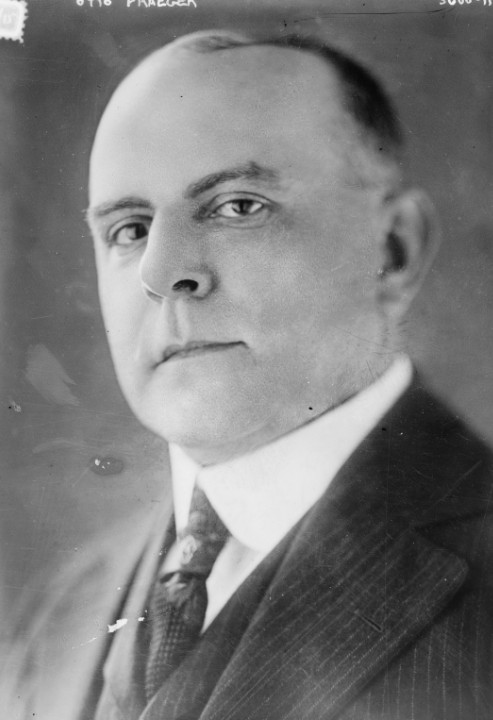 Postmaster General Burleson and his 2nd Assistant PMG Otto Praeger, who ran the airmail service, knew they needed to provide some sort of incentive to get congressional approval for better appropriations. But it would be a tough sell. A series of recent deaths of airmail pilots in the Junkers-Larsen (JL-6) airmail planes was proving those planes unworthy of service and throwing doubts on the Post Office's management of airmail.
That incentive was set to take flight on George Washington's birthday in 1921. While the airmail service operated a transcontinental service between New York and San Francisco, mail was actually moved only partially by air. Airfields and planes were not yet equipped for night flight, so planes came to rest at the nearest connecting airfield at dusk. Mail was moved from planes to trains that ran all night long. In the morning, planes would take new bags of airmail from the post office and trains, flying it throughout the day.
Burleson and Praeger announced that they would begin transcontinental day AND night service on February 22, 1921. Two planes filled with mail would take off from New York flying west, and two planes would take off from San Francisco flying east. Knowing that the odds of a single series of planes and pilots making the entire trip was doubtful, they decided to stack the deck. This way, they thought, at least some of the mail would make it the whole way. The target time was hoped to be less than 36 hours. Bands and officials were on hand on both coasts to see the historic mail trips off in style. The westbound mail planes made it to Chicago (in spite of one forced landing in Pennsylvania), but were forced to stop there because of bad weather.
The eastbound planes flew fine until Nevada. There, pilot William E. Lewis, just weeks short of his wedding, had just taken off from Elko in his de Havilland airmail plane when it stalled. Lewis was killed in the crash. His mail was put into a standby aircraft and continued on. Praeger would not let the death of a pilot stop the great experiment. Pilot Frank Yager flew the eastbound mail from Cheyenne to North Platte, NE where pilot Jack Knight was ready to fly it on to Omaha. Knight's departure was delayed by a mechanical problem and he took off at 10:44pm, arriving at Omaha at 1:10am the next morning.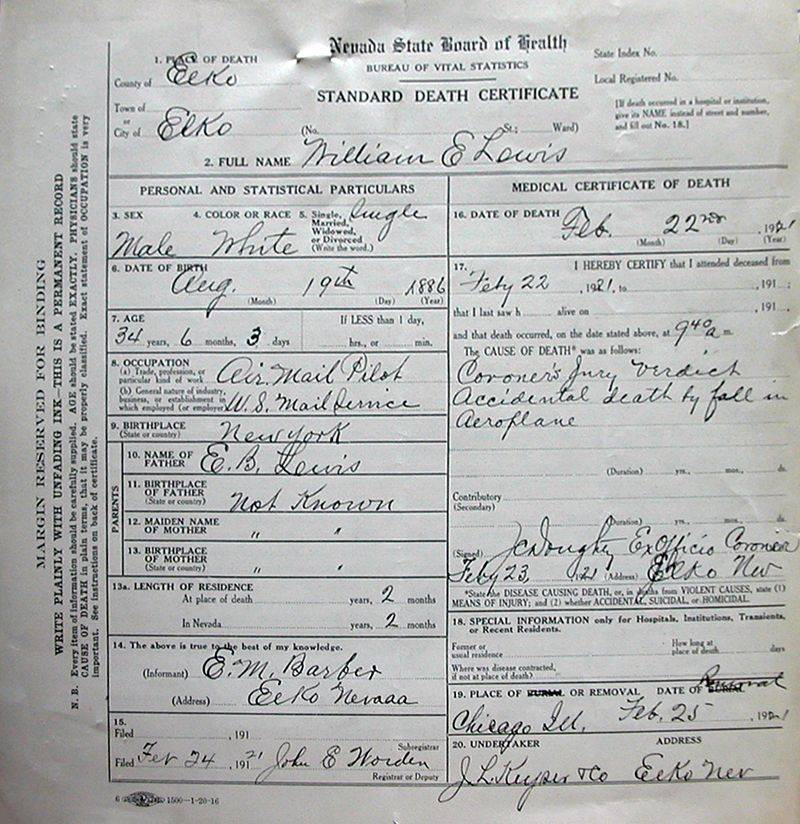 The brutal weather that had trapped the westbound pilots in Chicago was also a threat to the pilots flying east from Omaha. By this time there was only one pilot, aside from Knight, at the airfield, and he refused to take the mail up in that weather. All airmail field managers were being kept apprised of the experiment along the way and the staff in Omaha knew that if their mail did not get back up in the air, that was the end.
Jack Knight had never flown the Omaha-Chicago route before in daylight, let alone in the middle of the night, and in bad weather! Someone ripped a map off of the wall in the Omaha airmail field office and handed it to Knight. He studied it for a while and less than an hour after landing, he was back in the air.
Knight's flight was just short of miraculous. He made it through the storm to Chicago, and his mail was rushed to waiting planes and pilots who finished the transcontinental mail journey, getting San Francisco's mail (and letters added along the way) to New York City in 33 hours and 20 minutes, an astonishing feat at the time, beating the normal transit time of 70 hours. The mail flew 2,666 miles and the bags were brought into New York by pilot Earnest Allison. He turned them over to Division Superintendent J.E. Whitbeck, who immediately let Praeger down in Washington know they had arrived. Praeger was besides himself, alerting the media immediately with a prepared statement noting that this flight would "mean the speedy revolutionizing of the letter transportation methods & practices throughout the world."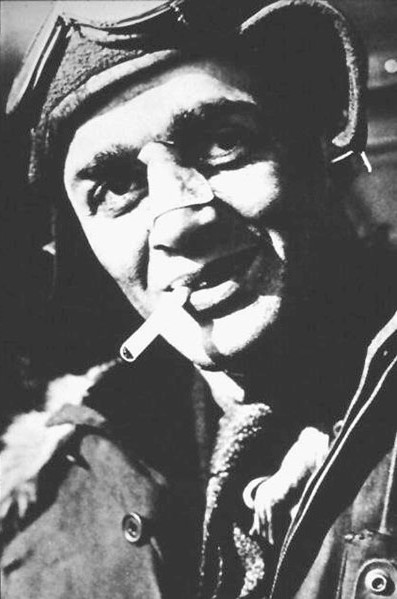 In the meantime, the press swooned, not over Praeger, but over Jack Knight, the "hero who saved the airmail." The New York Times managed to snag the first interview with Knight, who described what we would have experienced as a harrowing and terrifying trip quite simply and succinctly. "I got tangled up in the fog & snow a little bit. Once or twice I had to go down and mow some trees to find out where I was, but it did not amount to much, except for all that stretch between Des Moines and Iowa City. Say, if you ever want to worry your head, just try to find Iowa City on a dark night with a good snow and fog hanging around. Finding Chicago, --why, that was a cinch. I could see it a hundred miles away by the smoke. But Iowa City—well, that was tough."[1] (Right: Jack Knight the morning after he finished his historic flight. The bandage covered a broken nose acquired not that night, but a week earlier when he crashed his airmail plane in the Laramie Mountains.)
Congress agreed to continue funding the service, but cut the appropriation from $1.5 million to $1.25 million. Representative Tincher of Kansas disagreed with the majority. While he was right about Praeger's motives, he was wrong about the amount of mail carried, which was about 400 pounds. Tincher argued that: "A day or two ago, knowing that this matter was coming up, they made a showing of how quickly they could fly from San Francisco to New York. They burned up only one man in one plane and got across with about a shirttailful of mail. They wanted to justify this raid on the treasury for $1,500,000."[2]
Even with less money than he wanted, Praeger bragged that regular day and night transcontinental airmail would be a regular service by May. But Praeger's boasts were bigger than the Department's ability. Equipment and preparations just could not be made by that deadline. And, once President Wilson was out of office, Burleson and Praeger with him, postal priorities switched, with a focus on safety and security of the mail over showy demonstrations. Day and night airmail did finally become a regular service, but not for three more years.
In the meantime, Jack Knight continued to fly airmail for the Department, flying a total of 4,282.54 hours over 417,072 miles until his last U.S. Post Office flight on June 30, 1927. The Post Office created the roadmap for aviation at a time when private interests were unable to financial support such a venture. They turned the mail over to contractors in 1927. But even thought the Post Office stopped carrying the mail, Knight kept on going. He joined up with one an airmail contractors, National Air Transport, Inc. (soon to become United Airlines) and kept on flying. Eventually Knight moved from the cockpit to the boardroom, becoming a vice president of the airlines. Knight died almost 24 years to the day after his historic flight, passing away of complications from malaria on February 24, 1945.
[1] The New York Times, "Knight's Story of Trip: Pilot Tells of Flight in Dark Through Snow and Fog," February 24, 1921, p. 2.

[2] New York Tribune, "House Cuts Airmail Service Appropriation," February 25, 1921, p. 6.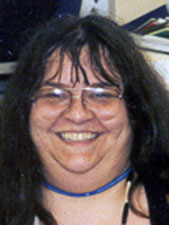 About the Author
The late Nancy A. Pope, a Smithsonian Institution curator and founding historian of the National Postal Museum, worked with the items in this collection since joining the Smithsonian Institution in 1984. In 1993 she curated the opening exhibitions for the National Postal Museum. Since then, she curated several additional exhibitions. Nancy led the project team that built the National Postal Museum's first website in 2002. She also created the museum's earliest social media presence in 2007.